The Best Pellet Smokers Of 2022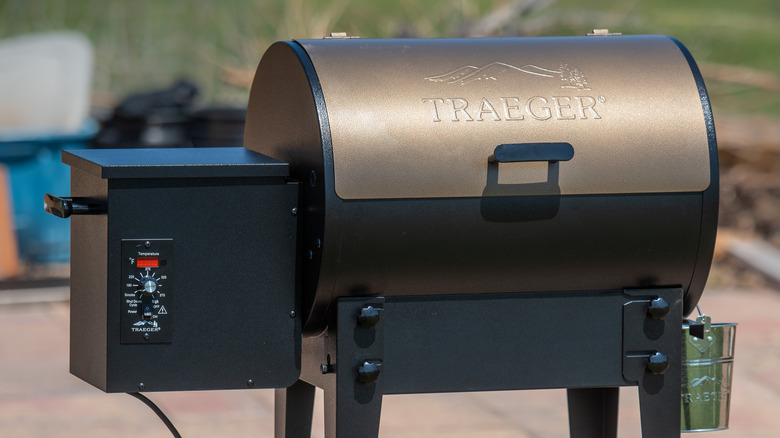 Keith Homan/Shutterstock
We may receive a commission on purchases made from links.
Whenever the weather gets nice, we tend to find any excuse we can to cook outside. Whether it's grilling up something quick like hot dogs or a time-intensive dish like a rack of ribs, everything tastes better when cooked on an open flame.
Even novice barbecue enthusiasts know that no two grills are exactly alike. Even two identical gas grills can have different hot and cold zones. If your fuel of choice is charcoal, that's even more difficult to regulate. Thanks to modern technology, though, some grills have become incredibly easy to use. Pellet smokers are a good example of this trend. 
Pellet grills are powered by wood pellets that are placed in a hopper. Then, the hopper slowly feeds pellets into the grill while keeping the temperature carefully regulated. Typically, pellet grills are used to smoke meats low and slow, whether it's big briskets or whole chickens. Some of the high-tech smokers are even connected to an application through your phone, so it's arguably the laziest way to smoke any type of meat. 
Pellet grills are mostly used for smoking or roasting like an oven, but some also provide direct searing for dishes like steak or blackened chicken. The biggest advantage is that they do most of the temperature control for you, which is great if you're prone to making mistakes when using a smoker. We've broken down some of the best options on the market in 2022. 
How we chose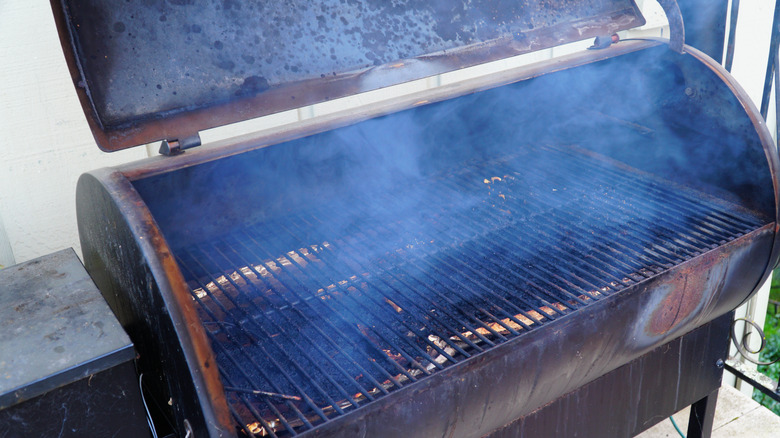 Michael Barajas/Shutterstock
As previously mentioned, no two grills are exactly the same. Pitmasters who smoke meat on a regular basis might be partial to their favorites, but there are plenty of good options available to purchase. In order to narrow down some of the best grills on the market, we scoured the internet to see which models people loved the most and why. 
We took into account reviews from across the board, whether they came from first-time users or regular appliance testers. User and press reviews can be subjective, so we also took into account aspects like price, functionality, range, consistency, and ease of assembly when picking the best of the best pellet grills. 
Someone who lives in a studio apartment is going to have way different grilling needs than a pitmaster on their own farm. Luckily, there are pellet grills for anyone and everyone at different price points, so we also made sure to include a range of options to help you make the best pick. All prices are accurate as of May 2022.
Best overall pellet smoker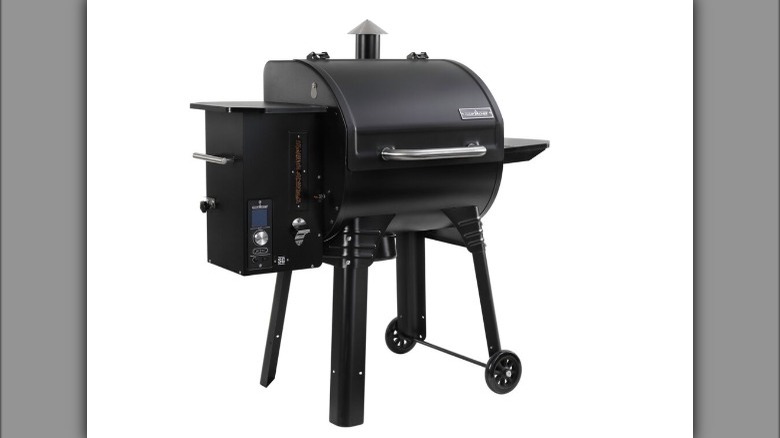 Camp Chef
If you're looking for a moderately priced grill with lots of features that will make you want to grill more, you can't go wrong with the Camp Chef SG 24-inch smoker.  This is a wifi-enabled grill featuring an easy-to-use app that is extremely versatile. It's almost too simple to control the amount of smoke, temperature, and cook time from your phone or on the PID controller face. It has a direct-heat grilling option thanks to a sliding heat deflector, and if you want even higher heat you can add an optional searing box attachment.
A review on Angry BBQ also commends the smoker's ability to be set so low that it will not cook your food, but just keep it warm for extended periods of time. "This mid-range model can be versatile and the newly updated feature set provides all the bells and whistles people might want from a modern pellet grill," the review reads. 
Customers also commend the Camp Chef SG's durability, 3-year warranty, and ease of assembly, with a Better Grills review saying that it took no more than 40 minutes to put together. "That is indeed among the best pellet grills that will give you exceptional value for your money," the review reads. 
You can purchase the Camp Chef SG 24 on Amazon for $750. 
Best budget pellet smoker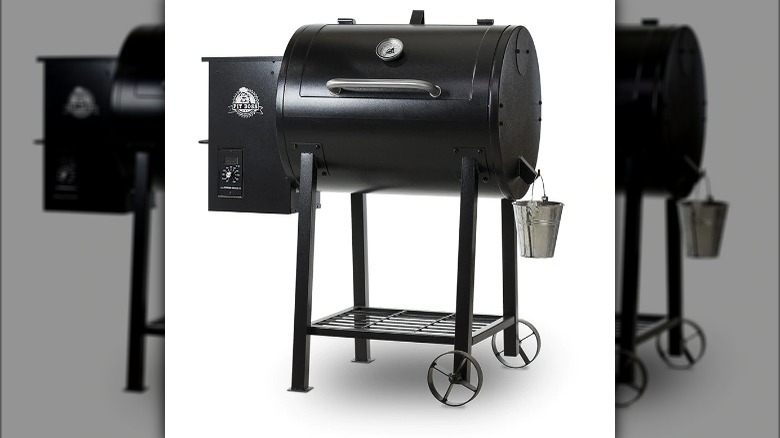 Pit Boss Grills
As with most things in life, the bigger something is, the more it probably costs. That isn't the case with the Pit Boss 700FB grill. For just around $500, this grill features 700 inches of cooking space with both direct and indirect heat zones. Its temperature range goes from 180 to 500 degrees Fahrenheit, and the heat can be controlled with a dial on the front of the grill. It may not be able to connect to an app on your phone, but the temperature controls make it easy to let a brisket smoke for 12+ hours while you do other things around the house. 
A review from Smoked BBQ Source actually applauds the searing ability of this smoker, which isn't always expected with pellet grills. A grill with so many features and cooking space is hard to find for this price point. "If you've been considering dipping your toe into the world of pellet grilling and smoking, this is a great grill to consider," the review reads. 
You can purchase the Pit Boss 700FB from Amazon for $525.
Best splurge-worthy pellet smoker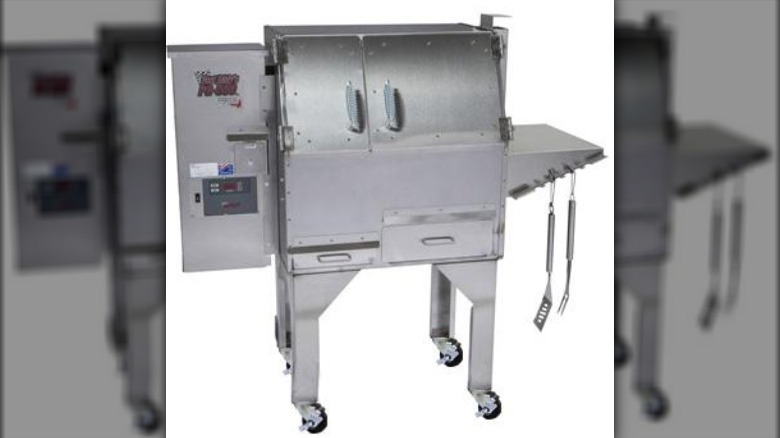 Cookshack
On the opposite end of the budget spectrum is the Cookshack Fast Eddy's PG500 grill. This grill is not for an amateur — it's essentially commercial-grade thanks to its use of charbroiler technology. Unlike most smokers, the Fast Eddy's features front opening doors, which can take some getting used to. 
According to GrillAce, the PG500 is stainless steel through and through — including the fire pot and diffuser, which means those areas exposed to high heat will not corrode over time. "Even if it just sits there, its lifespan will not be cut short due to its stainless steel construction," the review reads. 
This grill is an investment and something that will last forever. In addition being able to smoke low and slow and sear on direct heat, there is also a warming drawer for cold-smoking items like fish or cheese. It's a real all-in-one grill as the different cooking zones allow you to make anything and everything on it.
You can buy the Cookshack Fast Eddy's PG500 for $2,500 on Amazon as of May 2022. 
Top-rated pellet smoker on Amazon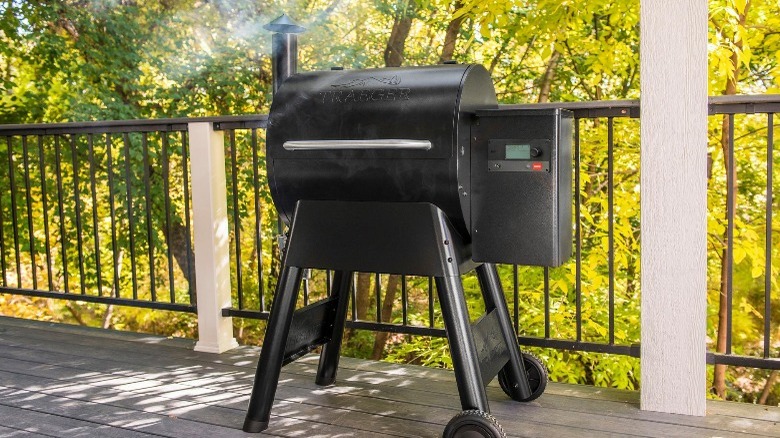 Traeger
If you have Amazon gift cards piling up and are looking for a new grill, don't sleep on the Traeger Pro 575. The biggest benefit of this small but mighty grill is its advanced technology. It's wifi-enabled, features an app, and has a meat probe to monitor the internal temperature without opening the lid. It gets hot in a matter of minutes and offers a large cooking surface area in a relatively compact grill. Traeger says you can grill 24 burgers or 5 racks of ribs or 4 chickens on this grill, so there's definitely enough space to feed an entire family. Despite its large cooking area, it's compact enough to be a great option for people looking to make the most out of small outdoor spaces. 
On Amazon, the 575 has 4.5 stars out of nearly 1,400 ratings, so it's a tried and true favorite. "This is seriously one of the best things I have ever purchased," one review reads. Others also credit the Traeger with helping them grill outside more and experiment with new recipes since cooking is so foolproof (via Insider). 
You can purchase the Traeger Pro 575 on Amazon for $800 as of May 2022. 
Best portable pellet smoker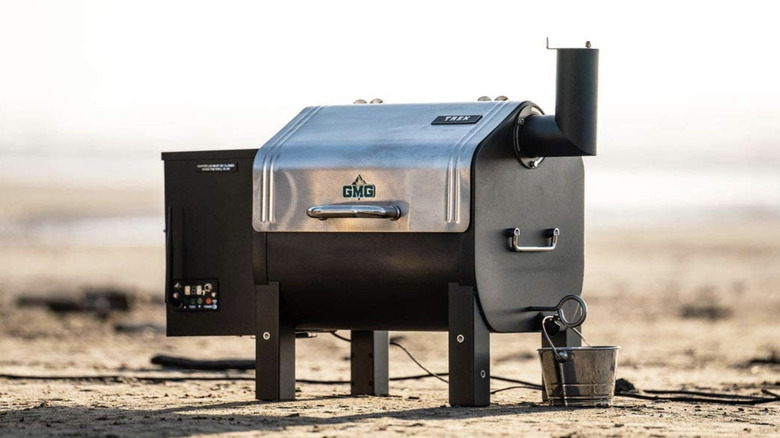 Green Mountain Grills
Previously known as the Davy Crockett smoker, Green Mountain Grill's small but mighty Trek grill is the ultimate appliance for cooking on the go. It features 220 square inches of cooking space and is lightweight and foldable, perfect for tailgating or taking on camping trips. It may be small and less expensive than most of the other grills on the list, but the technology rivals the best of the best. 
The Green Mountain Grill Trek features a thermal sensor, a meat probe, and wifi-connectivity that allows you to control the grill with an app. "It really is an impressive little unit with features that many larger pellet grills today still lack even though this grill was first launched way back in 2014," a 2022 PelHeat review reads. 
It's extremely compact but can cook a lot of food if used strategically. For example, the smoker features a peaked lid so large items like ribs or whole chickens can easily fit. 
You can purchase the Green Mountain Grill Trek on Amazon for $350. 
Best pellet smoker for big families
Some people might be in need of a barbecue upgrade because their current model doesn't have enough room to chef up all of the food they want to make at once. If that issue sounds familiar, the Victory pellet grill may be worth checking out. This grill has more than 900 square inches of cooking space and a hopper that can hold up to 29 pounds of pellets at a time, which can last hours without being refilled. A review from Smoked BBQ Source points out that if you remove the upper rack, this massive grill has enough room for six bone-in pork butts. "This will have you wondering if you should take a few catering jobs," the review reads. 
For such a massive grill, the price can't be beat. Most grills this size will cost upwards of $1,000 at least. But if you're looking for a sturdy grill to feed your big family, this model will rival some of its higher-price competitors. 
You can buy the Victory pellet grill on Amazon for $700. 
Most versatile pellet smoker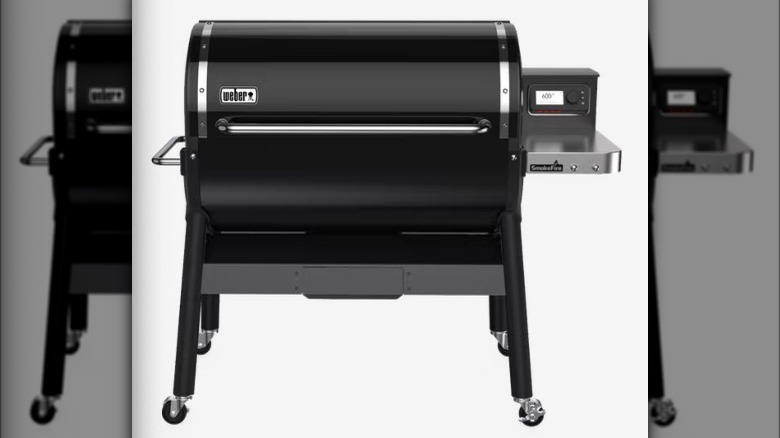 Weber
Weber's first foray into pellet grills didn't go smoothly, but the updated, improved version of the Weber SmokeFire EX6 is a great smoker. The first generation of this pellet grill gave customers a wide range of issues from app malfunctions to grease fires (via Wired). The brand worked out the kinks to create a solid second generation, and it's a grill that will last you a long time if taken care of. 
The Weber SmokeFire EX6 is extremely adaptable with a range of 200-600 degrees Fahrenheit and adjustable smoke levels. So whether you want a lot of smoke for brisket or you're grilling a simple burger and want a slightly smoky flavor, you can do it all and experiment with incorporating smoke into foods you never even knew possible. 
Certain reviews, like one from Wired, commend the large pellet hopper and smoke circulation of the grill. "So long as you're willing to clean it, the SmokeFire makes a great all-in-one backyard cooker," it reads. 
The Weber SmokeFire EX6 Gen 2 is available on Amazon for $1,300.
Most tech-savvy pellet smoker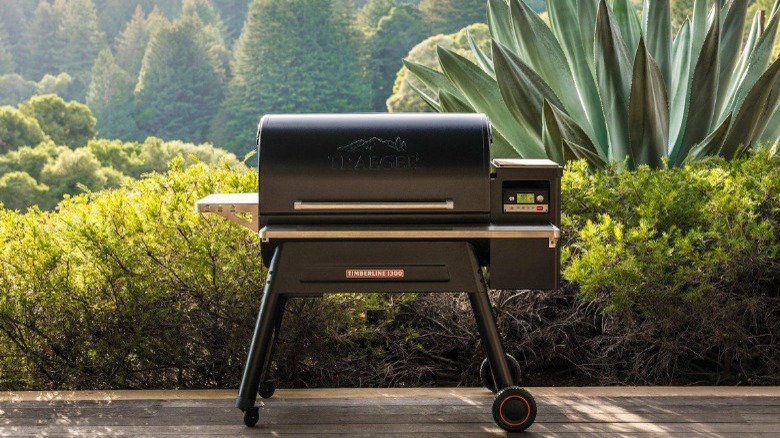 Traeger
Grilling is an art and a science, and it can be a feat of technology when you're using certain high-tech pellet grills. If you're someone who wants a grill that can do everything for you, it's worth it to splurge on the Traeger Timberline 1300. First of all, the Timberline 1300 is massive. It can cook 12 chickens, 15 racks of ribs, or 12 pork butts at once. Aside from the size, this smoker is all about being state of the art. 
Both the D2 controller face on the grill and the wifi-enabled app make the Traeger Timberline 1300 extremely adjustable for the at-home chef. It gets super hot in minutes and you can monitor every aspect of grilling right from your phone. The app will even tell you if your hopper needs to be refilled with pellets, which isn't the norm with many pellet smokers. 
The app also tracks your grilling statistics and provides easy-to-use recipes. In fact, if you pick one of the recipes from Traeger, the grill will automatically calibrate to the correct settings and provide you with easy instructions to follow along. "Because all electronic features and program options are easy to reach and control, you actually will use them," Smokey Goodness' review reads. 
The Traeger Timberline 1300 is on sale for $2,300 at Home Depot. 
Best pellet smoker for beginners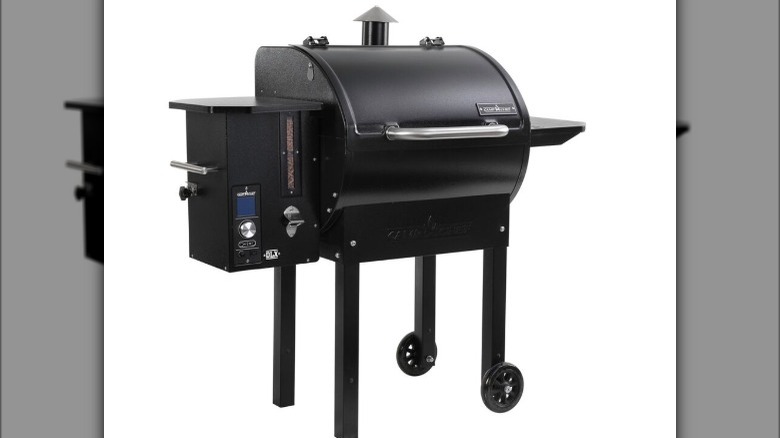 Camp Chef
If you're looking for something reasonably priced and a little on the simpler side, Camp Chef's SmokePro DLX is the perfect grill for beginners. It has an easily adjustable PID controller that will help you learn about temperature regulation and smoke levels so you can figure out the best way to barbecue the way you like it. It also is a great grill to experiment with different kinds of wood pellets to see how they affect the flavor of the meat, which will really take your skills to the next level. 
Reviews such as one from King of the Coals commend the ease and efficiency of SmokePro DLX, while also shouting out its quick clean-up. "The Camp Chef SmokePro DLX is a brilliant smoker that is at a price point that makes quality pellet smoking available to a lot more people," the review reads. 
The Camp Chef SmokePro DLX is available on Amazon for $463. 
Best built-in pellet smoker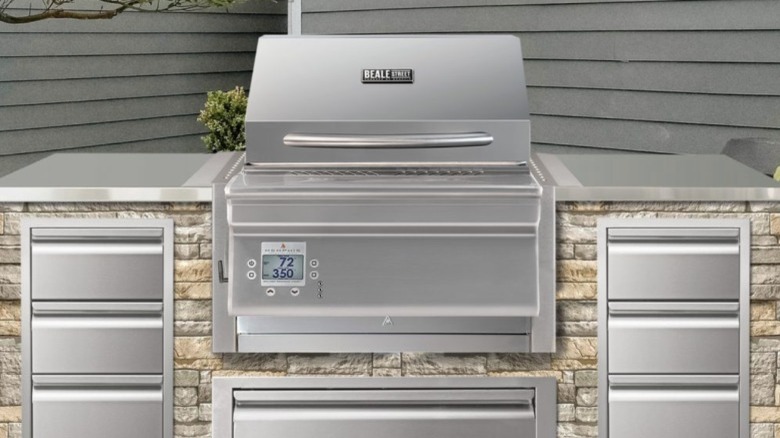 Memphis Grills
If you're really looking to update your outdoor cooking situation, a built-in grill that doubles as a smoker is about as real-deal you can get. Memphis Grills sells a built-in version of its Beale Street smoker that's the ultimate all-in-one. It comes with a temperature range from 180 to 550 degrees Fahrenheit and a massive cooking surface. Aside from having a PID controller, it is wifi enabled so you can control your cooking from anywhere. The Beale Street grill also features convection cooking, only further opening up the possibilities when it comes to getting the most from your outdoor kitchen. 
This grill is definitely not the best for beginners. Sure, it's fool-proof to use, but it's pretty expensive. The stainless steel construction means that it will last forever while looking amazing in your outdoor space. This is a grill for serious smokers. If you want to start making smoked meals from home, you can definitely start with a lower-cost option. However, if you're someone who can't get enough barbecue, there's no better pick. "This grill is definitely on the high end of the cost spectrum for a reason," Smoked BBQ Source's review reads. "It is extremely well manufactured out of higher quality materials than most grills on the market."
Memphis Grills Beale Street Built-In is being sold for $2,100 direct from the manufacturer. 
Most unique pellet smoker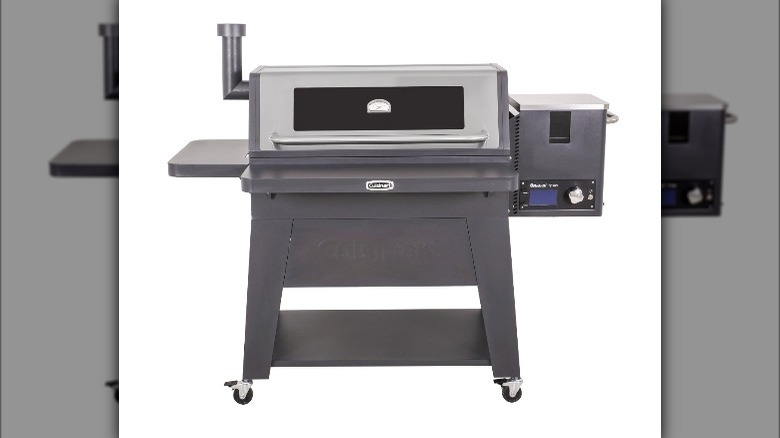 Cuisinart
One of Cuisinart's newer models, the Oakmont pellet smoker, is an amazing deal considering all the bells and whistles it comes with. It's easy to tell that it's not the typical pellet smoker upon first glance, but that might be a good thing if you're really looking for an outdoor appliance that can do almost anything. This grill has a substantial amount of cooking space both inside and out. Interior lights and a large viewing window also make it easy to monitor what you're cooking without opening the lid and even when it's dark out. 
The Cuisinart Oakmont is the kind of smoker to get if you really want to expand your knowledge of outdoor cooking. Sure, it can smoke a brisket or sear a pork chop. However, you can also try baking bread in it or using it to roast whole fish in minutes. It's a great grill to have on hand to perfect the classics and to experiment with something new. 
Reddit user u/budlightguy did make sure to warn potential customers that, unlike many pellet smokers, the Cuisinart Oakmont doesn't use a PID controller. The mechanics are similar to PID-enabled grills, but it's an important difference to know to make sure you're spending your money on a grill with all of the right features for you. 
You can buy the Cusinart Oakmont at Walmart for $600.