Sweet Red Sangria Recipe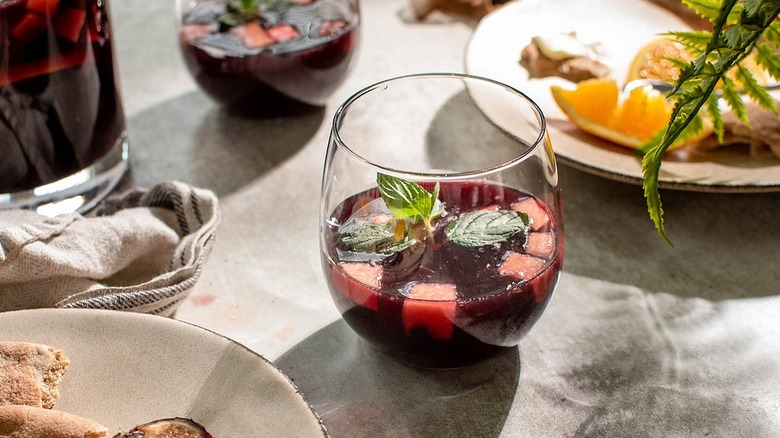 Michelle McGlinn/Mashed
Recipe developer Michelle McGlinn describes her sweet red sangria as "very straightforward," and one that uses "probably the most common mixture of fruits." She does say, however, that she chose to go with rum instead of the more typical brandy, as rum "offers a little more sweetness," and makes for a lighter, more refreshing sangria overall.
McGlinn does admit, however, that sangria tends to be "pretty boozy," particularly for a summertime refresher that you may want to have a few glasses of. She opted for using orange juice instead of the triple sec that some people add to their sangria, but says you can easily make what she calls "a more casual version" simply by leaving the rum out entirely for a lower-ABV drink. Of course, there's nothing wrong with a strong sangria, so if you're looking for the perfect summer drink that definitely packs a punch, you can't go wrong with this sweet red option!
Gather the ingredients for sweet red sangria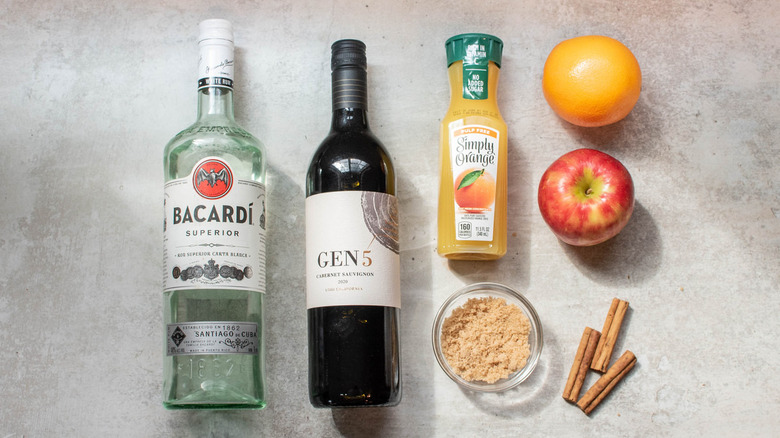 Michelle McGlinn/Mashed
To make this sangria, you'll need an orange and an apple. You'll also be using orange juice, brown sugar, and cinnamon sticks for flavoring, plus a bottle or red wine. (McGlinn's personal preference is for cabernet sauvignon or tempranillo.) Of course, you'll also need a bottle of white rum.
If you'd like to make this sangria with white wine or rose, McGlinn recommends peaches and raspberries in place of the apples and oranges and also advises skipping the cinnamon and using white sugar in place of the brown. These changes, she says, will "better suit the white wine."
Prepare and muddle the fruit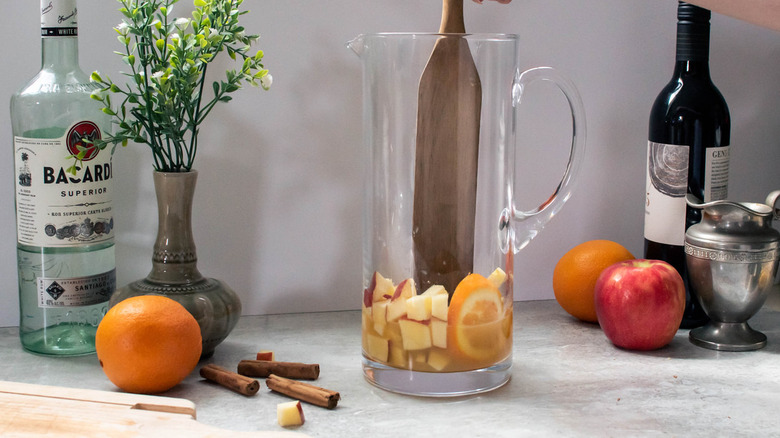 Michelle McGlinn/Mashed
Before you begin mixing the drink, you'll need to slice and core the apple (no need to peel it, though). You'll also need to thinly slice the orange into rounds (no peeling here, either). You may notice that McGlinn only uses half of each fruit, telling us, "I just prefer less because the pitcher gets a little crowded." If it bugs you to have the leftovers, though, she says, "You can definitely add as much fruit as you want."

Put the cut-up fruit into a pitcher, then add the orange juice and the sugar. Muddle the fruit as best you can – the orange will muddle a lot more easily than the apple will. Keep muddling until the orange, at least, is reasonably squished up and all the sugar has dissolved.
Add the wine and rum, chill, then serve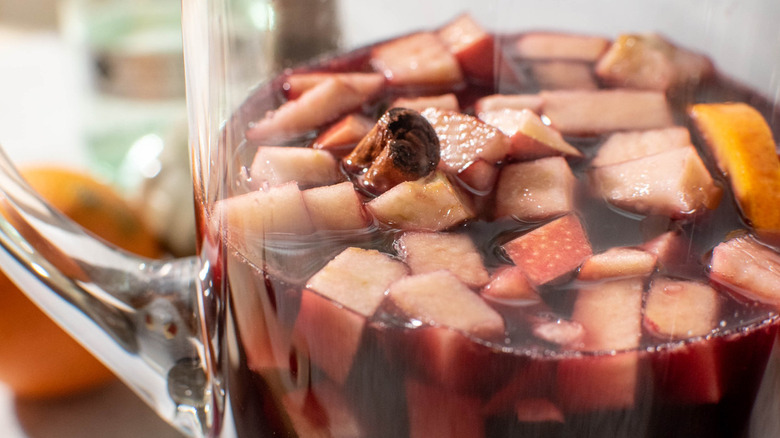 Michelle McGlinn/Mashed
Pour the wine and rum into the pitcher, add the cinnamon sticks, then stir them all together. While you can serve the sangria right away over ice, McGlinn notes that "for best results, chill for 2 hours before serving." Doing so, she says, will allow the fruit and cinnamon flavors to infuse the drink. She also tells us that the sangria should last in the fridge for about 2 or 3 days.
If you're looking for food pairing suggestions for this sangria, McGlinn says tapas are traditional, but steak, chorizo, and more robust types of seafood such as octopus or mussels should all work well with it — and as it turns out, you'll find any combination of such ingredients in a Spanish paella. As McGlinn puts it, "Really fresh, flavorful food with bold and spicy flavors go well with sangrias."
Sweet Red Sangria Recipe
Just in time for summer, give this refreshing sweet red sangria recipe a try.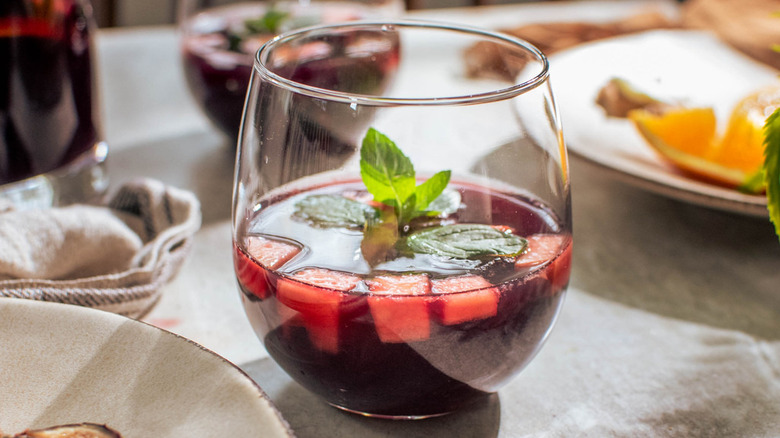 Ingredients
½ navel orange, thinly sliced
½ red apple, cored and diced
½ cup fresh orange juice
3 tablespoons brown sugar
½ cup white rum
1 bottle red wine
2 to 3 cinnamon sticks
Directions
Combine the oranges, apples, juice, and sugar in a large pitcher.
Muddle the fruit until their juices have combined with the orange juice and the sugar has dissolved.
Add the wine, rum, and cinnamon sticks, and stir to combine.
Serve immediately over ice or chill in the refrigerator for 2 hours.
Nutrition
| | |
| --- | --- |
| Calories per Serving | 287 |
| Total Fat | 0.1 g |
| Saturated Fat | 0.0 g |
| Trans Fat | 0.0 g |
| Cholesterol | 0.0 mg |
| | |
| --- | --- |
| Total Carbohydrates | 21.4 g |
| Dietary Fiber | 1.9 g |
| Total Sugars | 14.2 g |
| Sodium | 10.5 mg |
| Protein | 0.6 g |