The Marcus Samuelsson Throwback That Had Instagram Smitten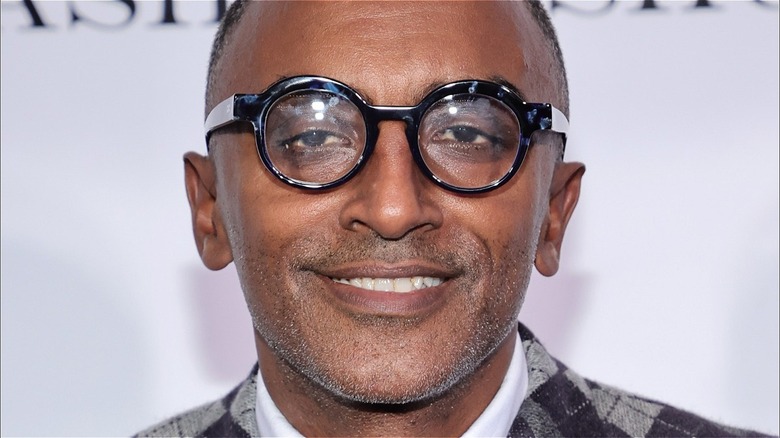 Jamie Mccarthy/Getty
Marcus Samuelsson is a true soccer fan. The culinary star has even said if he was not a chef, he would have been a soccer player, had he not been told at a young age he was too small in stature to succeed in the sport (via My Hero). And once he was established as a Harlem-based celebrity chef, Samuelsson began to give back to the soccer community, joining the New York City Football Club (NYCFC) as Chief Culinary Coach, a position through which he has taught cooking classes for players and appeared at community events (via NYCFC).
"It's no secret I love soccer," Samuelsson wrote in the caption of a recent Instagram post detailing his day spent with NYCFC goalkeeper Sean Johnson, during which he was able to learn more about soccer and engage in one of his other favorite pursuits: cooking! "We cooked traditional Jamaican dishes and talked about his incredible sports career, which was pretty much heaven for me," Samuelsson wrote.
Marcus Samuelsson is a life-long soccer lover
The recent Instagram post about his time with Johnson wasn't Marcus Samuelsson's only soccer-related social media share of late. He also took to the 'gram not too long ago to post a throwback photo of him as a youngster wearing a soccer jersey and holding a soccer ball over his head, captioning the post, "Soccer has always been my favorite season!" Fans immediately took to the comments with plenty of fire and red heart emojis, with many remarking on how handsome he looked as a youth, and others even mistaking him for his five-year-old son, Zion.
"You looked so cute with that football aka soccer ball," commented one user while another chimed in, "Omg! I was about to say Zion has gotten tall quick..he's your lil twin." A third Instagrammer noted that if Marcus Samuelsson's original career plan had panned out, the modern culinary world would certainly be less off, writing, "But if you'd been a soccer star...you'd never have become a great chef." If there's one thing you can say about Samuelsson, it's that he's a man of many goals.