The Secret Ingredient For A More Delicious Chili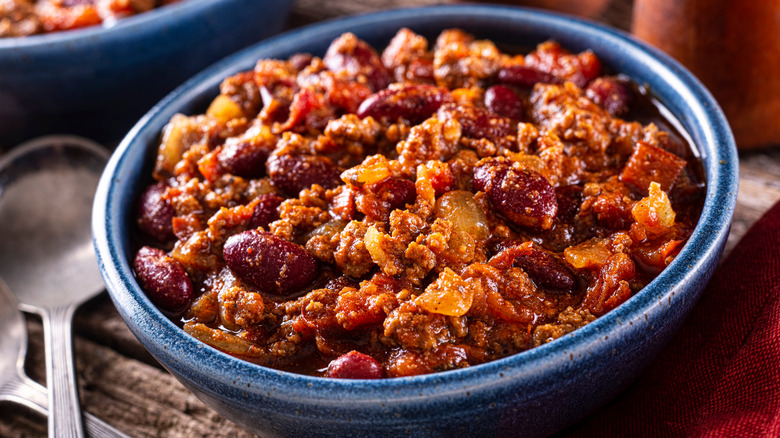 Foodio/Shutterstock
Chili, with all its savory flavors of meat, beans, and tomatoes, is more of an autumn or winter meal, something hot and rich that's best reserved for cold nights than scorching summer days. But that doesn't mean that a big bowl of meaty chili can't have a place during summer, right? After all, what better way to liven up those freshly grilled hot dogs with a slather of chili? And it's always a welcome sight to see a crockpot full of chili at your relatives' Fourth of July barbecue.
There are a lot of ways you can make chili. You can make a hearty bowl of beer chili, for example, or you can prepare a basic but no-less-satisfying 5-ingredient chili. You can even take a crack at making Pedernales River Chili, which, according to What's Cooking, America, was the favored chili recipe of United States President Lyndon Johnson. There are plenty of recipes and variations on chili, so you're bound to find one that fits your tastes. Top it with cheese, serve it with bread, and put it in burritos: The sky's the limit.
But in all of these recipes, there's actually one ingredient that's missing, one that could add a whole new depth of flavor to an already savory dish.
Add pepper jelly to your chili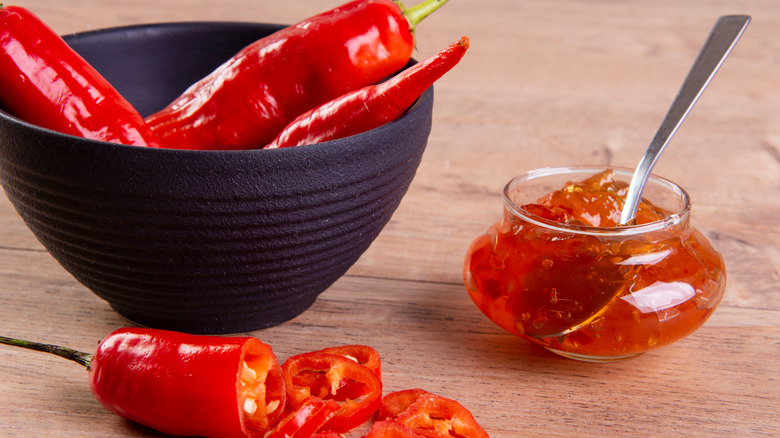 jrslompo/Shutterstock
According to Lifehacker, all your chili needs is a spoonful or two of pepper jelly. Lifehacker's Claire Lower explains that while preparing her chili, she accidentally added a quarter cup of ancho chili powder into her chili, resulting in a good but very hot chili. Lower, looking for a way to temper some of the excess heat, added some Trader Joe's pepper jelly. While the jelly didn't temper the heat fully, Lower claims that it added a sweet tanginess to the mixture, as well as giving the chili a more "well-rounded" flavor instead of overpowering it with one single flavor like the ancho chili powder.
If you're unable to locate any pepper jelly near you, making it isn't too hard. According to Taste of Home, a simple hot pepper jelly requires white vinegar, sweet red pepper, seeded habanero peppers, sugar, and liquid fruit pectin. Blend together the vinegar and peppers until a puree is formed before pouring it into a dutch oven or cast-iron pot. Add sugar and bring the mixture to a boil, removing from heat to strain the mixture and then bringing it back to a boil. Add the pectin and an optional few drops of food coloring while skimming foam from the top. From there, all you need to do is can the jelly as you would any other jam or preservative.
Now, with store-bought or homemade pepper jelly, your chili might be taken to new heights.