Easy Hash Browns Recipe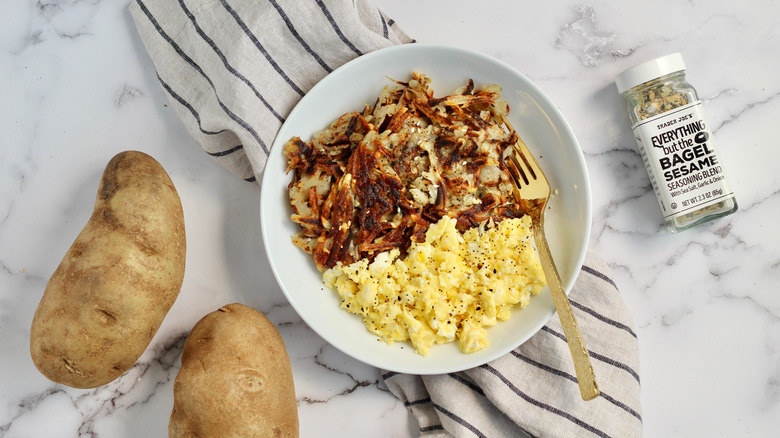 Mackenzie Burgess/Mashed
Hash browns are an American classic. This dish really took off in the late 1970s thanks to popular fast food chains. However, this particular recipe is considerably lighter than most, as the spuds are fried in less oil. Recipe developer and dietitian Mackenzie Burgess of Cheerful Choices notes that she uses olive oil here, "which is rich in healthy, polyunsaturated fats."
She's also mixing it up by flavoring these potatoes with a special ingredient: bagel seasoning! Bagel seasoning is a versatile spice that pairs perfectly with eggs, chicken, and avocado toast. Why not sprinkle it into the shredded potato mixture? 
These quick and easy hash browns come together in a matter of minutes and taste way better than frozen or fast food versions. They're perfect to make for weekend brunch.
Gather the ingredients for these easy hash browns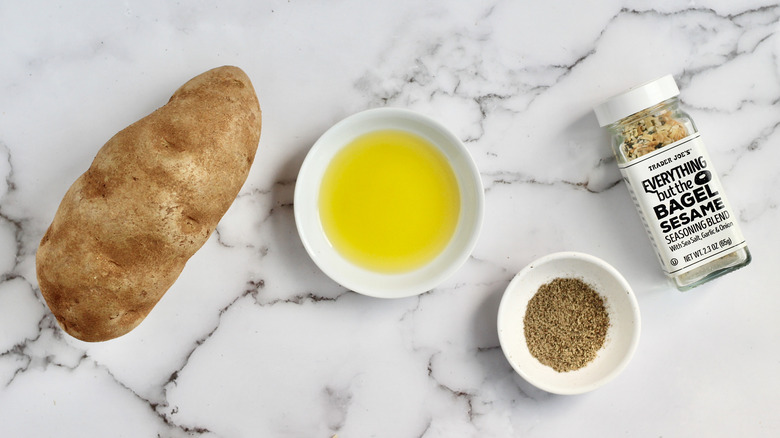 Mackenzie Burgess/Mashed
There are just 4 simple ingredients used in this hash browns recipe: a large potato (peel it shortly before starting the recipe), bagel seasoning, black pepper, and olive oil. As written, the recipe makes enough for 2 servings, though it's easily scalable if you'd like to make more or less.
Grate the potatoes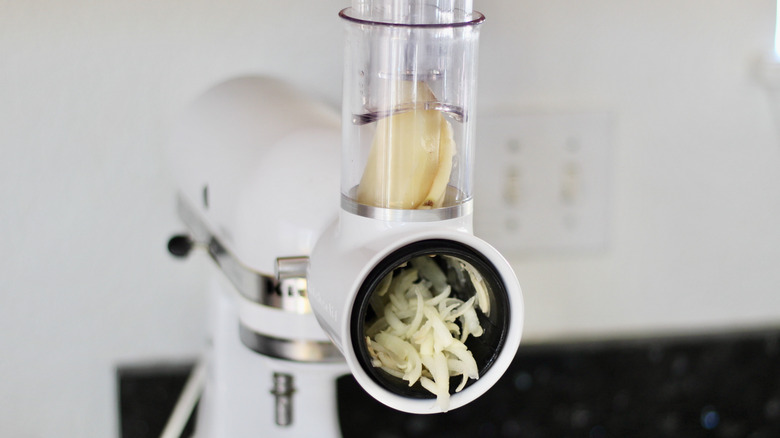 Mackenzie Burgess/Mashed
For the best hash browns texture, we recommend using the largest holes of a box grater. To save time, you could also use the shredding attachment on a food processor or stand mixer.
Squeeze out the liquid
Mackenzie Burgess/Mashed
Draining out the liquid of the shredded potato is the most important step in ensuring a crispy final result, so don't skip it! You may need to do several rounds of draining the liquid over layers of paper towels or a clean kitchen towel. If you're using a kitchen towel, use a dark one — or one you don't mind getting stained.
Toss with the seasoning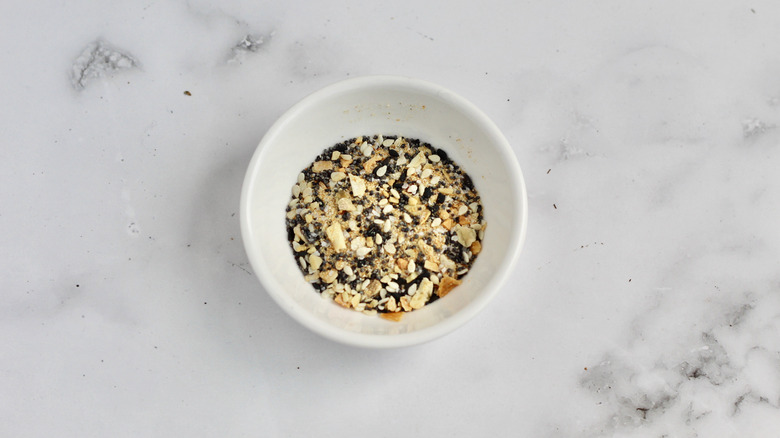 Mackenzie Burgess
Once the potatoes are as dry as possible, toss with the seasonings. For this recipe, we are using everything bagel seasoning and black pepper. Bagel seasoning is truly that special addition that makes this dish stand out; it's a blend of garlic, onion, poppy seeds, sesame seeds, and salt. You could also sprinkle in other seasonings of your choice such as paprika, cumin, or dried parsley.
Fry until golden brown
Mackenzie Burgess/Mashed
Before you add the grated potatoes, be sure the oil is sufficiently heated; it should easily roll around the pan and shimmer. We recommend using olive oil, but you could also cook these with another heart-healthy oil like avocado oil.
Add the potatoes, then use a large spatula to evenly distribute and press them down. Then, resist the urge to move them around. Let them sit to fully brown.
Flip and cook the other side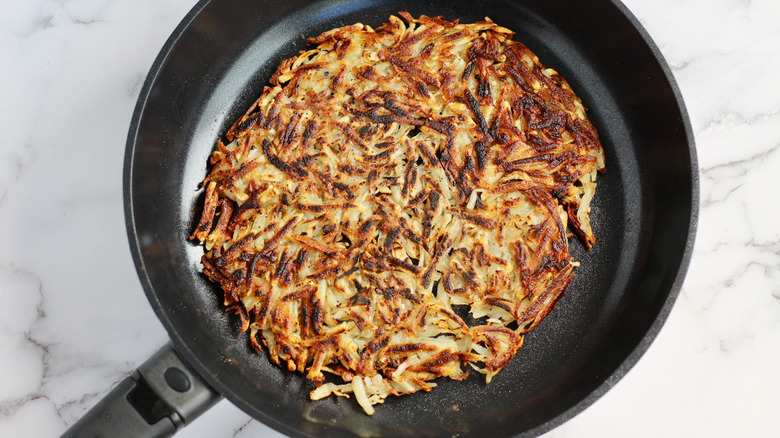 Mackenzie Burgess/Mashed
When it comes to turning the hash browns, use a large spatula or two small spatulas. In a quick sweeping motion, flip it over and let the other side cook for a few more minutes. If you lose a few bits of potato along the way, don't worry — it'll still be delicious!
Serve with your favorite condiments and sides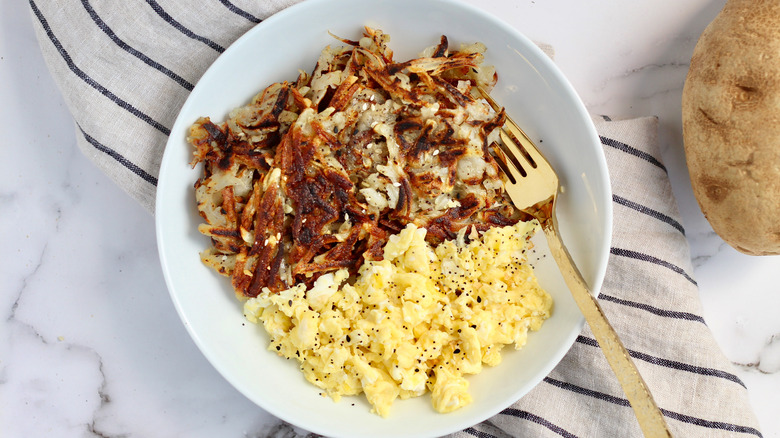 Mackenzie Burgess/Mashed
Hash browns are great on their own, but they're even better when paired with savory condiments and breakfast sides. We recommend serving these with salsa, ketchup, toast, avocado slices, breakfast sausage, scrambled eggs, or egg bites.
If you have leftover hash browns, you can store them in the fridge for up to 3 days. Reheat in the microwave or air fryer, then serve.
Easy Hash Browns Recipe
Learn how to make this crispy, starchy, and beloved breakfast side. The dish comes together with just four ingredients, including a special seasoning blend.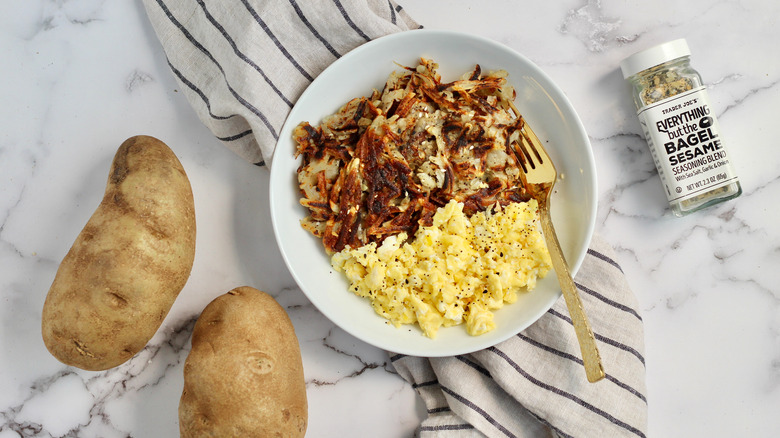 Ingredients
1 large russet potato (about 1 pound), washed and peeled
1 teaspoon everything bagel seasoning
½ teaspoon ground black pepper
2 tablespoons olive oil
Directions
Use the large holes of a box grater or a shredding attachment on a food processor to grate the potato.
Line a bowl with paper towels or a clean dish towel and add the grated potato. Use the towel to squeeze out as much of the moisture as possible. This may take several rounds of draining and discarding the liquid.
Return the potatoes to the empty bowl and sprinkle with bagel seasoning and black pepper. Toss to combine.
In a 12-inch nonstick skillet, heat oil over medium-high heat until it shimmers and easily moves around the pan.
Lower heat to medium, then add the grated potatoes. Press them into an even layer with a large spatula. Cook undisturbed until golden brown on the bottom, about 7 to 10 minutes.
Carefully flip and continue cooking until browned on the other side, about 5 to 7 minutes more. Remove, drain on a paper towel-lined plate, and serve.
Nutrition
| | |
| --- | --- |
| Calories per Serving | 257 |
| Total Fat | 13.7 g |
| Saturated Fat | 1.9 g |
| Trans Fat | 0.0 g |
| Cholesterol | 0.0 mg |
| | |
| --- | --- |
| Total Carbohydrates | 31.6 g |
| Dietary Fiber | 2.4 g |
| Total Sugars | 1.1 g |
| Sodium | 9.1 mg |
| Protein | 3.8 g |