Costco Fans Are So Excited For Its Returning Snickerdoodle Treat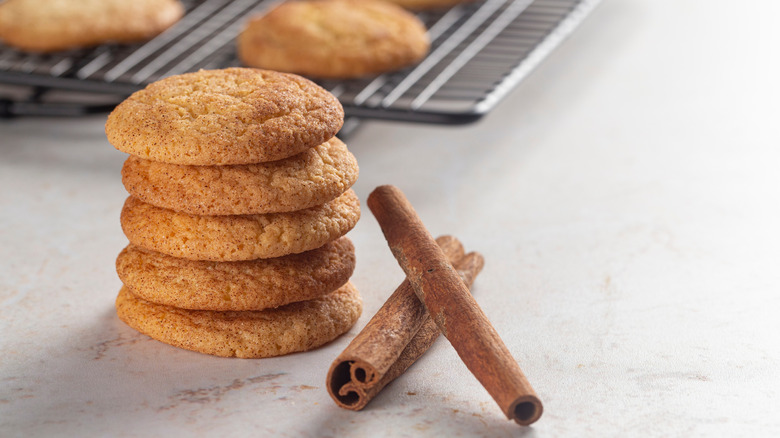 P Maxwell Photography/Shutterstock
Once upon a time, in the year 2021, Costco introduced a mouthwatering new treat that caught a few shoppers' eyes. Sitting in the bakery section at the beloved grocer was a six-pack of Mini Snickerdoodle Cakes — and yes, they were just as delicious as the sound. "It was like a super MOIST coffee cake with a [cinnamon] cream cheese frosting. Would highly recommend," Reddit user u/AnonymousRedditor said of the sugary baked good when it debuted last fall, while u/Thisbestbegood rated it a 10 out of 10.
Sadly, the snickerdoodle cookie-inspired delicacy was only available in a select few Costco locations, and, making matters worse, they were only available for a limited time. Per Eat This, Not That!, the plastic clamshell-encased Mini Snickerdoodle Cakes disappeared from stores by the end of October, leaving the lucky shoppers that were able to try them during their short run in the Costco bakery with nothing but fond memories to look back on. 
Now, nearly seven months later, we're excited to share that the half-pound cakes have made a triumphant return to Costco warehouses, and shoppers couldn't be more thrilled. The news has been shared by a number of Costco fan Instagram accounts including @costcohotfinds, who alerted their followers of the seasonal treat's comeback in a post this week — and it's been generating some serious buzz.
Costco shoppers are more than ready to devour these Mini Snickerdoodle Cakes
Instagram user @costcohotfinds has their fellow Costco cardholders talking after sharing their latest warehouse find: Mini Snickerdoodle Cakes, which are officially back following a lengthy absence from the store. "They're a butter pound cake swirled with cinnamon with a cinnamon cream cheese icing," the Instagrammer explained in a video about the baked good posted to their page on Tuesday, May 17, before noting that they thought the cakes "taste best chilled right out of the refrigerator." In the caption, the Costco fanatic explained that the treats are once again being sold in packs of six for the price of $8.99. Cases weigh in at around 44 ounces, which Eat This, Not That! points out means each individual cake is nearly half a pound of cinnamon-sugary goodness for buyers to devour.
Speaking of devouring, Costco shoppers seem more than ready to head to their local warehouse to purchase the baked good and start chowing down. "I'm heading to Costco today to do some shopping hope I see them," @lucybelrosado wrote in the comments section of @costcohotfind's post, while @lbculler also took a moment to alert a friend that they would be making a trip to the big-box retailer "soon." And while a few shoppers were a bit put off by the size of the Mini Snickerdoodle Cakes, which aren't exactly "mini" at all, Reddit user u/ChaserNeverRests said last year they can be cut up and stored in the freezer, allowing buyers to enjoy them at whatever pace they desire.