The Ingredient Padma Lakshmi Won't Make Grilled Cheese Without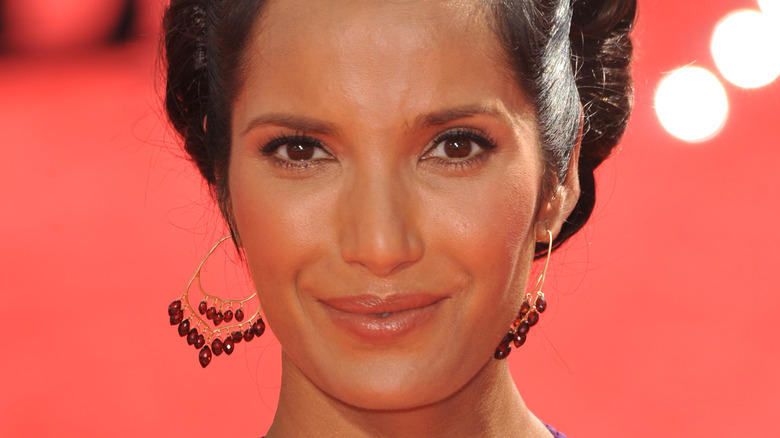 Featureflash Photo Agency/Shutterstock
That first bite into a classic grilled cheese sandwich can be life-changing. Few sandwiches hold such expectations, but when you sink your chompers into the golden crunch of the bread and the warm, gooey savory tang of the cheese, your taste buds fall know they are experiencing nirvana. Celebrity chef and host of Bravo's "Top Chef" Padma Lakshmi has some strong feelings about what makes a good grilled cheese and shared them on an episode of the podcast "Getting Curious with Jonathan Van Ness."
Lakshmi's method for making this beloved sandwich is worth noting. She revealed that she likes sourdough bread for her grilled cheese. She also shared that when she is making her version of this dish, she prefers sprinkling cheese over slices. The creator of Hulu's "Taste the Nation" turns to a shredded Mexican blend when she makes hers, but notes if you are looking for something a little more "grown-up," a good Gruyere will do the trick. However, the key to Lakshmi's grilled cheese may be anchored by the only ingredient she will use when it is time to place it in a skillet and fry it up. And honestly, if you are a fan of using mayo for this task, you may be disappointed. 
Butter is better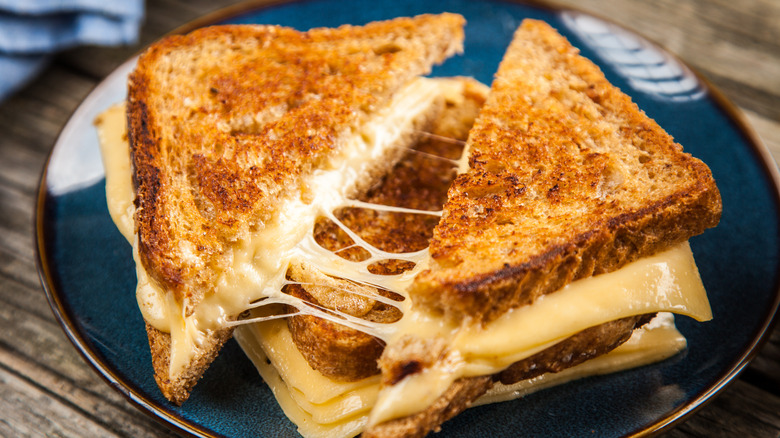 George Dolgikh/Shutterstock
Padma Lakshmi engaged with her Twitter community to divulge she is a fan of butter when it comes to grilled cheese, shunning mayo as her fat of choice to fry the sandwich up. The chef tweeted, "I'm Team Butter. I know lots of people like mayo and it does give you a crispy grilled cheese, but it smells like burnt eggs to me. That's not what I want my grilled cheese to smell like... I still prefer butter. Sorry!" Lakshmi also told Jonathan Van Ness on "Getting Curious" that when she butters the bread for this sandwich, she does so "luxuriously."
Twitter seems to be on her side, with one fan seconding Lakshmi's admission, writing, "Butter is better. Tried the mayo and it just doesn't taste as good." Meanwhile, another quipped, "Butter for life. Mayo only in an extreme pinch."
During her podcast appearance, Lakshmi also explained she uses a medium heat when she makes her grilled cheese and that she puts a glass lid over the frying pan as the cheese melts. She does this to contain the heat and melt the cheese. But once you flip it, Lakshmi says you want to remove the lid so you don't retain the moisture — and your grilled cheese gets nice and crisp. The author also noted that if you want to make certain your grilled cheese is super "yummy," add extra cheese.