How To Get A Free Burger At Wendy's For National Hamburger Day
With Memorial Day right around the corner, many people are looking forward to heading outside and firing up the grill to kick off the summer. The long weekend marks the official start of cookout season, which is more than fitting considering the fact that May also plays host to National Hamburger Month. And as if that wasn't already a sign that the stars are aligned during the fifth month of the year, the culmination of the 31-day celebration of the succulent handheld falls over Memorial Day weekend. This Saturday, May 28 marks National Hamburger Day (not to be confused with National Cheeseburger Day on September 18), so if you haven't yet indulged in a sizzling beef patty stacked in between two buns, this weekend may be the perfect opportunity to finally chow down.
No need to rearrange your plans and move your Memorial Day cookout from Monday to Saturday, either, as National Today says that heading to the drive-thru of your favorite burger-slinging fast-food chain is a perfectly acceptable way to honor the food holiday. Even better, if your favorite fast-food chain happens to be Wendy's, you have the opportunity to celebrate with one of the eatery's iconic square burgers at no cost. According to Thrillist, America's third-favorite hamburger joint is doling out free Jr. Bacon Cheeseburgers as part of this year's National Hamburger Day festivities. Here's how to get yours.
Wendy's app users get to take part in this sweet National Hamburger Day deal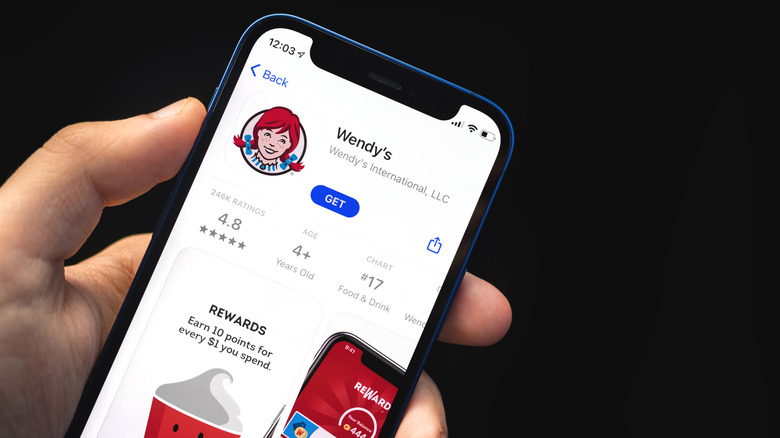 FellowNeko/Shutterstock
As one of five items featured on the menu when the first Wendy's restaurant opened in 1969, one could easily argue that hamburgers are the pride and joy of the chain. So it makes sense that the eatery is celebrating its star in a big way on National Hamburger Day this year by giving away the mini version of one of its most popular burgers. Per Thrillist, Wendy's is offering a free Jr. Bacon Cheeseburger to patrons with the purchase of any other menu item via the chain's mobile app, where the offering can be found under the "sweet deals" tab.
For those that have never tried one of Wendy's JBCs, the sandwich comes dressed with all the classic elements found on a typical bacon cheeseburger, cheese, bacon, lettuce, tomato, and mayo, which are all stacked on top of a jr. burger patty. Per Wendy's, the handheld is a "favorite of bacon lovers everywhere," and was even dubbed the best sandwich from the eatery's Jr. burger line by Insider.
If you're suddenly jonesing for one of these pint-sized burgers, you'll be delighted to hear that Wendy's kicked off its National Hamburger Day deal on May 23, and will be available through Sunday, June 5. It's important to note that, unlike its $1 deal for National Hamburger Month, this coupon is only good for one use during the two-week time frame, so be sure to use it wisely.