Wendy's Has A Sweet $1 Deal For National Hamburger Month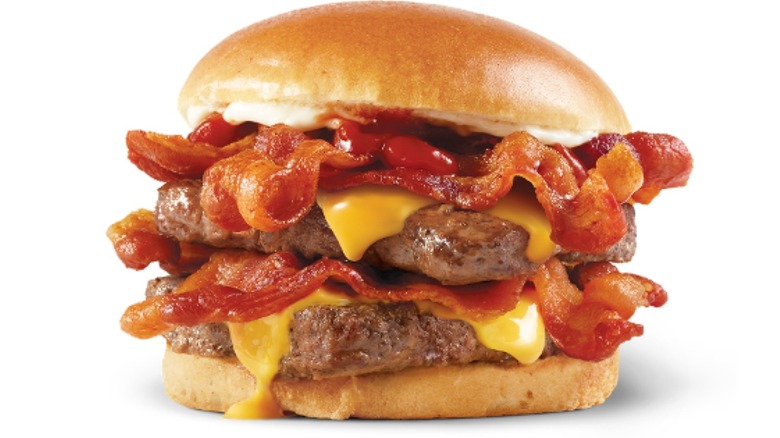 Wnedy's
In the 1994 book, "The Primal Cheeseburger,"  author Elizabeth Rozin declared, "If the melting pot exists, the cheeseburger may well be its most palpable product; to take a bite of it is to take a bite of history." But even without the dairy topping, a hamburger is a bite of history worth savoring. According to National Today, the sandwich originated from a snack called a Hamburgh sausage that resembled a meatball and came with bread. The modern image of this dish stems back to the 1904 World's Fair, where hamburgers appeared as a novelty food. Later, they were formalized by White Castle. 
May has been designated National Hamburger Month, and chains like Dairy Queen, Jack in the Box, and Ruby Tuesday take part in the celebration. All-things-burger will also get spotlighted on National Hamburger Day, which falls on May 28.  Various chains join in the May celebrations, including Ruby Tuesday, Jack in the Box, Fatburger, and of course, Wendy's. The beef-house that Dave Thomas built has an offer that promises to get a hamburger into the hands of anyone who has a dollar to spare – well, technically more than a dollar.
How to score a burger for $1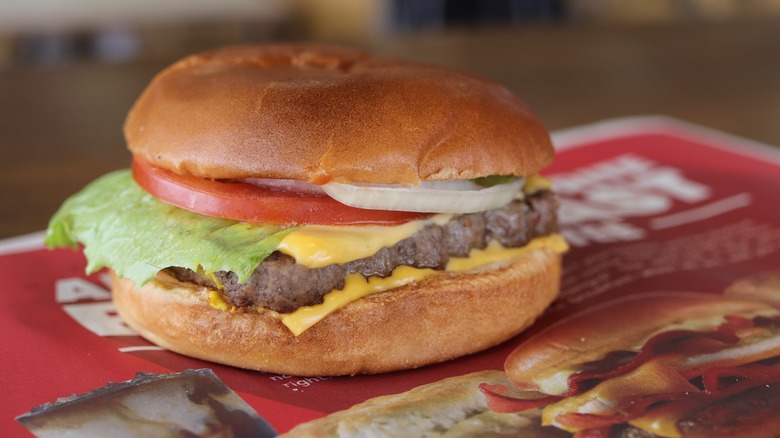 Deutschlandreform/Shutterstock
Wendy's isn't shy about shining a light on burgers, whether it's May or not. It celebrated last year's National Hamburger Month with the introduction of their Bourbon Bacon Cheeseburger, per a Wendy's press release. Just a few months later in September, the chain observed National Cheeseburger Day but decided that expand it to "National Cheeseburger Month" (via Twitter). And now?
According to Chew Boom, Wendy's plans to offer a BOGO deal for the duration of May in honor of the hamburger. Anyone who buys a burger has the chance to get a second burger for only $1 when they make the purchase using the restaurant's app. They also have the option of scanning the offer at a drive-thru or in a Wendy's location.
It might seem sacrilegious to burger fans, but Wendy's also plans to offer a second BOGO deal on chicken sandwiches, and diners can swap out a $1 burger for a $1 chicken sandwich if they so choose. (If it helps, hamburger purists can always think of the sandwiches as chicken burgers.) The promotion runs until the end of May, and only at participating Wendy's locations.