Checkers' And Rally's Chicken Sandwich Just Got A Bigger-Than-Ever Flavor Upgrade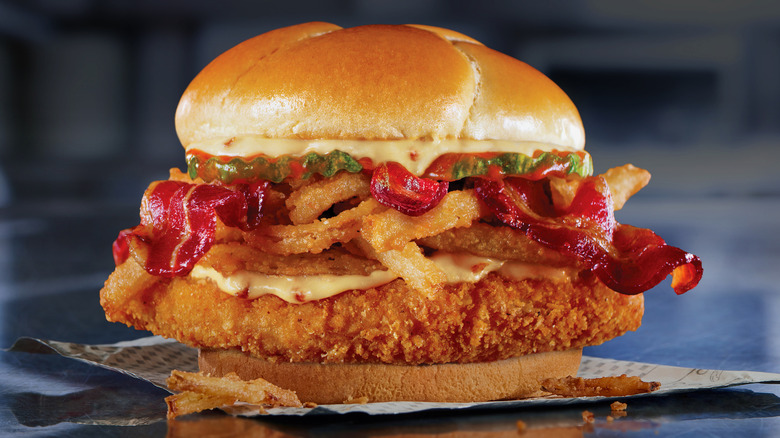 Checkers
If you live in one state, you might know it as Checker's Drive-In. In another state, you may call it Rally's Hamburgers. According to Checker's and Rally's management, the only real difference between these two restaurants is the name; everything else, down to the menu, is the same no matter where you go. This means that, if you live in a state that calls Rally's Checker's or a state that calls Checker's Rally's, you'll still be able to get everything from a Big Buford burger to the chain's famous seasoned fries.
Aside from the somewhat confusing name scheme, Checker's and Rally's is also known for their pretty bold — and pretty big — menu offerings. In November 2021, the chain released a limited-time Big Buford topped with bacon and soaked in a garlic-parmesan sauce (via PR Newswire). For example, even earlier in 2017, Checker's and Rally's offered a hamburger topped with mozzarella sticks and marinara sauce alongside a chicken parmesan sandwich (via Brand Eating).
Now, it appears that the company is plunging head-long into upgrading its chicken sandwich, including giving it a name as huge as the burger itself.
Checker's and Rally's is offering the Bacon Brewhouse Mother Cruncher
According to ChewBoom, this sandwich isn't just a mouthful because of the title but also because of what's on it. The sandwich features a fried chicken breast topped with the chain's new beer cheese sauce mixed with bacon pieces, bacon strips, spicy pickles, and crispy "onion tanglers" served on a bakery-style bun. Naturally, you can purchase the Bacon Brewhouse Mother Cruncher by itself for $5.99, or as part of a small, medium, or large combo meal.
This isn't the first time Checker's/Rally's has delved into the ongoing chicken sandwich wars waged between fast food companies. According to QSR Magazine, the company launched its first Mother Cruncher chicken sandwiches back in June of 2020. Mother Cruncher here refers to the "mega-crunch" breading that the chicken is fried in. Unlike other fast food chicken sandwiches, rather than being served with just mayo and pickles, Checker's and Rally's sandwiches were served with lettuce, tomato, and the chain's signature Squawk Sauce.
While it's yet to be seen how the Bacon Brewhouse Mother Cruncher will be received by the general public, there's no denying what makes the company's seasoned fries so delicious — and that the public loves them.