The Popular Food Brand That Just Named Kim Kardashian Its 'Chief Taste Consultant'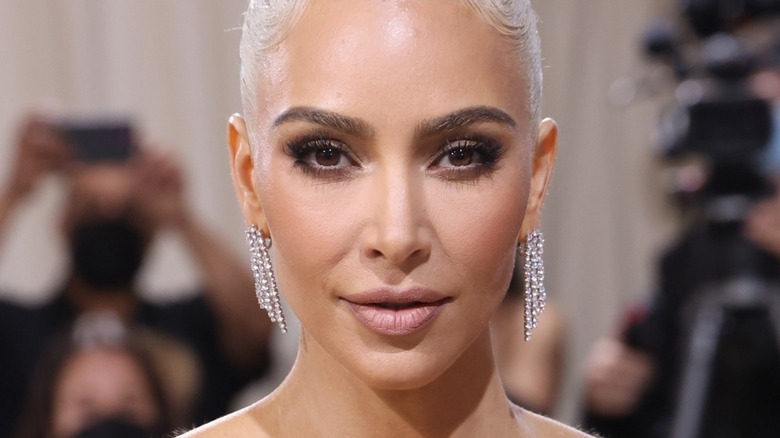 Featureflash Photo Agency/Shutterstock
When it comes to tastemakers, the Kardashians are usually pretty high on the list. But despite the phrase, their celebrity status usually involves consulting on matters of a different nature than food. As L'Officiel puts it, the Kardashians have made their mark on society with iconic red carpet fashions, revitalizing reality television programming, and inspiring people across the country to take selfies. They paint a picture of a family that is largely influential in the world of fashion and pop culture.
However, in the past few years, the Kardashian clan has been becoming more and more of a foodie family, with Kim leading the pack. Kim Kardashian learned to cook when she was young from her mother, as the star shared on "Cooking with Paris." Since then, stories have surfaced about everything from the Kardashians' favorite orders at popular fast food franchises like KFC, to inside looks at Kim and Khloe Kardashian's pantry closets – not to mention Kylie Jenner's widely shared chocolate chip cookie recipe. One popular brand took notice and is capitalizing on Kim's tastemaker status in more ways than one.
Beyond the average Kardashian social post
In a promo post on her Instagram page, Kim Kardashian mentions how inspired she is by Beyond Meat and their mission, announcing her new title as their "Chief Taste Consultant." Details seem to be hush, hush for now, but for those looking to hear about it first, they can sign up on Beyond Meat's website for news and some exclusive deals. If nothing else, your initial sign-up will get you a special offer from Kim and her collaborator, Beyond Meat.
In her video, Kardashian notes, "I believe so much in the mission of Beyond that I've stepped in to help with my greatest asset — my taste." She goes on to talk a bit about the meat, praising its "amazingly delicious" flavor and "better for you and better for the planet" formula. Her fans could not be more excited about the collaboration, with one saying, "I'm Beyond proud of this," and another noting how happy they are to see Kardashian "fronting plant-based alternatives."