Here's Why Kim Kardashian Learned To Cook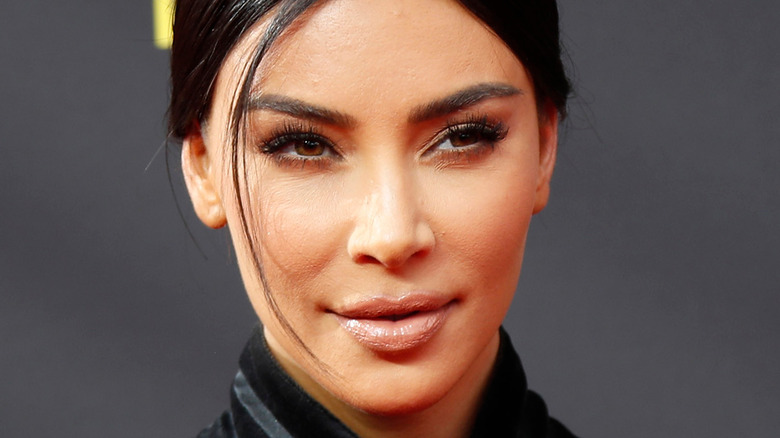 Kathy Hutchins/Shutterstock Images
You've probably heard the name Kim Kardashian thrown around more than once or twice. The savvy entrepreneur skyrocketed to fame in the mid-2000s when "Keeping Up with the Kardashians" premiered, a reality TV series that closely follows the dramatic and entertaining lives of the Kardashian-Jenner clan. However, it's the end of an era for the KKW Beauty business owner, who's hit E! reality series recently came to a close after 14 years, with an impressive 20-season run (via Newsweek).
As one of the world's most successful social media influencers, Kardashian unsurprisingly took to Instagram to share an emotional statement with her 241 million followers. "This show made us who we are and I will be forever in debt to everyone who played in a role in shaping our careers and changing our lives forever," the reality TV pioneer wrote in September 2020.
What is Kardashian doing with all of her free time? Well, for one, she's appearing on the first episode of Paris Hilton's new Netflix show "Cooking with Paris," where the longtime best friends cooking a "heavenly brunch" with a nod to Hilton's favorite cereal, Lucky Charms (via Netflix). "Cooking with Paris" shows Hilton and her famous friends hilariously attempt to master the art of cooking by "navigating new ingredients, new recipes, and exotic kitchen appliances," according to the streaming service. This six-part series hosts numerous guest stars including Demi Lovato, Nikki Glaser, Saweetie, and Lele Pons.
These famous best friends get candid in Paris Hilton's new show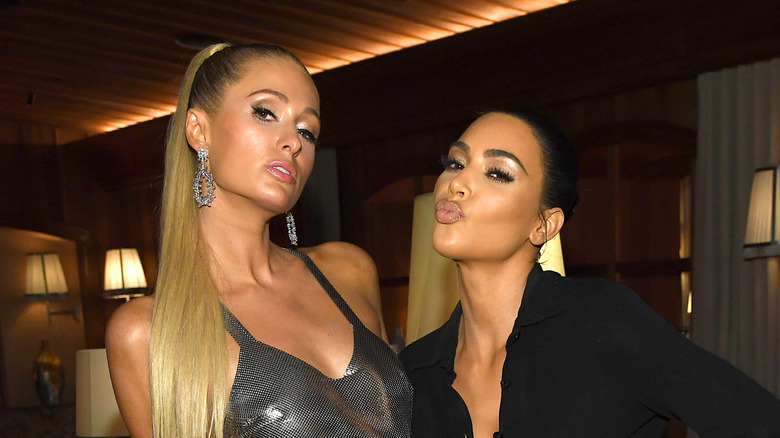 Kevin Mazur/Getty Images
You may be wondering, why does Paris Hilton have a new cooking show? While she is nothing close to a Michelin Star chef or a food expert, the famous entertainer is the first one to admit it. "I love cooking. But I'm not a trained chef, and I'm not trying to be," Hilton candidly states in the opening credits of the first episode. The glamorous heiress' real motive behind the show relates to motherhood. Hilton realizes that if she wants to have children, she needs to know how to care for them, which includes knowing how to cook for and feed the little tykes.
And that's where Kim Kardashian comes in. As a mother of four, Hilton's former assistant and old friend is there for advice and "expertise." As the iconic duo is hard at work in the kitchen whipping up a breakfast frittata, Hilton asks Kardashian, "How did you learn how to do all this?" "When Kourtney went away to college, my mom, she was hysterically crying," Kardashian begins to share. When the girls asked their mom Kris Jenner what was wrong, she said, "I never taught Kourtney how to cook!" From that day on, Jenner vowed to teach her other daughters important cooking skills while they were still young to prepare them for the future.
While you may not learn much about fine-dining in "Cooking with Paris," Hilton's trademark humor and cameos from her celebrity friends make it worth the watch.