Aldi Shoppers Are Thirsty For Its New Margarita Popsicles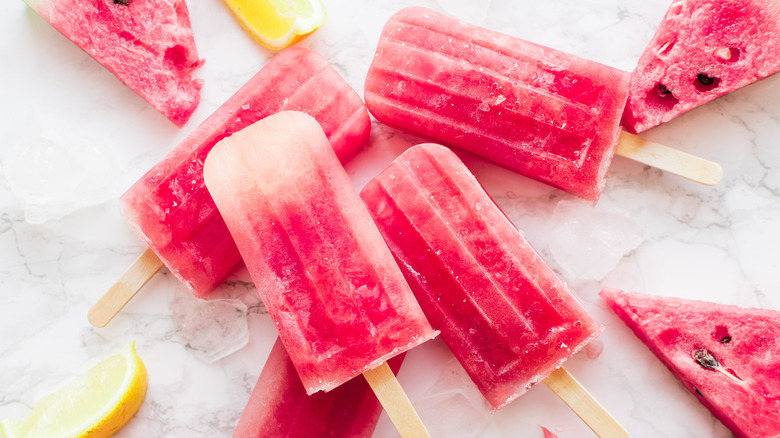 Nelli Syrotynska/Shutterstock
Temperatures are rising, summer breaks are underway, and weekends are filled with smoky BBQs, beach days, and bonfire evenings. All of this means one thing: Summer treats have taken over the supermarket aisles right now and it's time for iced coffees, bottled cocktails, cold beverages, and all-things-barbecue to reign.
It seems one popular grocer has already gotten the summer memo. Instagram accounts dedicated to sharing Aldi's newest offerings with the rest of the world have already spotted exciting frozen treats at the supermarket chain. According to @aldifavoritefinds and @ohheyaldi, s'mores flavored iced coffees, non-dairy ice cream tubs and bars, coffee-flavored sparkling waters, boxes of hard seltzers, bottled mimosas, and cocktails in all sorts of fruity flavors fitting of summer are only a hint of all that Aldi has in store for shoppers.
Now, @aldi.mademedoit has more joyous news to share — boozy popsicles are making the rounds once again just in time for summer! Sharing an image of the 12-pack popsicle box of frozen margaritas, the caption said, "these scream eat me by the pool on a pool float this summer." And as it turns out, fans couldn't agree more!
It's a summer filled with spiked popsicles for Aldi fans
Aldi fans may remember that this isn't the first time the chain has rolled out a boozy version of popsicles for adults. The supermarket was selling Prosecco & Peach Bellini and Gin & Tonic popsicles as far back as 2017 (via Epicurious), and even introduced Claffey's frozen cocktails in 2020 which were already a hit amongst Costco shoppers from previous years.
This year's spiked popsicle addition is a frozen version of Rancho La Gloria's margaritas. Per the Instagram post, there are 12 popsicles in a box, including mango, lime, and strawberry flavors. Considering each popsicle boasts a punchy 6% ABV, it's safe to say the alcohol isn't an afterthought in these summer ice pops! Comments on the post indicate that fans are already thrilled and can't wait to make a beeline to Aldi to see if they snag a pack of these margarita popsicles. As one shopper wrote, "Oohhh I need to try these!" 
If margaritas aren't your thing, worry not, another post by @aldi.mademedoit shares that the store is also selling the Daily's alcohol-infused Poptails in strawberry, green apple, and watermelon flavors. If the comments are any indication, fans vouch for these spiked frozen treats, too!
If you're interested in a summer filled with poolside boozy popsicles, here's our list of popular brands ranked worst to best.