Here's How You Can Grab 1-800-Flowers' New Pride Month Goodies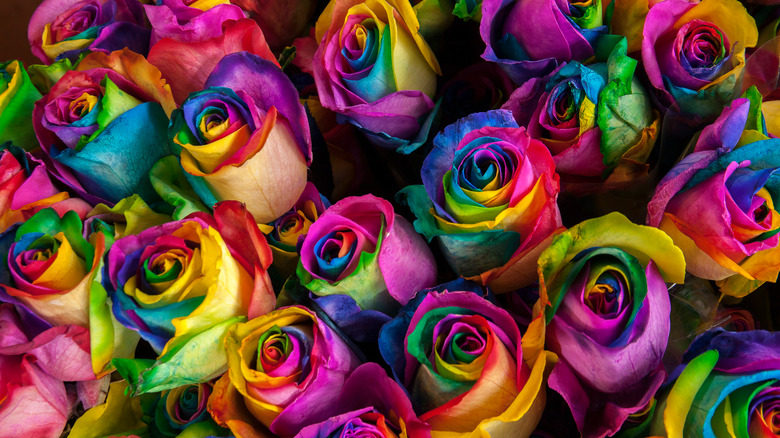 Claudia G Cooper/Shutterstock
Even if gifts are your love language, thinking up the perfect ribbon-wrapped offering to bestow upon your loved ones can take a shocking amount of forethought. To save us from this happy conundrum, purveyors of gift baskets do the work of assembling various sundries so we don't have to, which is why there are so many of them to choose from — even ones lauded by The New York Times. 
Rainbow colorways reign supreme with Pride month just days away, but there may not be enough time to run all over town looking for a ROYGBIV bouquet and bake an array of rainbow desserts in time for the Pride picnic to which you forgot you RSVP'd. If you don't want to order from Edible Arrangements but like the idea of celebrating Pride with flowers and sweets, the company 1-800-FLOWERS.COM, Inc. might have your back. The brand announced that it's once again partnering with GLAAD for this year's Pride Collection, which features everything from long-stemmed roses to tins of assorted popcorn. 
A portion of Pride Collection proceeds will benefit GLAAD
In a May 19 news release, 1-800-FLOWERS.COM, Inc. announced that it's teaming up with GLAAD to "raise funds and awareness" for the LGBTQ+ advocacy organization. In addition to having donated $25,000 to the organization, the company is offering 14 Pride Collection gifts, available for online purchase through June 30. "We are proud to continue our relationship with GLAAD to raise awareness for its mission, to help amplify voices within the LGBTQ+ community, and to inspire our customers to give back," said company president Tom Hartnett.
The company wouldn't be true to its name without offering flowers, making its Pride Collection standout a 12- or 24-stem bouquet of roses in all the colors of the rainbow. Other offerings include a Harry & David Pride gift box with sweet treats like yogurt-covered pretzels, rainbow marshmallow pops, raspberry galettes, and sprinkle-covered truffles; a tin of assorted popcorn from The Popcorn Factory; colorful iced cookies; and an array of ecards. Per the press release, 20% of the net proceeds from the Pride Collection will benefit GLAAD, which customers can also support directly with an additional monetary donation at checkout.