How The Bomb Pop Became An American Icon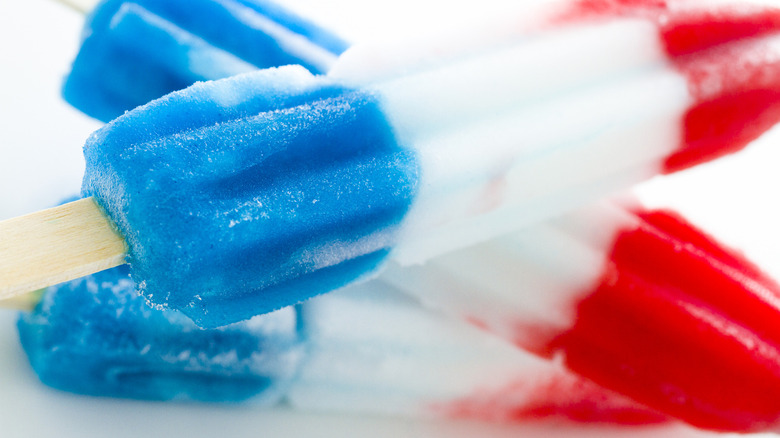 When you think of the Fourth of July, several quintessential things likely come to mind, including backyard barbecues, picnics, American flags (and corresponding attire and merchandise), fireworks, baseball games, and a general sense of freedom. When it comes to celebrating Independence Day, indulging in hearty comfort foods and tasty drinks is bound to be a part of the agenda. From burgers, hot dogs, and brats to sliced watermelon, pasta salad, potato chips, and ice cream cones to beer, lemonade, and chilled cocktails, there's inevitably going to be something on the menu for everyone to enjoy. And since July 4 typically calls for hot temps across the country, what better way to cool down while simultaneously showcasing your unwavering American pride than chomping on a Bomb Pop?
Bomb Pops — the red, white, and blue-hued, fruity-flavored, firecracker-shaped ice pops — have become sweet staples of USA culture. The iconic tricolor treat includes layers of cherry, lime, and blue raspberry flavors, per the brand's official website. Along with many other frosty desserts, the Bomb Pop is a symbol of childhood innocence, strategically infused into a frozen snack designed to be consumed in the heat of the summer.
The Bomb Pop is a classic emblem of Americana invented during the Cold War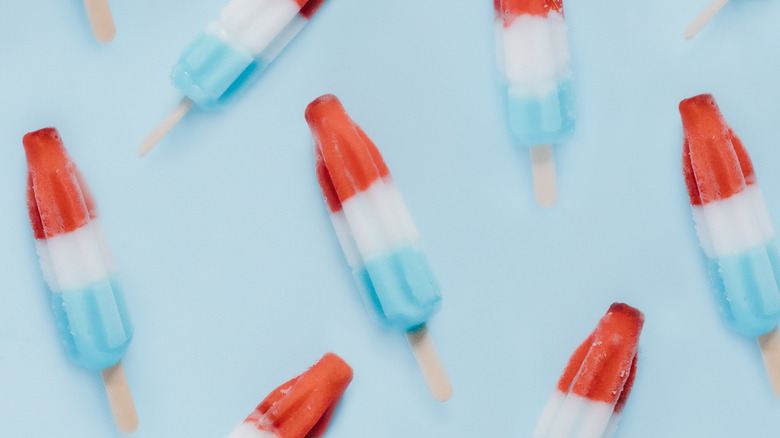 The red, white, and blue color palette — along with the zesty, fruity, widely beloved flavor palate — is what makes the Bomb Pop stand out on store shelves. But there's so much more to the patriotic goodie than meets the eye. The first-ever Bomb Pop entered the world amid the Cold War in 1955 in Kansas City, Missouri. Its inventors, D.S. "Doc" Abernathy and James S. Merritt, were two food factory workers who, according to My Local Radio, originated the idea during a drive from Memphis to Kansas City. Soon after, the brightly-dyed popsicles became a frozen section mainstay as well as a concession stand and ice cream truck commodity.
After Merritt Foods closed its doors in 1991, Bomb Pop's branding rights and recipe were thankfully picked up by Wells Enterprises in Le Mars, Iowa, where the legendary frozen treat is still made to this day. And thankfully, you don't have to wait until July 4 to wolf down a Bomb Pop or two, because it just so happens that National Bomb Pop Day is celebrated each year on the last Thursday in June. No matter your age, political affiliation, or background, Bomb Pops are an undoubtedly delightful, festive fare that always hit the spot. And don't forget to get all the best freebies and goodies on the 4th of July!