Walmart Is Officially Offering Drone Delivery. Here's What That Means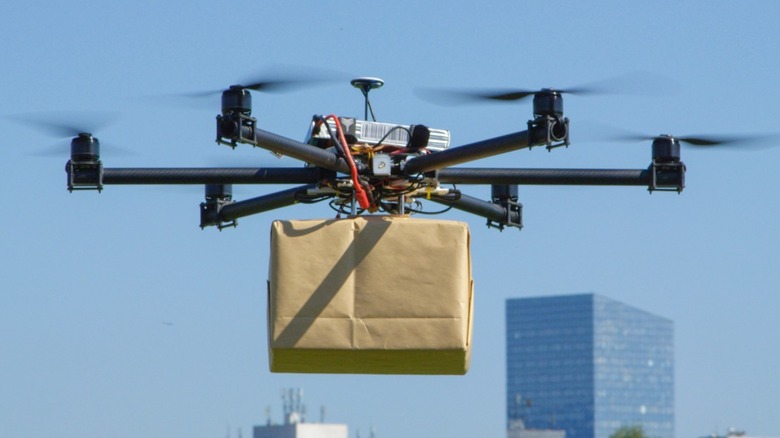 Flystock/Shutterstock
You're going through your weekly grocery checklist, taking inventory on what you need to buy. You know, milk, cheese, bread, dishwasher tablets, and so on. After figuring out what you need, you go to your computer, go onto the Walmart website, and place your order online. After a few hours, you receive a message that your order has arrived via "Air Walmart" and is waiting for you on your front step. When you go outside, you find your bags of groceries placed neatly in front of your door. Buzzing away into the distance is a delivery drone decked out with Walmart's classic "smiley face" logo.
While delivery via drone isn't exactly a new innovation, it's certainly impressive to be able to get your groceries without even leaving the house. Supermarket chain Kroger, for example, has been experimenting with drone delivery in Ohio since 2021 (via Government Technology). The robots have even been known to deliver food in the same manner as your average delivery driver, although this may be a bit more controversial, according to Eater.  But now it seems that grocery store juggernaut Walmart is taking an interest in drone delivery, teaming up with delivery service DroneUp in order to roll out their newest plan.
Walmart's drone delivery is only in 6 states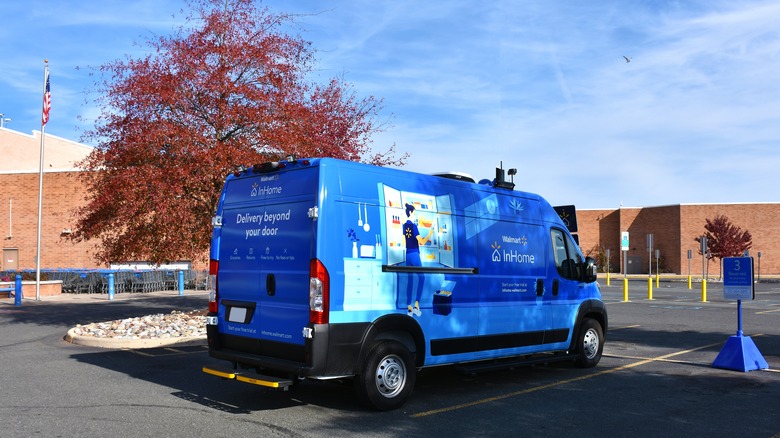 refrina/Shutterstock
According to Walmart Corporate, the company's drone-delivery program is currently active in six states — Arizona, Arkansas, Florida, Texas, Utah, and Virginia. Across those states, explains Senior Vice President of Innovation and Automation David Guggina, there's a possibility of reaching over 4 million households, with 1 million packages potentially being delivered by drone per year.
But how does this system work? Does someone just tie your grocery bags to the bottom of a drone and hope nothing falls as it cruises above your neighborhood? Between 8 a.m. and 8 p.m., customers can order from a wide list of eligible products, such as food, hygiene care, or medicine, that will then be carefully boxed and sent out for delivery from a DroneUp delivery hub located at participating Walmart stores. The drone then flies to the selected location and lowers the package to the ground via a cable. The only two catches are that you'll pay a fee of $3.99 for delivery, as well as having a 10-pound weight limit to prevent overloading the drone.
Surprisingly, Walmart's initial belief was that people would use this service to get emergency items quickly, but they were surprised to find that customers used it mostly for convenience. As an example, they noted that Hamburger Helper is one of the top-selling items.