People Are Buzzing To Get A Scoop Of This Baijiu-Infused Ice Cream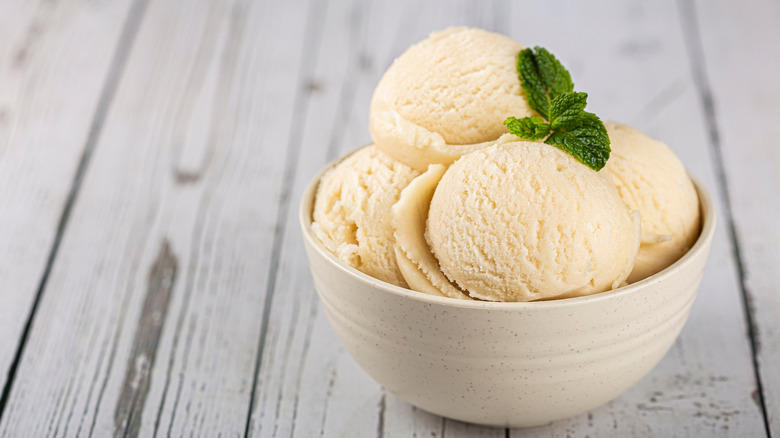 WS-Studio/Shutterstock
There are not many things that can make us feel more refreshed in the scorching summer heat than a scoop or two of delicious ice cream. And to make things even more interesting, there's ice cream with added alcohol, so we can feel a bit boozy and refreshed at the same time. What's not to like? Serious Eats reports that alcoholic ice cream will often be softer, which makes getting the perfect scoop a bit easier. However, if too much booze is added to ice cream, it can result in a messy and melted puddle because when the freezing point of ice cream is lowered with the addition of alcohol, its melting point is also lowered in the process. 
Many types of alcohol can be added to ice cream, such as hard liquor, liqueurs, wine, and beer. And now, there's also baijiu-infused ice cream. Baijiu is a Chinese beverage that uses sorghum or a combination of barley, corn, rice, wheat, and sorghum as the main ingredient (via ScienceDirect). The alcohol is known for its complex and rich flavor and is often served at business meetings and important social gatherings in China, according to LoveBaijiu. Now, CNN reports that baijiu-infused ice cream is getting some attention.
Moutai baijiu-infused ice cream comes in 14 different flavors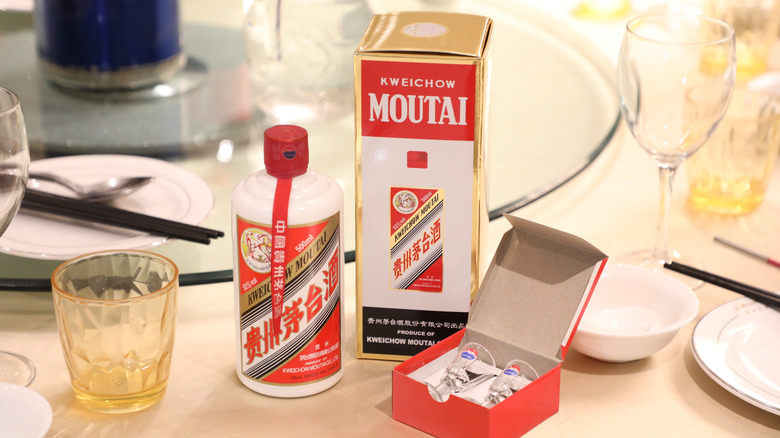 PARINYA ART/Shutterstock
According to CNN, the most expensive variety of baijiu is called Moutai, and the first Moutai Ice Cream Shop had its limited opening on May 19 in Zunyi in the province of Guizhou. This hard liquor, which contains 53% alcohol, is added to ice cream that comes in 14 different flavors, such as chocolate, matcha, and green plum. The ice cream store will fully open on May 29, but it will offer the original Moutai and vanilla Moutai flavors until then. Both are priced at 39 yuan, or $5.79, per scoop. That is not too pricey considering that a bottle of Moutai typically costs between 1,499 yuan and 16,000 yuan, or $223 to $2,381 (via Insider). 
Baijiu-infused ice cream has already been made in China — in 2019, the former executive chairman of Alibaba, Jack Ma, was spotted tasting a Moutai-flavored scoop in Hangzhou, and the comments on the internet noted that it's good to "get drunk and have ice cream at the same time" (via Global Times). Still, this energizing mash-up costs more than one of China's most popular ice cream brands, Häagen-Dasz (per CNN), so Chinese foodies will have to watch their wallets while indulging in this boozy treat.