Dirty Shirley Cocktail Recipe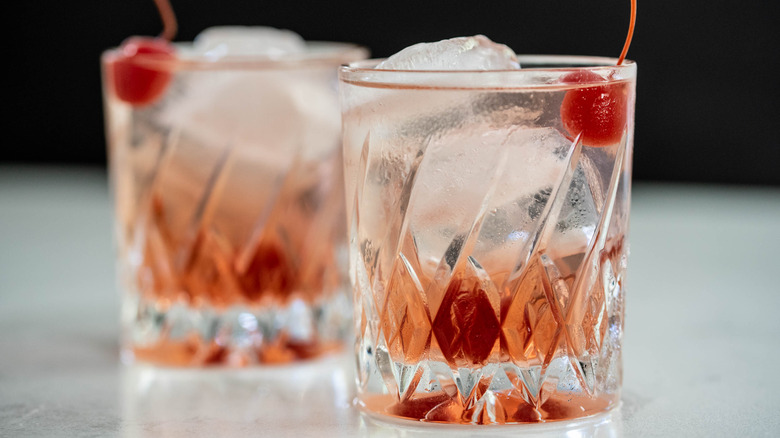 Michelle McGlinn/Mashed
It's pretty ironic, really. The Shirley Temple is the classic refreshment named for a classic American child actress. It's been served to kids across the land for generations. The Dirty Shirley is an adult take on that classic kids' drink: a full-on cocktail — booze and all — inspired by the quintessential booze-free mocktail.
Chef and recipe developer Michelle McGlinn's take on the drink was inspired by some internet trends calling back old memories. She says: "I saw Dirty Shirleys trending on TikTok, and it took me back to college ... These were super popular in the spring and summertime where I went to school. They're a perfect rail drink when you're tired of your rum and cokes and gin and tonics. They're super sweet, cheap, and easy to drink! A little too easy..." So be warned!
Read on to learn how to make your new favorite drink to enjoy at your summer pool party or barbecue.
Gather your Dirty Shirley ingredients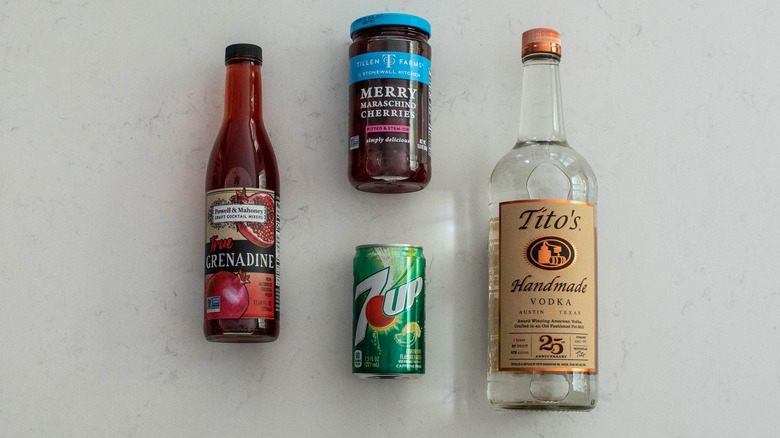 Michelle McGlinn/Mashed
All you need to prepare a Dirty Shirley is vodka, grenadine, maraschino cherries, and a lemon-lime soda, like Sprite or 7UP. This recipe makes a single drink, but you can easily size it up and make them in pitchers; you'd just multiply the vodka, grenadine, and soda into bigger portions and omit the ice until serving.
Prepare the cocktail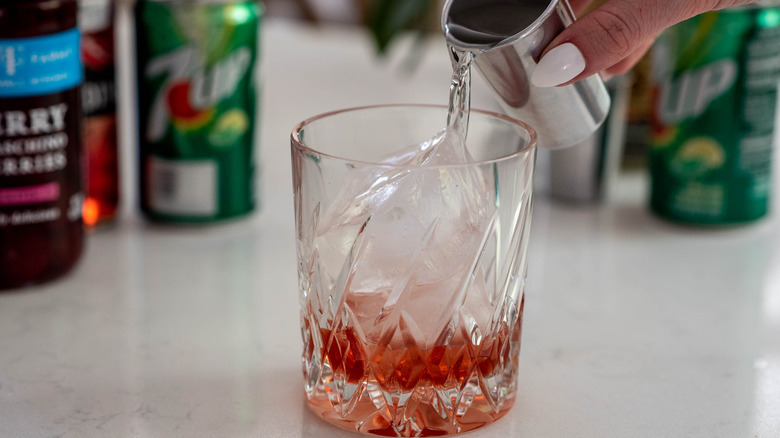 Michelle McGlinn/Mashed
Making this drink will take you 3 minutes max — and likely less. So let's get to it!
First, fill a rocks or highball glass with ice. Then pour the grenadine over the ice, and then the vodka over grenadine. Top the glass with lemon-lime soda. Finally, garnish the cocktail with a maraschino cherry. Before serving it, stir the cocktail a bit so that the grenadine is incorporated and creates a pink gradient.
The role each ingredient plays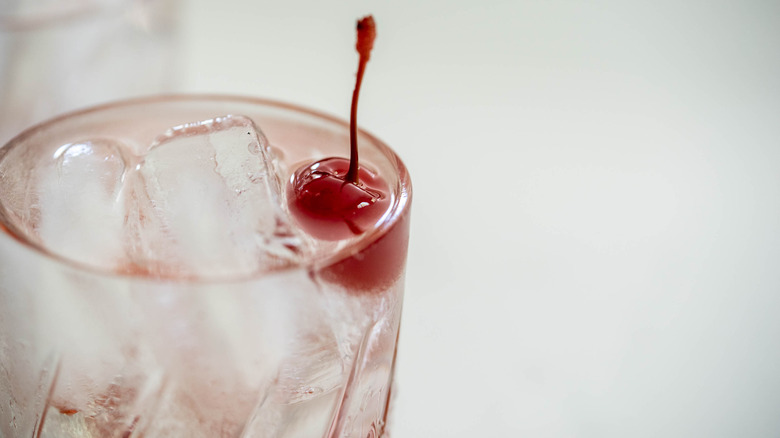 Michelle McGlinn/Mashed
Shirley Temple (the actress) played a lot of great roles and was usually the star of the film. As for what the star is of this cocktail, McGlinn says it's really more of an ensemble cast. "The standout depends how you look at it," she explains. "Because it's the 'dirty' version of the classic Shirley Temple, the standout could be the vodka! Otherwise, looking at it from the perspective of a vodka soda, the standout ingredients are the grenadine and cherries. The grenadine turns the drink a red-pink hue and gives it a super sweet taste. The cherries give a slight sweetness, too, but are largely a fun, sweet snack."
Switching it up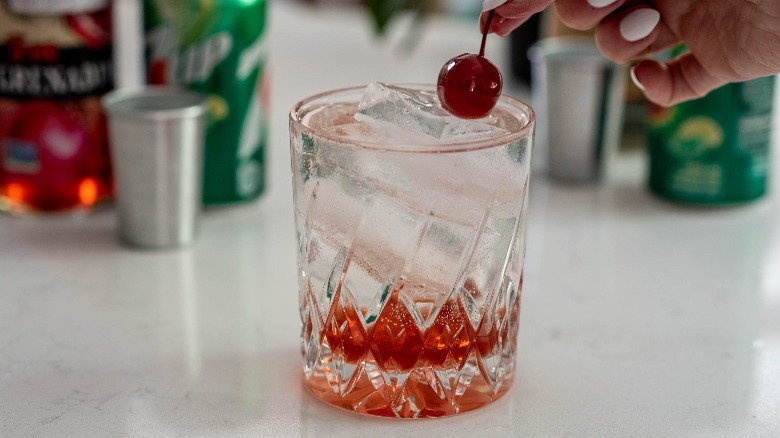 Michelle McGlinn/Mashed
One fun thing about this cocktail is its versatility. "You could add a lot to this! It's such a simple base," McGlinn says. "You could add a splash of orange juice or a squeeze of lime for something simple and citrusy. You could add a little pineapple juice for something kind of tropical. You could switch out the lemon-lime soda for ginger beer if you prefer the bite. You could also add liqueurs like creme de cassis or triple sec instead of or in addition to the grenadine. Or, if you don't have grenadine on hand, you could use the juice from the cherries instead."
Go wild!
Dirty Shirley Cocktail Recipe
The classic mocktail ... with a little something extra. Here's how to give the childhood favorite that is the Shirley Temple an adult makeover.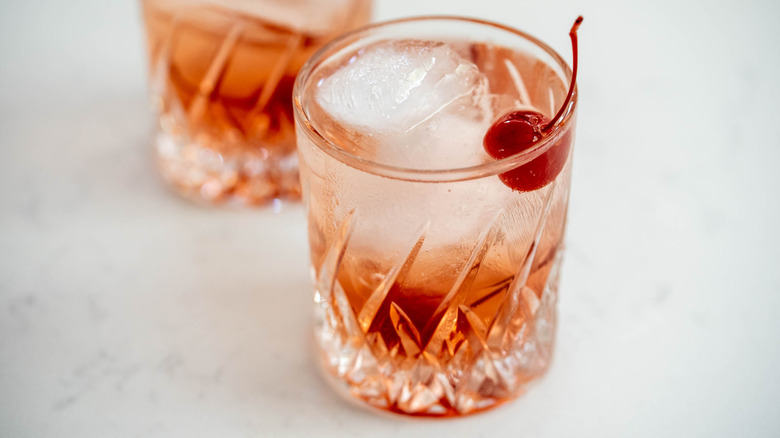 Ingredients
2 ounces vodka
1 ounce grenadine
4 ounces (or more) lemon-lime soda, such as 7UP or Sprite
1 maraschino cherry (or more), for garnish
Directions
Fill a rocks or highball glass with ice.
Pour grenadine over ice, then the vodka over the grenadine.
Top with lemon-lime soda. Garnish with a maraschino cherry.
To serve, stir the grenadine so that it creates a pink gradient.
Nutrition
| | |
| --- | --- |
| Calories per Serving | 260 |
| Total Fat | 0.0 g |
| Saturated Fat | 0.0 g |
| Trans Fat | 0.0 |
| Cholesterol | 0.0 mg |
| | |
| --- | --- |
| Total Carbohydrates | 32.6 g |
| Dietary Fiber | 0.2 g |
| Total Sugars | 25.3 g |
| Sodium | 18.6 mg |
| Protein | 0.1 g |