That Time Alex Guarnaschelli Dissed Michael Symon's Coconut Cake Roll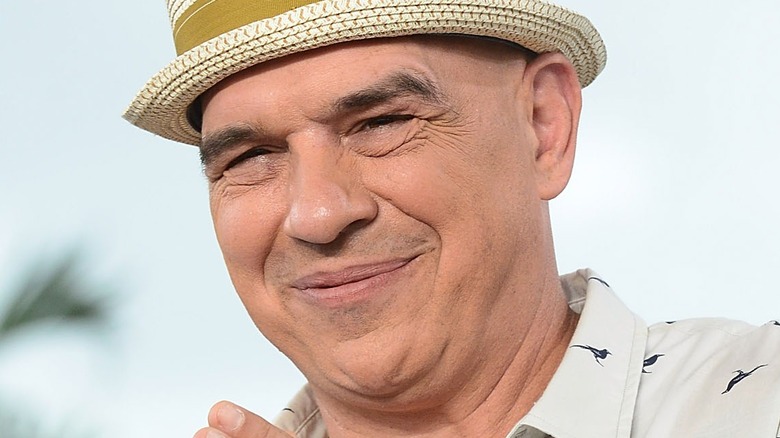 Gerardo Mora/Getty Images
It might not be apparent on the surface, but, believe it or not, chefs Alex Guarnaschelli and Michael Symon have quite a lot in common. For starters, both are members of the Food Network family and have the distinguished honor of being able to call themselves Iron Chefs. The restaurateurs also have a mutual pal in Bobby Flay, with whom they've worked hard as both judges and competitors to serve up a few losses on "Beat Bobby Flay." When it comes to food, Symon and Guarnaschelli both consider themselves to be adventurous eaters and even swear by the same Julia Child turkey tip for Thanksgiving Day.
Clearly, the two have plenty to talk about when paired up in a room together. However, despite all of their similarities, it appears that the duo of celeb chefs disagree on at least one thing in the culinary world: how to go about topping a decadent cake roll. The topic became one of contention on May 17 after Symon showed off a set of the mouthwatering baked goods on his Instagram page. "Lemon and coconut cake roll recipe testing for the new cookbook...trying to decide on icing or powdered sugar," the "BBQ Brawl" host captioned a photo of the two different cake roll options on Instagram. "Leaning toward powdered sugar and lemon zest...really really good!" he added. 
His idea hit the mark for a number of his followers. However, for Guarnaschelli, the plan was a swing and a miss.
When it comes to cake rolls, Alex Guarnaschelli is team icing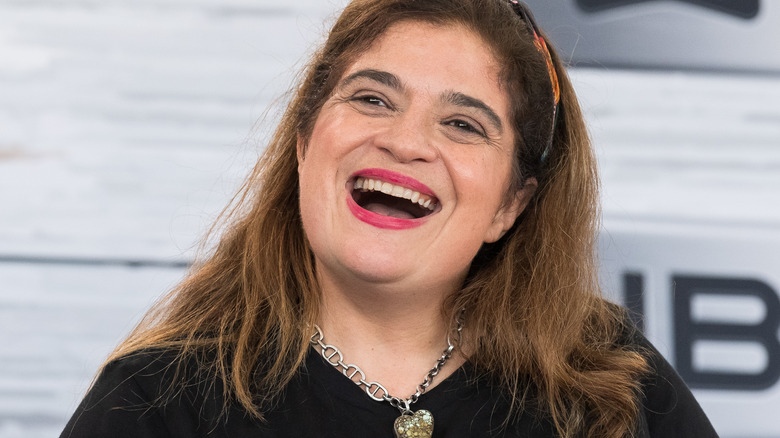 Jason Koerner/Getty Images
With a culinary career that spans more than 20 years, we don't doubt that Michael Symon's lemon and coconut cake roll would taste good regardless of whether it's topped with icing or powdered sugar. However, if Alex Guarnaschelli has any say in it, powdered sugar wouldn't even be in the running. The Iron Chef held nothing back in the comments section of Symon's recent Instagram post showing off the sweet treat, leaving a series of notes showing her undying support for icing rather than powdered sugar as the topping for her friend's flavorful dessert.
"A frosted roll here would be the turchetta of the cake roll," she wrote in one comment, though not all of them were quite as nice. "1972 called. They want their powdered sugar shaker back," she teased in a second comment, while in a third she declared that "POWDERED SUGAR IS FOR THE AMATEUR HOURS." In response, Symon tried to argue that his preferred option "sings confidence." However, to Guarnaschelli, it was a sign that "we clearly don't have a frosting recipe."
Symon does, in fact, know a little something about whipping up icing, as his recipe for Frosted Devil's Food Cake calls for a homemade chocolate frosting. As for whether he heeds Guarnaschelli's advice and develops a new icing recipe for his lemon and coconut cake roll, it looks like only time will tell.