The Charcuterie Cracker Rule You Should Never Break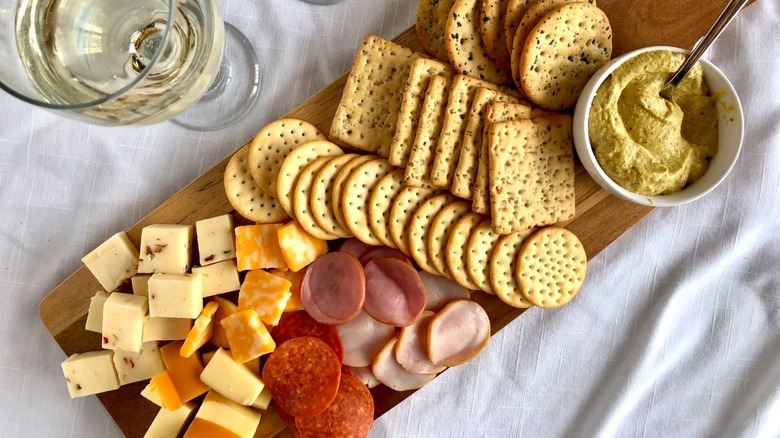 JLMcAnally/Shutterstock
After all of the jigsaw puzzles were completed and people somehow managed to keep their sourdough starters alive long enough to make focaccia decorated like landscapes, many took to social media once again in search of hobbies to fill their days while quarantining from the COVID-19 pandemic. When phrases like "social distancing" became part of the lexicon, many foodies channeled their culinary and artistic talents into beautiful charcuterie boards.
Charcuterie takes its name from the French words for cooked ("cuit") flesh ("chair"), and while the pursuit initially focused solely on cured meats, the term now more broadly encompasses bougie meat and cheese platters (or grazing boards) that are similar to Italian antipasto platters. Although it originated in the 15th century, charcuterie certainly had a moment in 2020 (via Business Insider) — so much so that the phrase "charcuterie influencer" was coined to describe popular sites like Marissa Mullen's blog "That Cheese Plate."
A charcuterie board contains a little bit of everything to please all eaters and can be customized to feed one person or large groups. It can be put out as an appetizer or used as a meal (with a glass of wine, perhaps). Building a visually appealing board with different colors, shapes, and textures is important, as is having an array of flavors offering salty, sweet, and spicy elements. With so many factors to consider, how do you assemble a beautiful, tasty charcuterie board sure to impress your guests for your next get-together? It may hinge on crackers.
When building a charcuterie board, plain crackers are better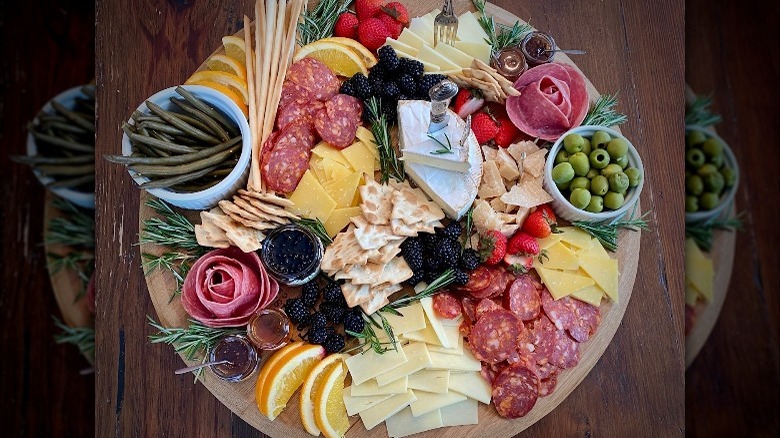 Jennifer Mathews
Start building the board with larger items like your cheeses. Variety is crucial for the perfect charcuterie board so offer at least three different types: a soft cheese like brie, a semi-firm cheese like an aged gouda, and a hard cheese like parmesan. Slice the cheese into different shapes to add some visual contrast. Next, add your cured meats,  folding the slices into various shapes (hello show-stopping salami rose).
Add the crackers next, tucking them in between the meat and cheeses. Pennsylvania-based Siroh and Ivy suggests placing neutral-tasting water crackers on the board, which act as a blank canvas for whatever flavor combinations you dream up. Buttery crackers like Ritz, plain whole grain or seeded flatbreads, and tall breadsticks can round out your carb additions. But whatever you do, "choose crackers without a huge amount of flavor, herbs, etc. so that they don't detract from the other charcuterie," the brand notes on its blog.
Add nuts, olives, dried and fresh fruit, herbs, and spreads to finish off the board with sweetness and pops of color. Break out cute little bowls for wet items like olives and utensils for jams and spreads. Alongside nondescript crackers, the possibilities are endless.