Nestle Toll House's Cafe By Chip Is Shutting Off Its Ovens
So much for getting Toll House cookies while out and about at the mall. According to a press release, on May 25, Crest Foods agreed to sell its franchise chain Nestle Toll House Cafe by Chip to FAT Brands, a company famous for owning Johnny Rockets and Fatburger. The decision will result in the closure of all 85 dessert cafes around the U.S.
Per Eat This, Not That, the decision comes in part due to years of falling sales for Nestle Toll House Cafe locations. It's possible there were many factors that contributed to this. For instance, one store that recently shut its doors in San Antonio attributed its closure to the increased price of food and less foot traffic amid the COVID-19 pandemic. Back in December 2021, the dessert franchise had reportedly hired the MGH marketing agency to help improve its advertising, but it's unclear if that move achieved any hoped-for successes or simply came too late. 
While the sale might seem to be a straightforward business decision, there may have been some legal reasons involved, too. According to QSR, Crest Foods CEO Ziad Dalal said in a memo that his company had a costly multi-year legal battle with Nestle that recently ended. According to Law 360, in 2016, the cookie brand sued the franchisee for trademark infringement related to unauthorized advertisements using the brand's name. Now, all licensing agreements between Crest and Nestle have ended, meaning that all franchise locations will need to drop the name. 
Nestle Toll House Cafe locations will soon rebrand as Great American Cookie stores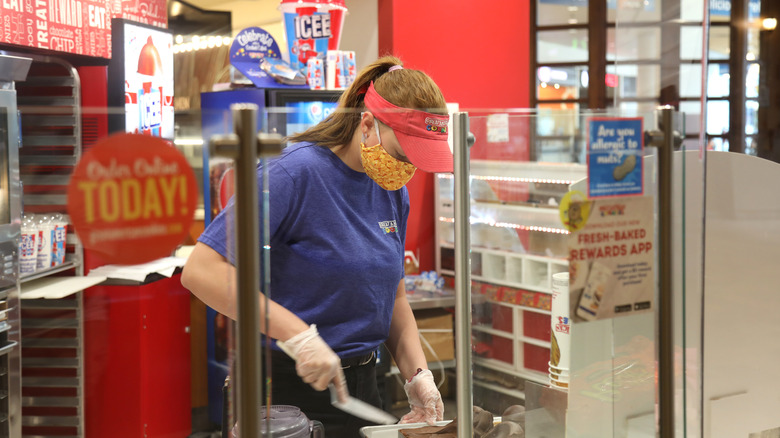 Bloomberg/Getty Images
The acquisition of Nestle Toll House Cafe also comes at a time when Fat Brands is expanding its business portfolio. Last year, the company picked up the ice cream chain Marble Slab Creamery and Great American Cookies in a massive 442.5 million dollar purchase of Global Franchise Group. QSR states the company's plan right now is to take over the cafe locations and rebrand them as either Great American Cookie or Marble Slab Creamery before the end of this calendar year.
While this may be sad news for Toll House fans, the Crest Foods CEO is optimistic that replacing one cookie brand with another is beneficial for everyone involved, per QSR. According to 1851 Franchise, Great American Cookies, which has been in operation since 1977, is currently the "largest cookie concept" in the U.S., with 370 total stores in operation. The publication noted that the company was one food franchise that defied the odds during the pandemic, landing a deal to open 31 new stores while other businesses were suffering. Like Nestle Toll House Cafe, Great American Cookie is well known for its selection of fresh-baked goods, particularly its original chocolate chip recipe, along with its other unique cookie flavors. In other words, consumers who may be worried about losing their go-to dessert spot will still have options for cookies or, in some cases, ice cream.