Classic Old Fashioned Cocktail Recipe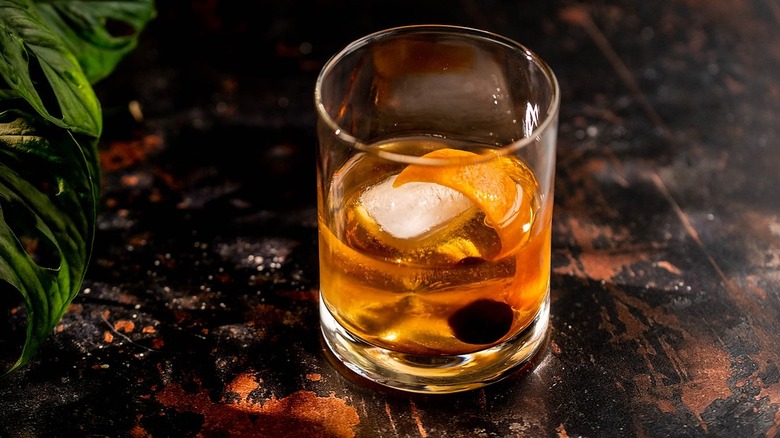 Michelle McGlinn/Mashed
There are many cocktails out there that the well-versed imbiber might consider "classic." A margarita, for example, is pretty classic, as is a dirty martini and even a White Russian. But there's arguably one that reigns supreme above the rest: the Old Fashioned. Recipe developer Michelle McGlinn is a fan of a good cocktail, which is why her classic Old Fashioned recipe makes for a perfectly balanced, smooth drinking experience. 
"My favorite thing about a classic Old Fashioned is that it offers a really strong, rich drink that is well-balanced, despite it being a very simple recipe," McGlinn explains. She also loves that you can easily customize the drink; if you want more of that strong bourbon flavor, you can easily add more alcohol and less sugar. Any good Old Fashioned is going to have bitters in it, but you can experiment with the type and quantity that you use. But by following this classic and timeless recipe, you can guarantee there'll be "a nice, rich bite, quickly followed by a sweet, smooth finish."
Gather the ingredients for a classic Old Fashioned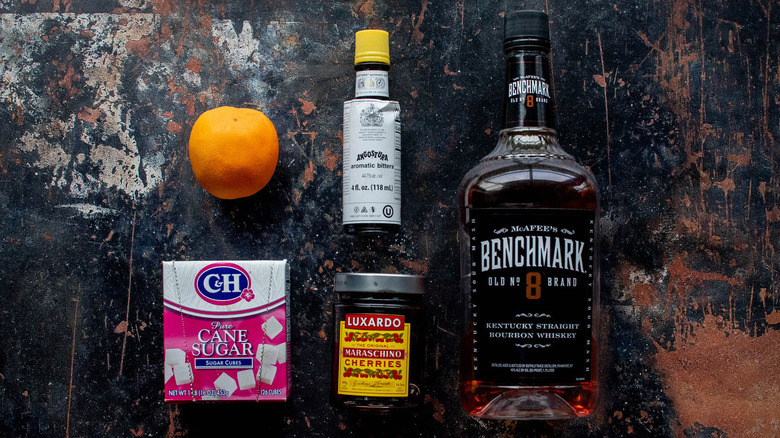 Michelle McGlinn/Mashed
You'll only need six ingredients to make a classic Old Fashioned. Better yet, one of them is optional, and another is water. This recipe calls for bourbon (of course), angostura bitters, a sugar cube, an orange peel for garnish, and (optionally) a maraschino cherry, also for garnish. You'll also need just a couple of drops of water, which will help break down the sugar cube. 
Obviously, the star of the Old Fashioned is the bourbon, and McGlinn says the kind that you use can influence the flavor of your cocktail. She personally uses Benchmark bourbon, which she describes as both smooth and mild, with "sweet, herbal tasting notes." "Bourbon generally has a flavor profile of vanilla, oak, and caramel, and the variations of those and other flavors can affect the cocktail as a whole," McGlinn explains. As long as you're using a quality bourbon, however, its flavor should perfectly complement the other components that go into the drink. 
Infuse and muddle the sugar cube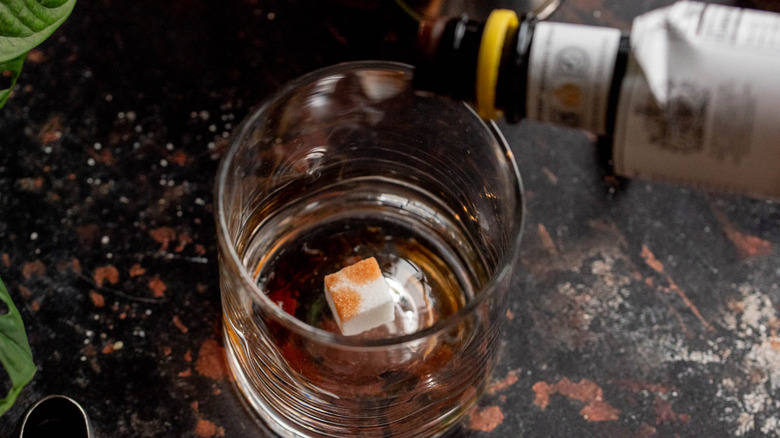 Michelle McGlinn/Mashed
Grab a rocks glass and place the sugar cube in it. Add 2 or 3 dashes of bitters right onto the cube, which will allow the bitter flavor to meld with the sweet. Then add a few drops of water — just enough to help the cube break apart. Muddle the sugar cube down so that it dissolves nicely into the small amount of liquid you've added. 
While the sugar will indeed dissolve a little bit, there may still be a slightly grainy residue leftover, but that's okay! "Breaking the sugar cube down with bitters and water helps it dissolve, but since it's not boiling into a syrup, the sugar stays crystalized and will leave grainy residue in your glass," McGlinn explains. She personally finds any leftover sugar residue to be "a nice little treat," but if you want absolutely no grainy feeling, then it's best to use simple syrup instead. "Using a sugar cube is traditional," McGlinn notes, and she assures us that the whole drink won't be grainy.
It's time to pour in the bourbon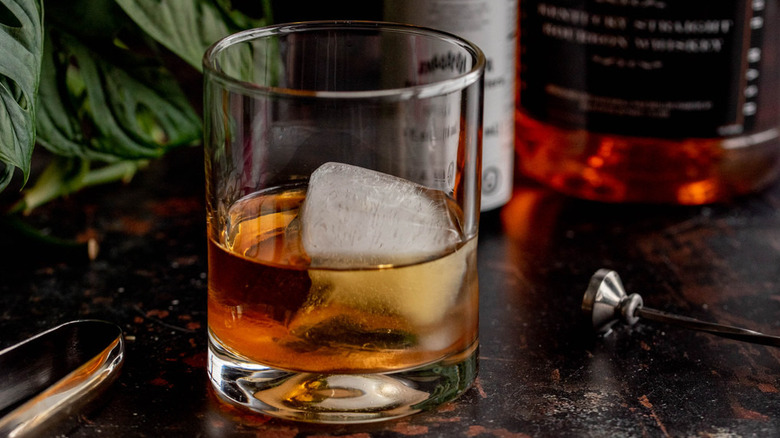 Michelle McGlinn/Mashed
Once you've finished muddling the sugar cube, add a large ice cube to the glass. Pour the bourbon over the ice, and gently stir, ensuring that it blends together with the sugar at the bottom of the glass. 
Garnish the Old Fashioned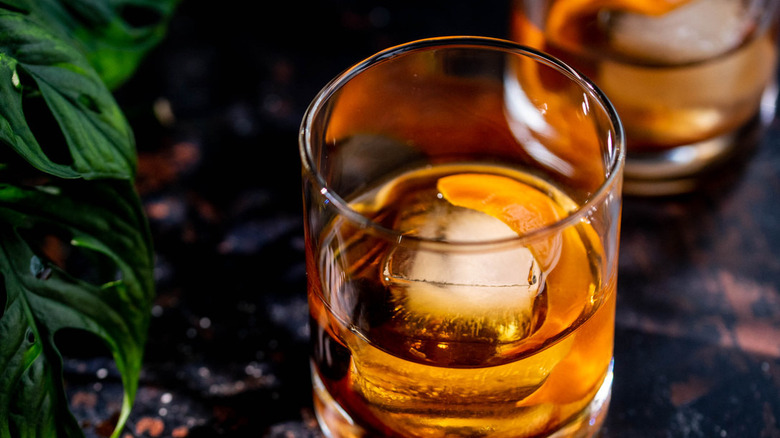 Michelle McGlinn/Mashed
Now all that's left to do is garnish your cocktail with an orange peel and perhaps a cherry. "With the citrus and cherry garnish, you'll experience an added layer of citrusy-sweet, syrup flavor, too, that will intensify as the drink sits and infuses," McGlinn describes. Dive right into this classic cocktail and you'll notice an abundance of flavors, from the oaky bourbon all the way down to the sweet sugar. If you're looking to serve the cocktail with food, McGlinn notes that it "pairs so well with cheese," so a charcuterie board would be a great option, along with pizza or chocolate. "It goes well with foods rich in fats," she adds.
While this recipe makes a classic Old Fashioned, feel free to explore popular variations or add your own twist. To make a "Wisconsin version" of the cocktail, for instance, you'd muddle the cherry and orange peel with the sugar and bitters, swap the bourbon for brandy, then add a splash of soda.
Classic Old Fashioned Cocktail Recipe
It's called an Old Fashioned for a reason; the perennial favorite stands the test of time. Learn how to make this deliciously complex cocktail.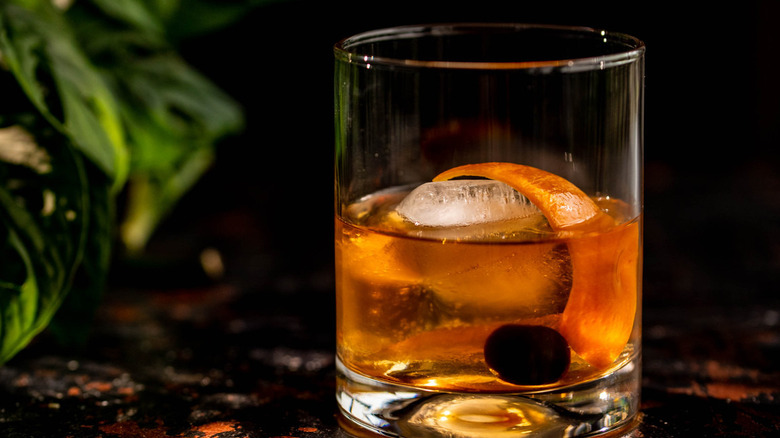 Ingredients
1 sugar cube
2 dashes angostura bitters
1 ½ ounces bourbon
1 orange peel, for garnish
Optional Ingredients
1 maraschino cherry, for garnish
Directions
Place the sugar cube in a rocks glass. Add 2 to 3 dashes of bitters and a few drops of water over the sugar cube to saturate.
Muddle the sugar cube until dissolved slightly in the liquid. You may be left with some grainy residue, but that's okay.
Add a large ice cube to the glass.
Pour the bourbon over the ice and stir gently to incorporate the sugar from the bottom of the glass.
Garnish the cocktail with the orange peel and, if desired, the cherry.
Nutrition
| | |
| --- | --- |
| Calories per Serving | 113 |
| Total Fat | 0.0 g |
| Saturated Fat | 0.0 g |
| Trans Fat | 0.0 |
| Cholesterol | 0.0 mg |
| | |
| --- | --- |
| Total Carbohydrates | 1.1 g |
| Dietary Fiber | 0.2 g |
| Total Sugars | 0.6 g |
| Sodium | 0.1 mg |
| Protein | 0.0 g |