Why The Great American Baking Show Is Making Major GBBO Changes
"The Great American Baking Show" is back. According to Reality Blurred, "The Great British Bake Off" spin-off will be returning to television with a new, sixth season to air on The Roku Channel. To accompany the regular season of the reality baking competition show, there will also be a holiday edition featuring celebrities who will compete for charity. The website notes that it has been nearly three years since an episode of "The Great American Baking Show" aired on ABC. When sexual misconduct allegations against judge Johnny Iuzzini were revealed in 2017, the network halted the show midseason (via The Hollywood Reporter).
With Iuzzini out of the show, "The Great American Baking Show" had room for a new judge, and we're willing to bet fans of the "GBBO" are going to be excited about the judges who will be taking center stage under the famous tent in the new season.
Paul Hollywood and Prue Leith will be judges on The Great American Baking Show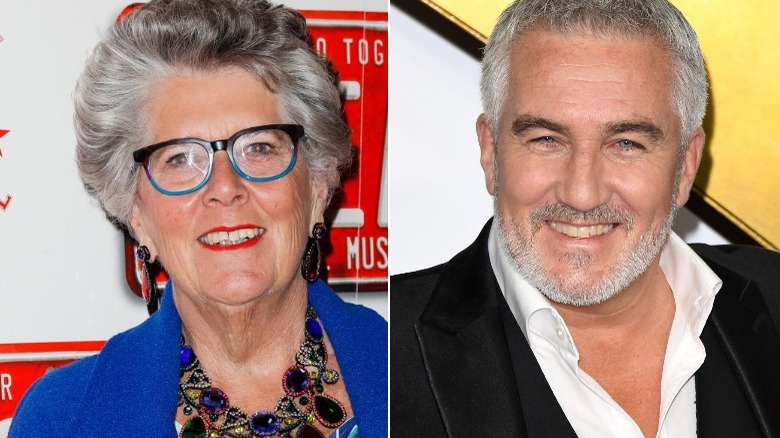 Tristan Fewings & Stuart C. Wilson/Getty
Reality Blurred reports that none other than "GBBO's" veteran judges Prue Leith and Paul Hollywood will serve as the judges for season six of "The Great American Baking Show." The show took to its official Instagram page to share the news, which garnered excited reactions from fans. User @ya_moms_in_the_kitchen commented, "OMG! They're BOTH judging!?!?!!" followed by a heart-eyed emoji. "[Losing] my mind about this!!! Soo excited," wrote user @saralynn.bakes, and user @bakesbybrownsugar commented, "OMG! That's huge and awesome. I can't wait to watch." Yet a fourth user, @joestevens1975, commented they were pumped about the two shows having more symmetry, no matter what side of the pond they're filmed on, writing, "So happy! It needed the same structure."
Some Instagrammers lamented, believing they would have to purchase yet another streaming service. But, according to Reality Blurred, The Roku Channel is provided free of charge, and The Futon Critic notes the service can be accessed on the internet and via iOS and Android devices.