The Huge Way Wingstop Is Dealing With The Supply Chain Shortage
Wingstop was founded on July 5, 1994 in Garland, Texas to champion the idea that diners were willing to make a meal out of chicken wings which, until that time, were served as a side dish or as a bar snack, per Wingstop. The restaurant's premise was simple — to offer up chicken wings in eight flavors (Lemon Pepper, Original Hot, Cajun, Atomic, Mild, Hawaiian BBQ, Teriyaki, and Garlic Parmesan) with a side of fries. 
The restaurant came at a time when the country was waking up to the joys of nibbling on a plate of Buffalo wings, and the price of wings was only just beginning to reflect rising demand. The Washington Post reported that in 1985, wings cost 29.5 cents a pound, but by 1995, the price of wings had gone up to 82 cents thanks to skyrocketing demand for that cut of chicken. Today, uncertainty surrounding the food supply chain has only made things worse: Restaurant Business says at one point, wings were going for $3.22 per pound, before plummeting to $1.63 a pound.
Wingstop wants to reign in its food costs
Restoring predictability to their supply chain is critical to Wingstop if they want to reign in their food costs. Per Restaurant Dive, the chain is looking to pay about $1.60 to $1.80 for every pound of wings it sources, which company CFO Alex Kaleida says is equivalent to 30% of the amount it spends on ingredients. Apparently, the only way to do that at this stage is to go to chicken suppliers for a deal that allows Wingstop to negotate a deal at the prices it wants or to buy a chicken processing plant outright. 
It could even consider a co-op deal that sees Wingstop buying a processor, and then getting its franchisees to organize into a co-op. Wingstop CEO and company president Michael Skipworth said, "We would then put that asset within that co-op and put some sort of debt, obviously, the cash flows of that poultry processing complex would largely be guaranteed by our existing franchisees, and then use that to pay ourselves back" (per Restaurant Business).
This business model has been used before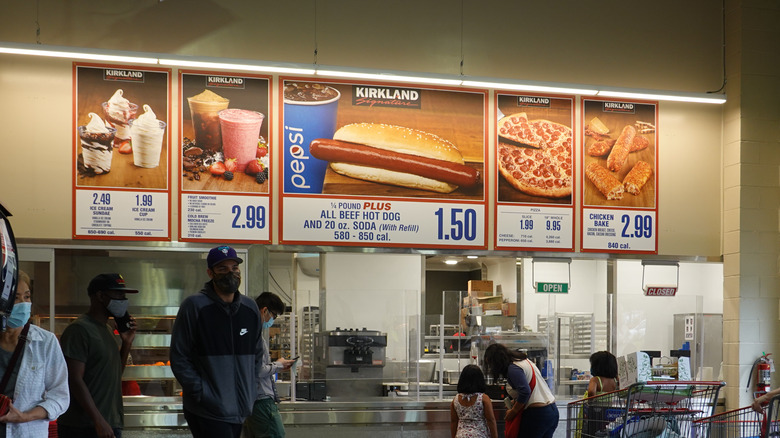 LifeisticAC/Shutterstock
Wingstop's solution to the wing shortage problem might seem extreme, but it is a solution that has been used before with great success at Costco. Shoppers at the membership-only store will know that a hot dog and soda combo has been priced at $1.50 since it was first offered at the Costco food court. According to the brand's current president Craig Jelinek, he'd made a promise to former CEO Jim Sinegal that it would stay that way. To keep that promise, the wholesale depot stopped using Hebrew National hot dogs in 2009 and began making their own all-beef franks (via Yahoo). 
It's employed a similar trick to keep its rotisserie chickens priced to sell at $4.99, and in 2019, Costco invested in a $450 million facility to control the production of all its chickens from farm to store, per CNN Business. There have been rumors that a price increase could be just around the corner, but the brand has said it is more likely to hike its membership fees than it is to adjust the price of its rotisserie chicken, per The Street.
While Wingstop may not be able to sell its chicken under the same conditions that Costco sells its hotdogs or its rotisserie chicken, running its own facility might go some way in keeping the price of raw materials under control.