Burger King Is Celebrating Its Birthday With Free Whopper Jrs
Who doesn't love free food? One of the best ways to get customers in the door at a company is to offer them something for free — and if it's anything food-related, it's almost guaranteed that people will come running. Restaurants love to create deals and promotions offering extremely inexpensive items for this very reason. In the past, for instance, Applebee's has featured $1 cocktails, and various food holidays, including National Pizza Day and National Pretzel Day, have seen chains such as Auntie Anne's offering free treats. Some chain restaurants, like Carl's Jr., Jimmy John's, and Popeyes, have free and discounted offerings year-round, too (via Thrillist).
Now, Burger King is hopping on the free food bandwagon. The burger giant announced in a press release that it's offering up free Whopper Jrs to customers on June 1. The move comes in honor of Burger King's birthday, with the chain celebrating 68 years of business. Of course, as with many promotions, there are a few caveats to this great deal. Still, as long as you know what to expect, you may be able to nab a free burger today.
How to get your free Burger King Whopper Jr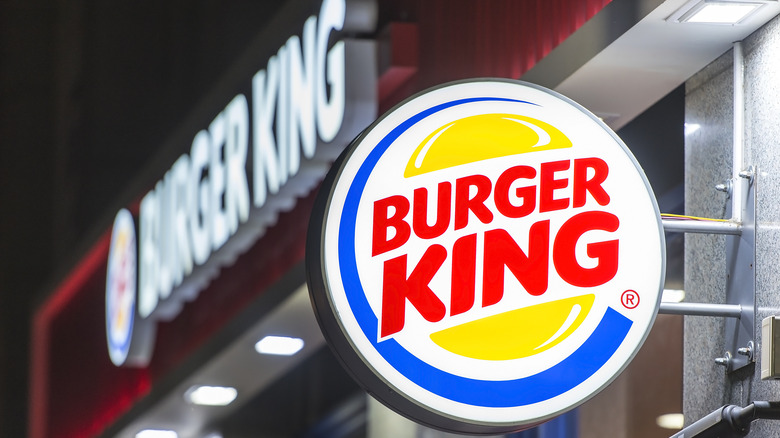 Savvapanf Photo/Shutterstock
Free always sounds great, but in this case, you won't be able to just walk into a Burger King, grab a Whopper Jr from the kitchen, and leave. There are a few rules to claiming the free treat. According to the press release distributed by Business Wire, only those who are members of Burger King's Royal Perks club are entitled to the Whopper Jr. Plus, the burger only comes free if you spend at least $1 at your local Burger King, so don't forget to bring your wallet.
You can sign up for the chain's Royal Perks program through its app or website, and you can also claim your free burger the same way. Or, you can simply walk into a store and claim it. In addition to the free burger, Burger King is also releasing a limited-edition crown, which was created in partnership with artist Romero Britto. Customers can pick up a crown as well and even enter to win a free year of Burger King for taking a selfie with it.
Ultimately, when Burger King took its rewards program nationwide, we knew the chain was serious about maintaining loyal customers, but this free promo proves that the company wants to celebrate with those that have kept them in business for more than 60 years. In fact, this move comes after Burger King officials felt that they hadn't tapped the company's fullest potential, not putting "enough focus" on the business aspects that could perhaps help it most, per CNBC.