KFC Is Collaborating With Jack Harlow On A Brand-New Meal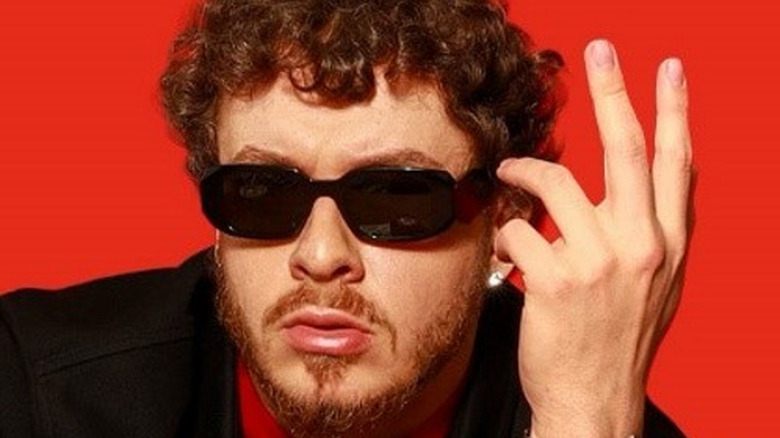 KFC
Rapper Jack Harlow is a Kentucky native, so it only makes sense that he would be the latest celebrity to work out a partnership with chicken giant KFC. The "Come Home the Kids Miss You" performer and KFC are ready to drop the Jack Harlow Meal on June 6, available in-store, online, or via the app, says a company press release sent to Mashed.
KFC is no stranger to celebrity interactions, having shown over the years that the brand can roll with the times with ease. Many actors, such as Rob Lowe, Ray Liotta, and Reba McEntire have played the part of Colonel Sanders, the undisputed face of the company, per Entertainment Weekly. That said, it does seem like the trend is for fast-food chains to join forces with musicians these days, such as McDonald's, which has partnered with acts like Mariah Carey, Travis Scott, Saweetie, BTS and more, says Yahoo! To fill this void, KFC approached Harlow, who hails from Louisville, for a year-long deal, says Ad Age. The up-and-comer was reportedly only too happy to get into the industry, baby.
Details about the Jack Harlow Meal at KFC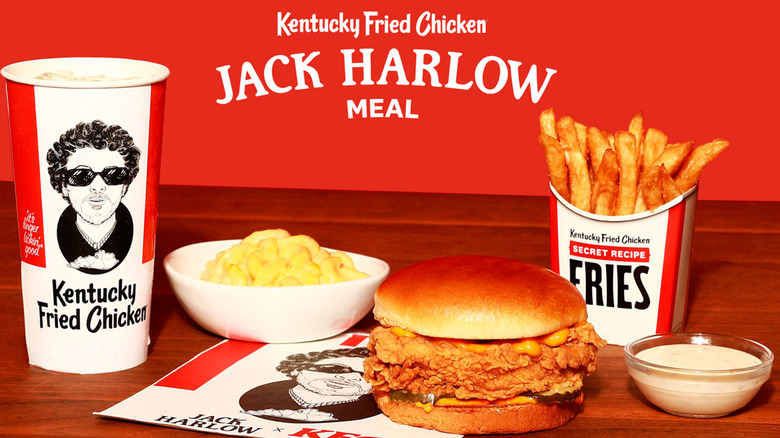 KFC
A self-made sensation, Jack Harlow has worked with KFC to design a meal under his name that combines the best of the brand's past and present. According to the press release, Harlow visited a Louisville restaurant recently to personally curate his namesake meal. Eventually, he landed on the Spicy Chicken Sandwich and Secret Recipe Fries, both relatively recent menu additions. He added in the classic Mac & Cheese for good measure, along with a side of ranch dressing. All of that is washed down with a cold lemonade, perfect for those hot Kentucky summers. The entire shebang comes in Jack Harlow x KFC packaging.
Harlow's star has risen exponentially in recent months, but long before he hawked KFC for pay he rapped about his favorite order at Mexican fast-casual restaurant Qdoba, says Billboard. Although he does enjoy meals out on the town, Harlow loves a simple snack combo like toast with peanut butter and sliced banana (via YouTube). He'll likely need all of the protein packed in there to make his film debut as the lead in "White Men Can't Jump 2.0," the hotly anticipated remake of the classic Woody Harrelson film, per Billboard. No word yet on if KFC will negotiate product placement in the movie, but no one would be surprised if it showed up.