The Limited-Edition Jack In The Box Dessert That Was Influenced By TikTok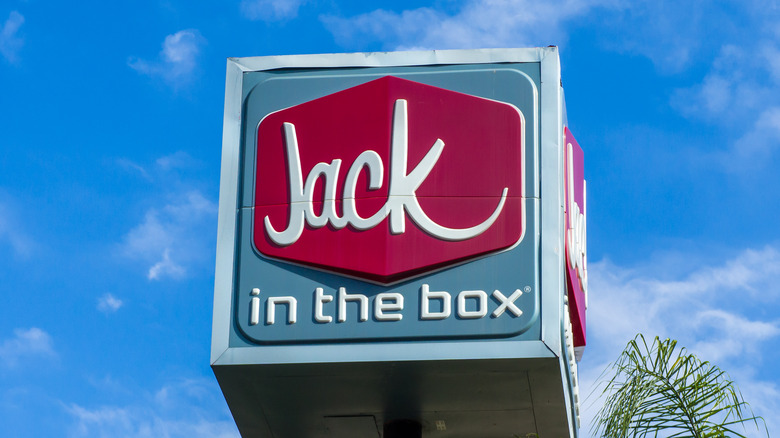 Ken Wolter/Shutterstock
In early 2021, Jack in the Box released an exclusive menu item based on TikTok's new viral sensational food hack: the tortilla wrap hack. Though it was offered for a limited time only, the "Dulce de Mythical" Tortilla Hack–which was created in collaboration with Josh Scherer from the popular Youtube channel Mythical Kitchen–was available at the Jack in the Box inside of San Diego State University from March 26 to April 4, 2021. 
So, how did this start? The #tortillahack blew up on TikTok because of its simple but endlessly customizable concept. With almost limitless possibilities for potential fillings and toppings, creative foodies on TikTok designed hundreds of recipe ideas that could suit anyone's tastes. It did not matter whether it was for breakfast, lunch, or dinner. Some of the most popular recipes were inspired by our favorite savory foods like breakfast sandwiches, burgers, pizza, and tacos.
One might notice that desserts were not mentioned in this rundown of the tortilla hack. While some dessert hacks with this concept were popular, it arguably wasn't until Josh Scherer of Mythical Kitch demonstrated in his own video that there was an opportunity for those looking to create a delicious dessert with the trend. Without that video, the Dulce de Mythical might have never happened!
All about the Dulce de Mythical
The concept of the Dulce de Mythical was simple. It consisted of a Jack in the Box signature New-York style cheesecake, mini churros, cinnamon sugar, and caramel syrup, all folded neatly in a tortilla griddled to crispy perfection. Scherer's tutorial video of the "Dulce de Mythical" creation was uploaded on March 26 to promote the initial launch and received 99.8K views, and 10.3K likes on TikTok. From the looks of it, this creamy, crunchy, and cinnamon-y dessert sounds like a delicious treat!
According to Food Beast, Scherer's partnership with Jack in the Box to launch the Dulce de Mythical treat test run represented a leap forward in the fast-food industry's engagement with pop culture and social media trends. It was even dubbed one of the most creative collaborations between a brand and a social media influencer. Thanks to the success of the limited-time treat, we could have more exciting new recipes to look forward to in the future. In another article on Net Influencer on brand engagement, Jack in the Box's social media manager Cassidy Fishman explains how the company is looking for more ways to increase its brand's connection with pop culture. 
Despite the Dulce de Mythical no longer being available, you can still make the treat for yourself. Just head over to your local Jack in the Box, order the suitable desserts, and press them together in a tortilla. It really is that simple!