Why Beyond Meat Was Just Hit With Two Lawsuits In A Week
Beyond Meat, the California-headquartered, publicly-traded plant-based meat company, was served with two separate lawsuits this week that each takes aim at its product labeling, according to a report in Food Navigator. News of the litigation comes on the heels of the company's announcement of its appointment of Kim Kardashian as its chief taste consultant, which included comments from the reality star praising the taste and health benefits of Beyond Meat's products (via Beyond Meat) — claims that appear to directly conflict with those outlined in the two complaints. Even Kardashian's Beyond Meat ad drew criticism, though she responded in a manner that proved her naysayers wrong.
According to Yahoo! Finance, one of the lawsuits, filed June 2 in the U.S. District Court for the Central District of California by a former supplier that manufactures plant-based and meat protein products, alleges that Beyond Meat's conduct has caused inaccurately labeled foods to be sold "throughout the supply chain." That plaintiff also filed a separate but related action alleging fraud and breach of contract, claims that will be adjudicated in a trial scheduled for September 26 in the Los Angeles Superior Court. 
Meanwhile, on May 31, Beyond Meat was slapped with a consumer class action complaint in the U.S. District Court for the Eastern District of Illinois, which alleges the company engaged in deceptive labeling, promotions, and marketing practices.
What has Beyond Meat been accused of in the lawsuits?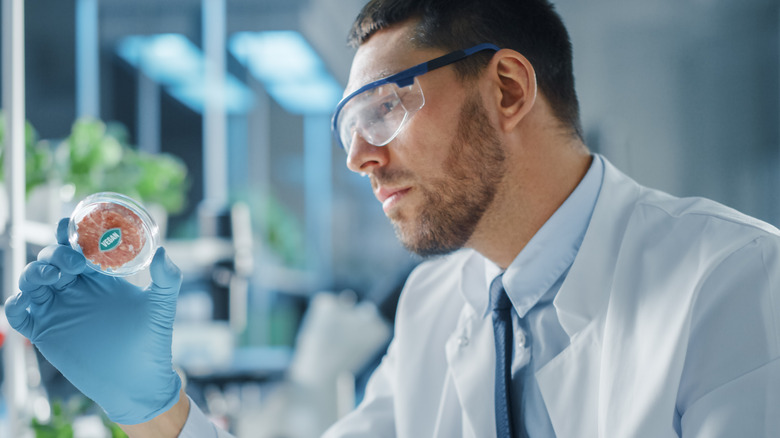 Gorodenkoff/Shutterstock
According to Food Navigator, paradoxically, while protein content claims by food manufacturers — such as those at issue in the cases against Beyond Meat — have become a "hot topic" in litigation, past cases do not offer much guidance on the likely outcomes for either of the complaints that were filed within the last week. It seems unlikely that motions to dismiss at the pleading stage will succeed, but beyond that, experts say it is difficult to make predictions because of the dearth of previous cases that involved germane legal questions as well as the ambiguity of Food and Drug Administration labeling requirements. After all, when a food is labeled natural, for instance, is it really?
At issue in both cases are claims about Beyond Meat's protein content. The class action complaint accuses the company of inaccurately reporting both the total and the percentage daily value (%DV) of protein in labels attached to multiple products. The complaint filed by Beyond Meat's former supplier, Don Lee Farms, follows a protracted legal battle between the companies but outlines similar allegations — that Beyond Meat "grossly overstates" the %DV of protein in its foods and inaccurately uses phrases in its marketing materials such as "all natural" and "made from plants," despite the company's use of methylcellulose, which the complainant argues is a synthetic ingredient (via National Hog Farmer).
For its part, in a statement provided to Food Navigator, Beyond Meat did not address the specific allegations in the complaints but said that they lack merit and pledged to "vigorously fight this in court."