How Olivia Rodrigo Brought National Attention To 'Dirty Sodas'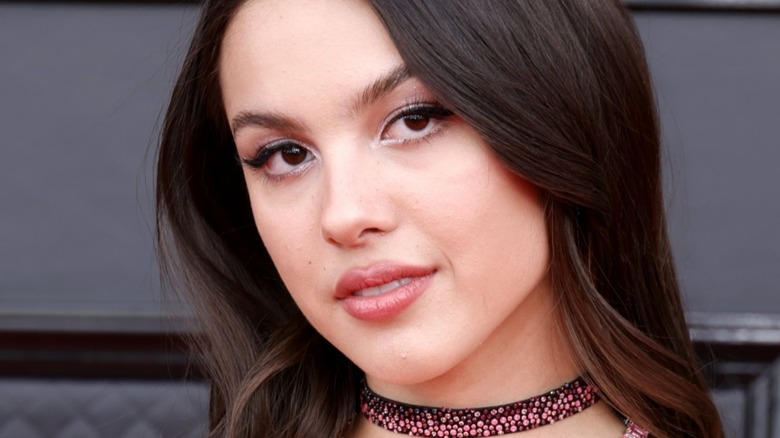 Frazer Harrison/Getty
While a dirty soda sounds like something you would order at a bar, it's actually a non-alcoholic beverage that has ties to the Church of Jesus Christ of Latter-day Saints (via The New York Times). In 2012, the church clarified that the health code specifically prohibits hot caffeinated drinks, not caffeine in general. This revelation sparked a movement of caffeinated soda consumption in Utah, where nearly 62% of residents belong to the Church of Jesus Christ of Latter-day Saints (via The Salt Lake Tribune). Soda-shop chains like Swig, which popped onto the scene in 2010, became a destination for afternoon pick-me-ups. Sodas are made "dirty" when the shops add "flavored syrups, fruit purées and dairy products like creamer and half-and-half," according to The New York Times. Although this combination may sound similar to an Italian soda, dirty sodas are much more customizable.
Deseret News cites "dirty Diet Coke" as the first dirty soda to become popular and writes that it's a combination of Diet Coke, "coconut syrup, fresh lime, and a splash of half-and-half." Sort of like a Cuba Libre, but sweeter and non-alcoholic. Unsurprisingly, over-the-top sodas like the dirty Diet Coke have gone viral on TikTok, which some people may credit to Olivia Rodrigo.
Olivia Rodrigo held a dirty soda on Instagram
In December 2021, Olivia Rodrigo was filming "High School Musical: The Musical: The Series" in Utah. The "good 4 u" singer posted a carousel of photos on her Instagram during this time, and one of them showed her holding a cup from Swig, a popular dirty soda chain. The series of photos has nearly 4 million likes and Swig reposted the photo on their Instagram, asking fans what they think the Gen Z superstar's order would be. A couple of fans commented that the singer would order the "Malibu" dirty soda, which is a combination of Dr. Pepper, coconut, and vanilla, according to Swig's official website.
As the internet tends to do, shortly after Rodrigo's post went live, dirty soda started trending on TikTok. According to Eater, in April 2022, #dirtysoda had over 700,000 mentions, and now it has over 10.9 million views associated with it. TikTok creators from all over the country were doing taste tests of this Utah staple and Swig joined in on the fun, making "dirty soda" tutorial videos. This video of the line outside of the chain's first Texas location shows that word of these sweet beverages has spread and people are thirsty for some dirty soda.