The Best Instant Oatmeals In 2022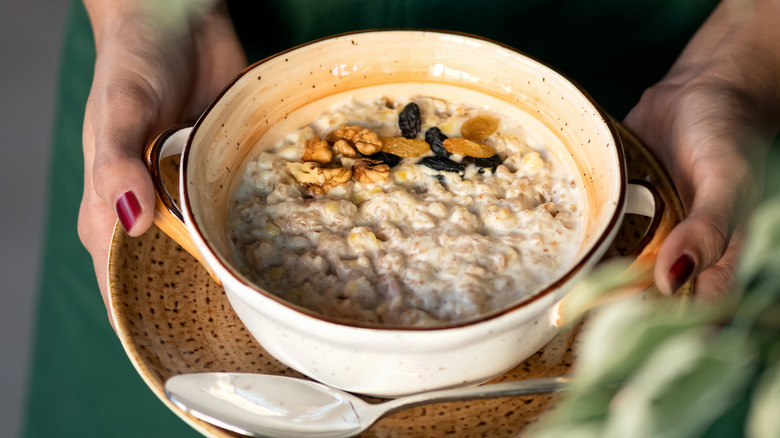 artgray/Shutterstock
We may receive a commission on purchases made from links.
There's a lot to consider when it comes to your morning breakfast choices. Many people in America love to eat oatmeal for its health benefits, but not all oatmeal is created equal. Depending on your morning routine, the choice between instant oatmeal and traditional rolled oats or steel-cut oats can come down to a variety of factors. Making oatmeal from scratch at home can be a tricky and time-consuming endeavor that turns a lot of people off from this breakfast option altogether. For those who choose instant oatmeal for its convenience and ease, there are many convenient to-go cups available for every preference and price point.
There are a multitude of brands on the market offering instant oatmeal with everything from ultra-premium ingredients to eye-catching designer packaging. We checked every corner of the market to highlight the best of the best, with options available at your local grocery store as well as direct-to-consumer. To see what great instant oatmeals are out there today, read on. All the prices quoted in the article were accurate as of June 2022.
How we chose
Oksana Mizina/Shutterstock
Many Americans love the convenience of a tasty instant oatmeal. To round up the best options available, we looked at all the top brands and manufacturers currently making instant oatmeal. There are tried-and-true brands that have stood the test of time, such as Quaker and McCann's, as well as new brands like Mylk Labs and Kreatures of Habit. Even the established brands are always coming out with new products and innovations. 
We tried to provide a good combination of instant oatmeals that come in disposable cups as well as packets that you mix in your own container. Depending on your lifestyle, one may be better for you. Those that need to eat on the go will love the disposable cups. If you just want a quick breakfast at home, it might be easier to apply toppings in one of your own bowls. To choose the best, we analyzed everything from customer reviews to ingredient composition to determine the best offering for any kind of buyer. 
Best overall instant oatmeal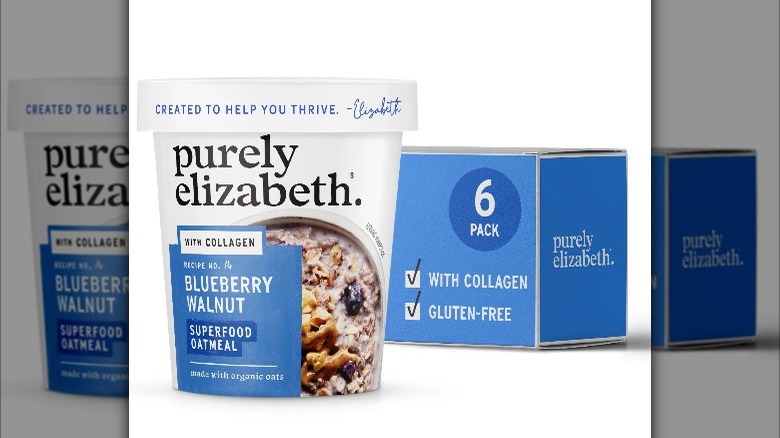 Purely Elizabeth
In this day and age, it's not enough for a breakfast food to simply be convenient or great-tasting. Consumers these days are looking for superfood ingredients in order to get the best possible start to their day. Enter Purely Elizabeth, a company offering instant oatmeals that hit every note. Tasty flavors such as blueberry walnut come packed full of organic ingredients, superfood nuts and seeds, and protein-packed collagen. Not all brands of oats are gluten-free, but Purely Elizabeth oats are. Reviewers love the included nut butter package, which adds an extra tasty and convenient element unique to this brand of instant oatmeal (though one did suggest that adding your own nut butter was better as the stuff included with the oatmeal isn't the best). Others were big fans of the hefty chunks of heart-healthy walnuts and lightly-sweetened blueberry flavor.
A four-pack of Purely Elizabeth Collagen Protein Oat Cups is available from Amazon for $20.
Best brandless instant oatmeal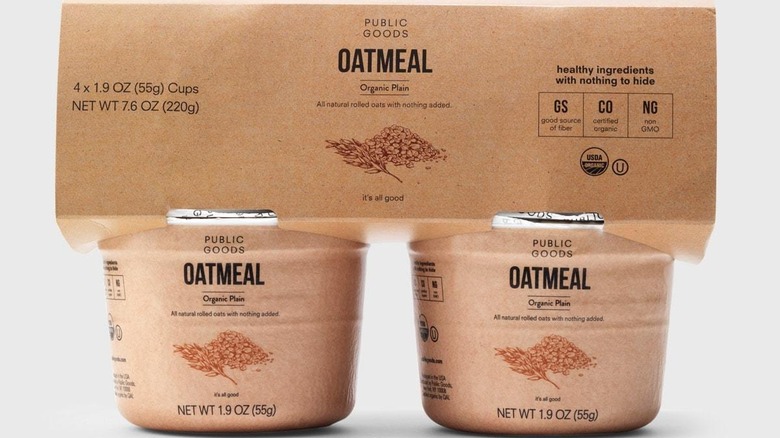 Public Goods
Some people are just looking for the stripped-down instant oatmeal experience. Public Goods offers just that with its instant oatmeal cups that contain just one ingredient: oats. The plus side with instant oatmeal without added ingredients is that you are free to customize each cup with anything your heart desires. Having total control of every ingredient you put in your body is key to avoiding harmful preservatives and artificial flavorings and colorings.
Public Goods is a brandless brand, a direct-to-consumer company that aims to eliminate packaging and flashy graphics in favor of low prices and top quality. You can also buy an annual membership to Public Goods to keep costs even lower. The packing is all recyclable so this oatmeal isn't just good for you — it's good for the planet too.
Best low-ingredient flavored instant oatmeal
Just because you want flavored instant oatmeal doesn't mean you have to contend with a dozen (or more) ingredients you can't pronounce. Mylk Labs offers a great tasting, low-ingredient instant oatmeal. The almond and Himalayan pink salt flavor contains just four ingredients: gluten-free oats, almonds, organic coconut sugar, and Himalayan pink salt. Reviewers love the great taste and one reviewer even claims it to be their favorite after trying "50 different cups, recipes or brands."
At $4 per cup, the jury's out on whether it's a good deal or not. Some reviewers are willing to pay a bit more for premium (and unprocessed) ingredients, while others may prefer to stick to a more generic brand. If you are the type of person who wants to add toppings such as blueberries or fresh bananas as well, that may add to the total cost of your breakfast and is something to keep in mind when thinking about the cost.  
A 6-pack of Mylk Labs Almond and Himalayan Salt Instant Oatmeal is available on Amazon for $23.99.
Best high-protein instant oatmeal
The groovy packaging of this oatmeal isn't just a marketing scheme, though it sure helps to give your pantry a little eye candy. Newcomer to the oatmeal game Kreatures of Habit has created the perfect oatmeal that hits all the high points. It's gluten-free, plant-based, and made with all-natural ingredients. Each package is full of a whopping thirty grams of protein and is enriched with vitamin D3 and Omega-3 fatty acids. This oatmeal comes in five delicious flavors: vanilla, chocolate, blueberry banana, peanut butter banana, and maple caramel. There's some clever engineering that lets you make it as a smoothie, overnight oats, or instant oats (either in a microwave or with a bit of hot water or milk of your choice). The hundreds of reviews on the Kreatures of Habit website from satisfied customers who rave about the flavor and high protein content speak for themselves, 
A 7-pack of Kreatures of Habit Instant Oatmeal is available on Amazon for $34.99.
Best overnight oatmeal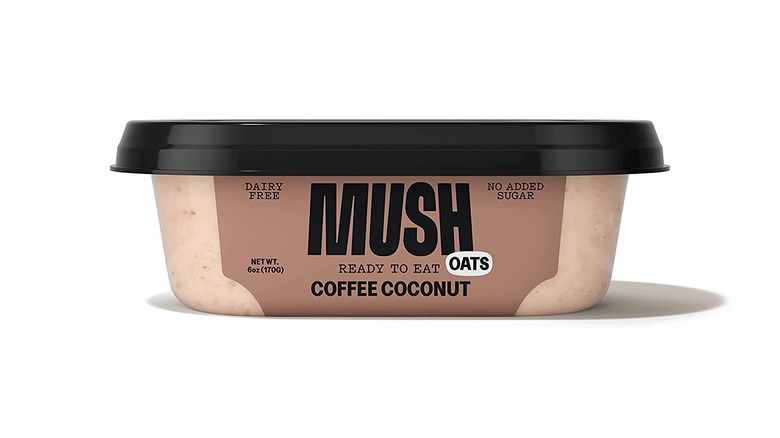 Mush
The concept of instant oatmeal is fairly simple and hasn't changed much over the years. However, with the popularity of quick, convenient breakfasts on the rise, a new oatmeal preparation has been gaining traction. Enter overnight oats, a simple idea that involves soaking oatmeal in the refrigerator overnight. By the morning, the oats are ready to eat, no cooking required. Does it get any more instant than that? The grains absorb any liquid you soak them in while you sleep, so overnight oats are as quick as it gets for a morning breakfast. 
A company called Mush simplifies the process even more by selling premade overnight oats in convenient plastic tubs, eliminating the need to soak your own oats. Its overnight oats come in 6 tasty flavors like blueberry and coffee coconut that are all dairy-free and without preservatives.  
A 12-pack of Mush Ready To Eat Oats is available on Amazon for $59.99.
Best unflavored instant oatmeal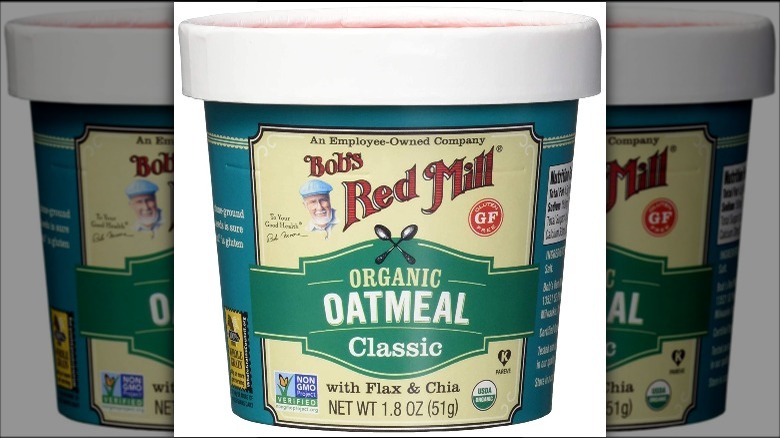 Bob's Red Mill
If you poke around the internet looking for oatmeal recipes, you'll find thousands of images of bowls of oatmeal topped with everything from bars of chocolate to what seems like entire fruit baskets. For those that prefer a more pure experience, Bob's Red Mill Organic Classic Oatmeal is a great way to go. The 1.8 oz package comes with oats, chia, flaxseed, and salt. The mix-ins add some extra nutritional punch so you can start the day with a good blend of protein and essential vitamins. Of course, you can always add your own sweeteners and flavorings if you don't want simple plain oatmeal. This oatmeal is also certified non-GMO, organic, Kosher, and gluten-free. There are a few dozen five-star reviews on Amazon, where people rave about everything from the convenience to the taste. 
One package of Bob's Red Mill Organic Classic Oatmeal is available on Amazon for $2.79.
Best instant oatmeal for kids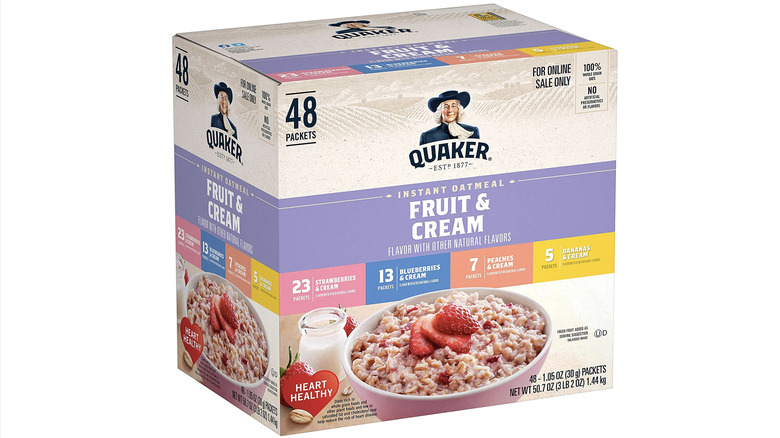 Quaker
Instant oatmeal isn't just for busy adults on their way to work in the morning. It can also be a real life-saving product for busy parents trying to fill their kids' stomachs before school in the morning. Eternal and stalwart oatmeal brand Quaker Oats has been making instant oatmeal marketed toward kids for decades now, including its iconic Dinosaur Eggs oatmeal. However, some parents might prefer to buy instant oatmeal for their kids that doesn't have egg-shaped nuggets of sugar mixed into it. 
Luckily, Quaker Oats makes a great-tasting and whole-ingredient instant oatmeal that kids (and parents) love. Take a look at over nineteen thousand positive reviews on Amazon, where consumers praise everything from the "vibrant" taste of the strawberry to the "fun" it can add to your kid's breakfast. 
A pack of 48 servings of Quaker Oats Fruit and Cream Instant Oatmeal is available on Amazon for $26.73.
Best steel-cut instant oatmeal
The truth is out about steel-cut oats, the coarse nuggets of the oat grain (cut with steel blades). They're less processed than rolled oats and may help keep you fuller for longer and contribute to weight loss. For a long time, most consumers had to either choose between quick, processed oatmeal, or the heartier (but more time-consuming to cook) steel-cut oats. Now, McCann's offers steel-cut oatmeal in a convenient to-go cup that can be made in the microwave in under two minutes. It's a breakthrough in convenient breakfast technology.
Aside from the plain flavor, there are three other flavors available, including apple cinnamon and vanilla honey. These cups are perfect for a complete, filling breakfast and don't need any additional ingredients to be consumed — other than water (or milk, if you prefer that). 
A 12-pack of McCann's Instant Steel Cut Oatmeal is available on Amazon for $25.74.