Tim Hortons' New Restaurant Concept Is All About Convenience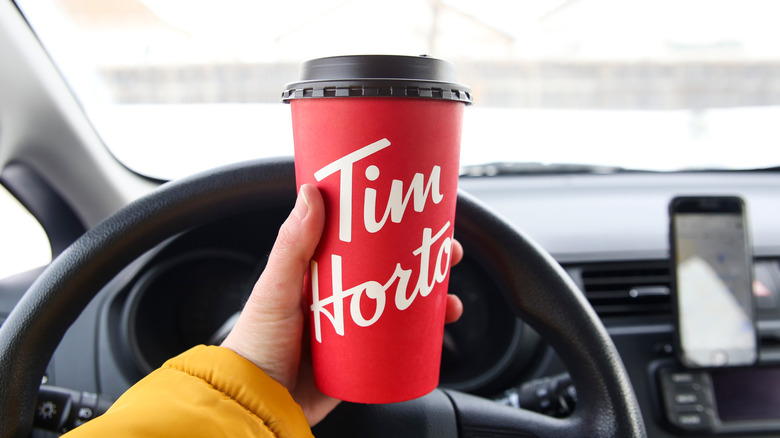 Thamyris Salgueiro/Shutterstock
You will likely never encounter a Canadian who is unfamiliar with Tim Hortons restaurants. Yes, this icon hailing from the Great White North that bears the name of a former hockey player and spawned the terms "Timbit" and "Double double" is as Canadian as hockey, beavers, and Justin Bieber. Boasting perennially popular products like the Iced Capp, Fruit Explosion muffins, Smile Cookies, their in-demand coffee, and a bevy of assorted donuts, Tim Hortons has established itself beyond the 49th parallel and, according to the brand's website, now boasts 550 Tim Hortons locations across the United States.
In fact, a press release from the company mentions plans to open over 300 locations in India during the next decade, starting with a restaurant in New Delhi. And, notably, it goes on to say they already have outlets in "Mexico, Spain, the UK, the Middle East, China, Thailand, and the Philippines." That's a whole lot of "Timmie's." The restaurant that changed Canadian culture is also introducing some major changes right here in America — and they might just surprise you.
Tim Hortons is introducing drive-thru only locations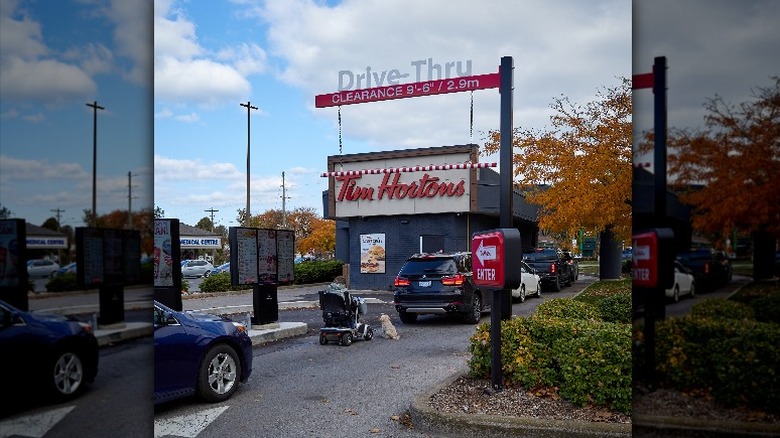 P Gregory/Shutterstock
While drive-thru only locations like the one pictured above have existed for years, Tim Hortons is planning to introduce a new "reimagined" version of this concept with a 900 square-foot "next generation" adaptation, per a press release. The company will also reveal a new 1600 square-foot sit-down model with the ability to seat 24 diners. It's interesting to note that older locations stand at 2500-square feet or more (via Nation's Restaurant News). Why has Tim Hortons decided to make this switch? 
The head of marketing explained that these new models will make customers feel safer, allow for a mobile order pick-up spot to be incorporated, and offer a welcoming place for in-house diners (per QSR). And this seems to be an industry-wide trend. As QSR points out, Tim Hortons is far from alone in its decision to introduce drive-thru only locations with others following suit, like "Chipotle, Jimmy John's, and Captain D's." Even Starbucks has similar ideas, with the outgoing COO telling QSR in 2021 that their plans include drive-thru only locations with side-by-side lanes. It seems that the pandemic has changed how fast food restaurants operate and how diners secure their grub in a profound way. If you're interested in checking out one of these new drive-thru locations, the first ones are set to open over the summer in New York, West Virginia, Ohio, and Michigan.