Why Delivery Gig Workers May Be The Next Food Sector To Unionize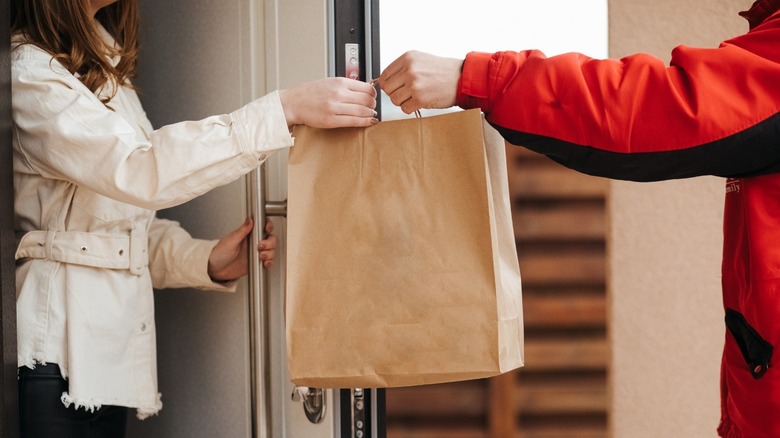 buryakphoto/Shutterstock
Delivery gig workers are an integral part of today's food sector, yet they rarely get more acknowledgment than a tip (if they even get that). And that lack of acknowledgment can feel even worse when it comes from their employers. Empire-sized corporate giants such as DoorDash and Uber Eats employ more than a million food delivery gig workers in the United States alone, according to research from Zippia.
During the COVID-19 lockdown, delivery drivers became essential workers, helping the hungry stay safe and fed. Their plight, however, deepened over this period while the app-based companies thrived. As a result, in April 2021, an organization representing food delivery gig workers, Los Deliveristas Unidos, held a rally in Time Square to create awareness about delivery drivers' working conditions, The City reported. And this past April, New York City Mayor Eric Adams announced new protections for delivery workers in the city.
According to The City, Los Deliveristas Unidos, which is still in its fledgling stages, is supported by Service Employees International Union, Local 32BJ, a large workers' union known for its victories. So, what does all of this mean for the future of delivery work?
Working conditions of delivery gig workers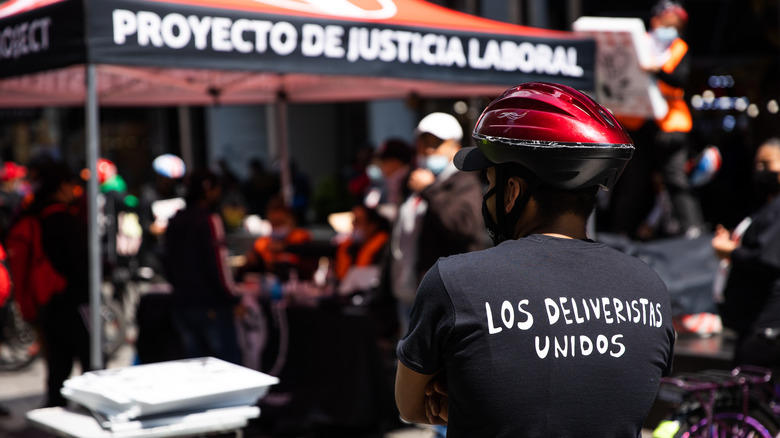 Bloomberg/Getty Images
In addition to New York City's new regulations and the work Los Deliveristas Unidos is doing, other groups, such as Justice for App Workers, have extended their support for delivery workers, Civil Eats reported in May.
Food delivery gig workers' main qualm is low pay. Sometimes, a full day's work doesn't even generate $200, according to International Alliance of Delivery Workers employee Dachaun Nie, per Civil Eats. To add insult to injury, many delivery workers have to pay for their equipment from an already-scant income. However, job sites such as Talent.com claim that experienced delivery workers can make up to $75,000 a year. But based on the Civil Eats report and Nie's experience, that projection seems a bit unrealistic.
An additional impediment for delivery workers is their safety, especially during the pandemic, Nie told Civil Eats. Factors that make things dangerous for delivery workers, such as weather conditions, are also at play. According to a 2017 study published in ResearchGate, delivery gig work in its current state remains largely unregulated and unprotected by state mechanisms. But based on these organizations' work, that could soon change.