Why It's Reportedly Dangerous To Work For DoorDash And Postmates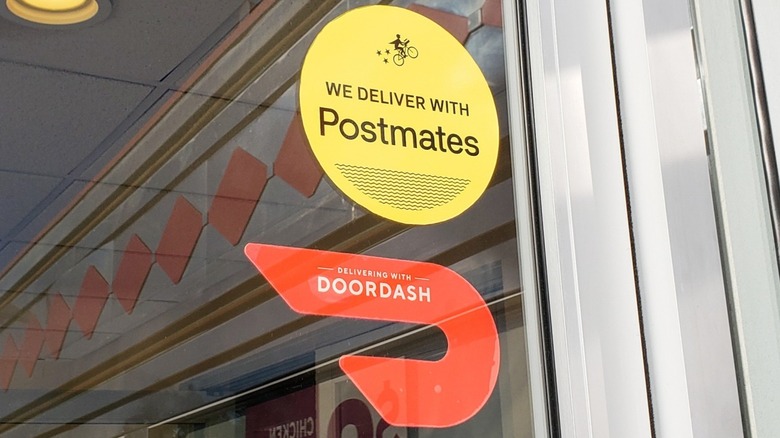 When shelter in place requirements started in early 2020, restaurants had no choice but to rely on food delivery apps like DoorDash and Postmates to stay in business and get food to customers safely. According to eMarketer, food delivery apps had 32.7% more smartphone users in 2020 than in 2019. With all these new users entering the market, it presented the opportunity for more people to work for these apps that promised flexible schedules and high hourly pay in their advertisements.
DoorDash driver Mike Hayes told Business Insider that at the beginning of the pandemic, people were tipping more and he was making closer to $800 per week. But lately, with lower tips and slower weeks, he's been making closer to $200 or $300. Not only are customers tipping less, but back in 2019, companies like DoorDash were cited for reducing workers' pay based on how much they made in tips (via Eater).
California fought against the tech companies, trying to pass legislation to give gig workers full employee rights and benefits. The companies responded with a huge PR campaign that led to the legislation failing to pass. With tips and overall pay on the decline, delivery workers do what they have to in order to make ends meet. This includes working longer hours to complete bonus tasks during peak hours, which can come with hazards.
Couriers are incentivized to work during inclement weather and have dangerous encounters with cars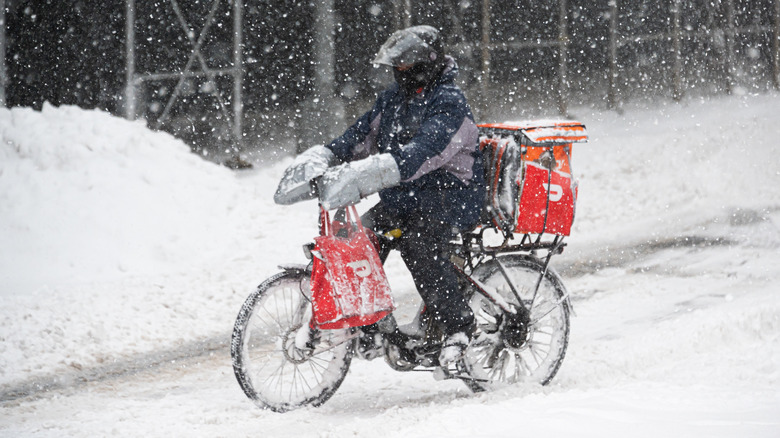 Noam Galai/Getty Images
According to Eater, peak pay periods for delivery workers often occur during rainy days and blizzards, which puts them in danger, especially those delivering by bicycle. In a study of Boston bike delivery workers, 70% of workers surveyed had suffered injury resulting in medical attention or lost work.
Since delivery drivers are considered independent contractors, they have to use their personal vehicle to deliver the orders and do not have access to unemployment or health insurance. Vianne Curiel, who drove for DoorDash and Postmates, told Eater that getting into an accident was one of her biggest fears on the job since she was constantly battling Los Angeles traffic and struggling to find places to park. Meanwhile, Hayes wishes the company would provide dash cams in case of accidents or unpleasant encounters with customers (via Business Insider).
In response to the poor working conditions, DoorDash workers organized a strike (per NPR) and a few organizations are fighting for the rights of gig workers. Organizations like One Fair Wage, a national campaign and coaltion, seek to end all subminimum wages in the United States (per their official website).