Why You Might Have A Hard Time Finding Sriracha Right Now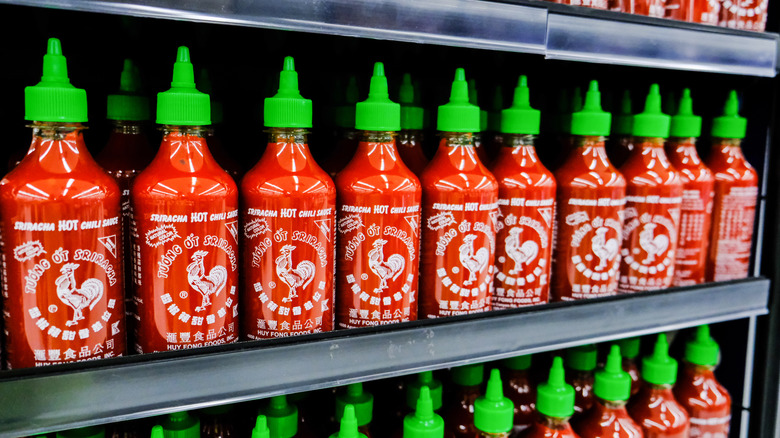 calimedia/Shutterstock
For the hot sauce lovers among us, a bottle of sriracha can be just as essential to the kitchen table as salt and pepper. The condiment, made popular by Huy Fong Foods, has a place in just about every dish, from roasted vegetables to peanut butter sandwiches, as well as more traditional Thai recipes you'd find in Si Racha, the coastal town in southeast Thailand that played host to its invention almost a century ago (via Thrillist).
The product has been unwaveringly popular since word of its existence reached the States in the early 2010s, triggering the occasional shortage due to high demand. According to Eater, it takes approximately 100,000,000 pounds of red jalapeño-hybrid chili peppers (which give the condiment its signature spicy sweetness) to produce a year's supply of the stuff. Unfortunately, the Huy Fong factory is a little backed up at the moment. Here's what's going on.
The special peppers are in short supply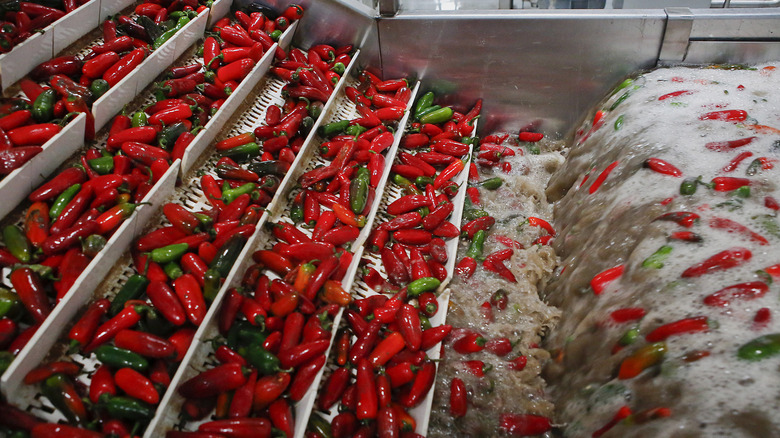 Bloomberg/Getty Images
In a statement to Axios, Huy Fong confirmed that a mass chili pepper shortage is "affecting [Sriracha's] production supply." More than a simple swell in demand, the producers explained in an April 19 public letter that the shortage is largely due to "weather conditions." If this sounds familiar, you're not having déjà vu; climate change is a major contributing factor to the global food crisis that's limiting the availability of all sorts of ingredients and keeping food costs high.
Huy Fong Sriracha's signature chilis are sourced from Mexico, which, as the company explains in its letter, is experiencing an extreme drought that's harming its crops. "Unfortunately, this is out of our control," writes the company. "Without this essential ingredient, we are unable to produce any of our products," which, in addition to sriracha, include popular green-lidded brands of chili garlic and sambal oelek. Since production has screeched to a halt, shoppers are noticing a dearth of the product at restaurants and grocery stores. Huy Fong says that orders won't be scheduled for delivery until "after Labor Day," so if you still have a bottle in your pantry, use it wisely.