Robert Irvine Has A Controversial Method For Making Rice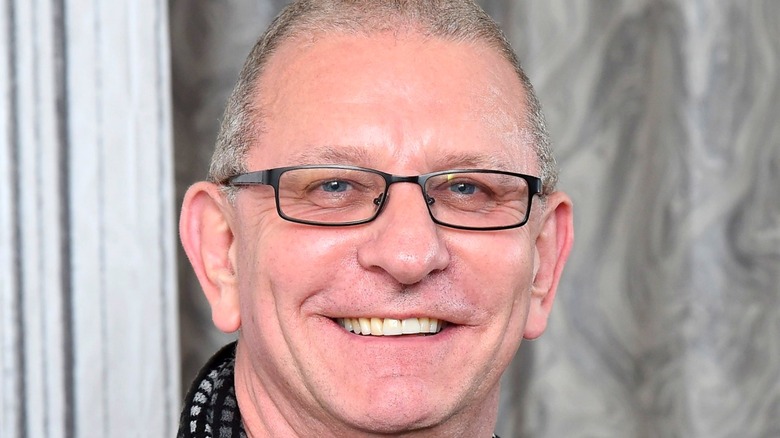 Gary Gershoff/Getty Images
If you're familiar with cooking rice over the stove, chances are you have followed the traditional instructions displayed on most product bags and basic websites. We all know the method: Rinse rice, measure water, add rice, water, and salt to a pot, cover, then follow cooking times for the grain cut you're using. Seems pretty straightforward right? Robert Irvine, world-renowned chef, and entrepreneur argues there is a better more reliable method to making this everyday meal staple.
Irvine is mostly known for his hit television show on the Food Network, "Restaurant: Impossible" where he gives different restaurant owners a real chance at restoring their businesses in just 48 hours. The show ran for seven seasons at just over one hundred episodes. Even though some of the early restaurants on the show failed upon review, most businesses featured in the later seasons are still up and running, proving Irvine to be a loyal, dedicated restaurateur.
Apart from "Restaurant: Impossible" the list of Irvine's impressive accolades continues. He started the Robert Irvine Foundation which dedicates all proceeds to those who have served and continue to serve in protecting citizens of the United States. He has written four books, made countless appearances on other Food Network TV shows, and has over one thousand recipes listed on the Food Network website. With all of that said, is rice his specialty? According to some, his method of cooking this basic grain is fail-proof.
Robert Irvine's stovetop rice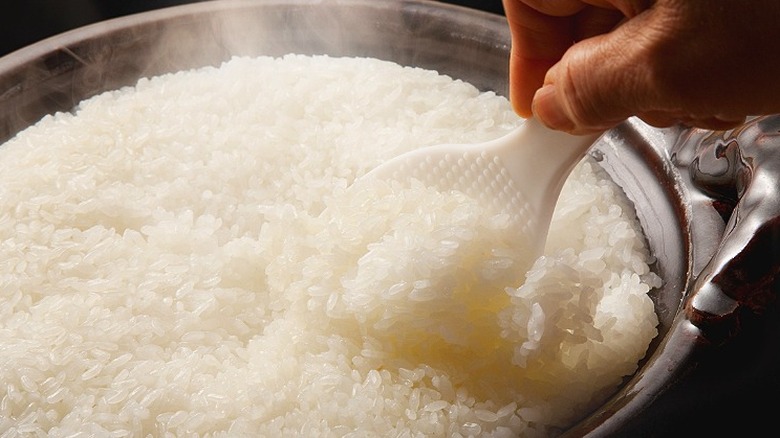 ykokamoto/Shutterstock
As noted above, the basic way to cook rice is pretty much the same across the board when it comes to the saucepan method. However, Robert Irvine posted his unique approach on Twitter last week, and not only does the rice turn out perfectly fluffy, but the technique he uses is also surprising.
Irvine takes you through the basic steps by first rinsing the rice until the water runs clear. Then things get interesting. Instead of adding the rice to the water together before turning on the heat, Irvine boils the water first and then adds the rice. He gently stirs the rice and boiling water together. He covers the pot and allows the water to boil again but turns off the heat completely after adding some salt and butter, leaving the pan to steam for roughly 15 minutes before removing the lid.
While this isn't the standard approach to making rice on the stove, his results appear seamless. Not only that, but his response from the public so far has been quite positive. One user tweeted "At least your method gives me more control over timing etc." Another was in total support of his technique stating "this is how I've cooked my rice for decades and it's ALWAYS perfect!" Robert Irvine is mostly known for his highly-rated french toast and oven-baked ziti recipes among many others, but maybe it's time to add stovetop rice to his long, impressive list of tried and true favorites.