Easy Simple Syrup Recipe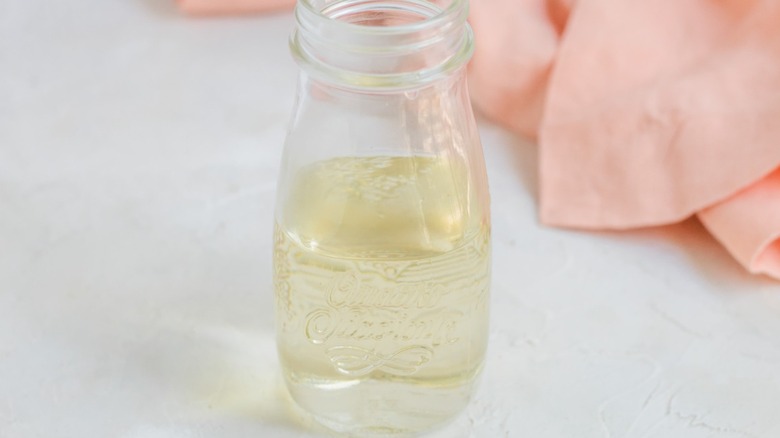 Jaime Shelbert/Mashed
When you're making cocktails, mocktails, or a number of other drinks, you may run across an ingredient called "simple syrup," and you may wonder: What's so simple about it? Sure, you may be able to find a commercially produced version of the stuff (typically near other alcohol mixers). However, simple syrup is something that's actually at its best if you make it yourself. Don't worry: It's still quite simple.
As recipe developer Jaime Shelbert explains, "Simple syrup comes together in a pinch for a liquid sweetener that works in your favorite cocktails, iced drinks, and even coffees and teas." While the version given here is pretty neutral, you can easily make flavored versions, as well. "I happen to love herbs, and often choose to infuse my syrups with rosemary, mint, or basil," Shelbert says. You could also make lemon, lavender, or vanilla versions to use in homemade tea and coffee concoctions. These homemade concoctions are not only cheaper, but will also be a lot better tasting than the store-bought syrups.
There are just 2 ingredients needed for simple syrup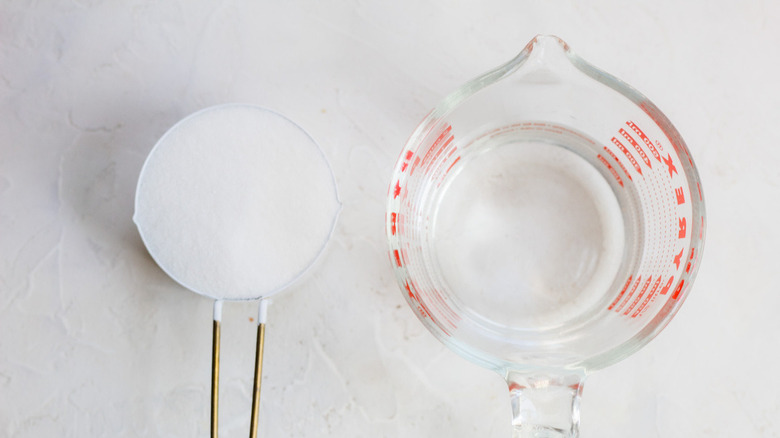 Jaime Shelbert/Mashed
As far as ingredients go, simple syrup couldn't be much, well, simpler. All you need to make it is granulated sugar from the pantry, plus some water. Is this even two ingredients if one of them is water?
Combine the ingredients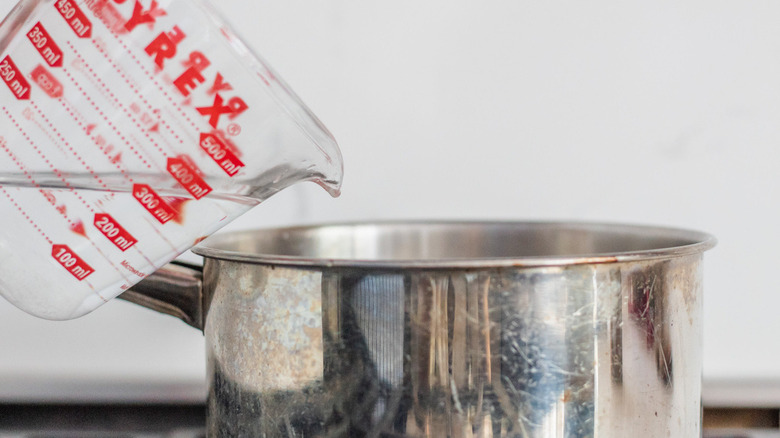 Jaime Shelbert/Mashed
Mix the sugar and water in a small saucepan. You can easily reduce or increase the amount here, so long as you combine the two in equal amounts (1 cup of water per 1 cup of sugar, etc). You might also want to make what cocktail recipes sometimes refer to as a "rich syrup," which is notably thicker than simple syrup. In that case, Shelbert says, "you can up the ratio of sugar to water to 2:1."
Dissolve the sugar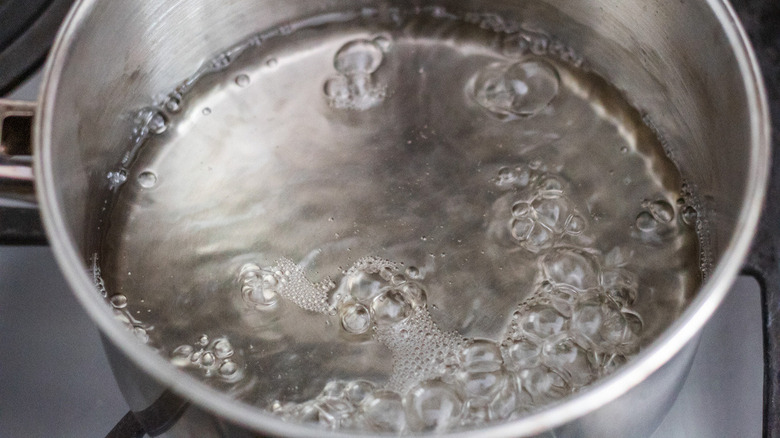 Jaime Shelbert/Mashed
The typical method for making simple syrup (and the one Shelbert uses) involves combining the sugar and water in a pan and cook, stirring, until the sugar dissolves. For Shelbert, she says this takes about 5 minutes. She also notes that the volume will reduce while cooking, and says "the amount of syrup you end up with really depends on cook time. The longer the syrup cooks, the more it reduces."
If you prefer, you can even create a simple syrup using a no-heat method: Simply mix the sugar and water in a jar, close the lid, shake, and then let the mixture sit for 10 to 15 minutes to let the sugar dissolve. The heat does this faster, but it'll get there on its own anyway (and you won't have to wait for the syrup to cool). Shake the syrup one final time to make sure the sugar's dissolved evenly throughout the water, then your simple syrup will be ready to use.
Put your simple syrup to use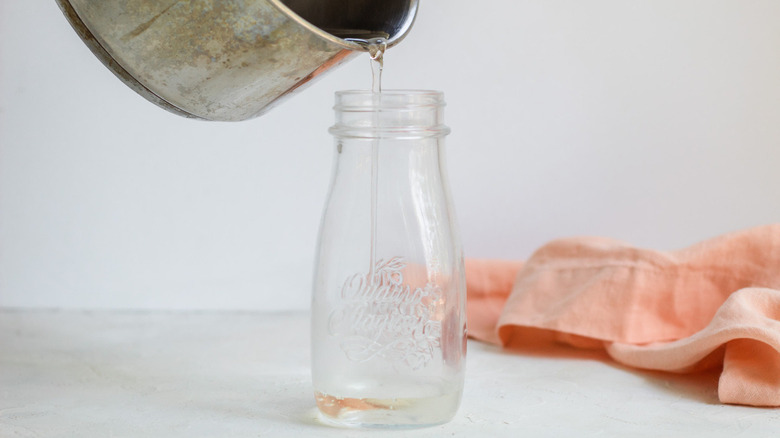 Jaime Shelbert/Mashed
This simple syrup is something you can use in any drink recipe calling for such an ingredient, although you can also use it to sweeten iced tea, lemonade, and other such cold drinks where granulated sugar might take a while to dissolve. Shelbert, however, says that beverages aren't the only things you may with to use it for. As she tells us, "Simple syrup can be used as a glaze on fruit desserts such as tarts and fruit salads and can also add moisture and sweetness when brushed onto sweet breads and cakes."
Easy Simple Syrup Recipe
Simple syrup is a must-have ingredient for any bartender, baker, or anyone with a sweet tooth. And making it couldn't be, well, simpler.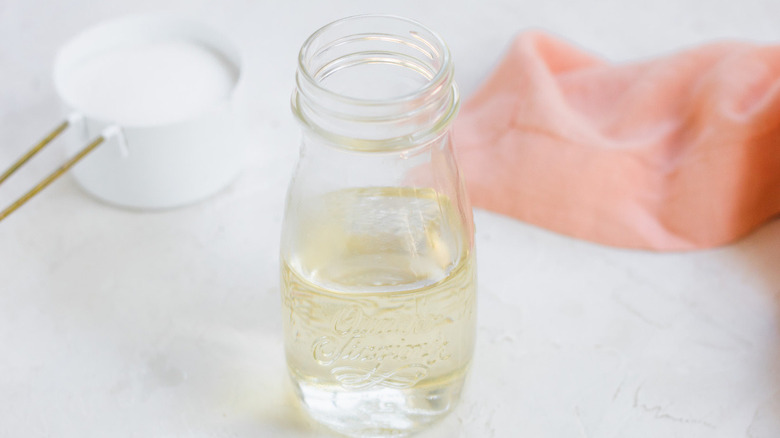 Ingredients
1 cup water
1 cup granulated sugar
Directions
Combine the water and sugar in a saucepan.
Heat the syrup over medium high, stirring frequently to dissolve the sugar.
Bring the syrup to a boil, then reduce heat to a simmer until the sugar is completely dissolved (about 5 minutes).
Allow the syrup to cool before using. Store in an airtight jar or container.
Nutrition
| | |
| --- | --- |
| Calories per Serving | 39 |
| Total Fat | 0.0 g |
| Saturated Fat | 0.0 g |
| Trans Fat | 0.0 |
| Cholesterol | 0.0 mg |
| | |
| --- | --- |
| Total Carbohydrates | 10.0 g |
| Dietary Fiber | 0.0 g |
| Total Sugars | 10.0 g |
| Sodium | 0.6 mg |
| Protein | 0.0 g |