Instagram Is All About Alex Guarnaschelli's No-Bake Pizza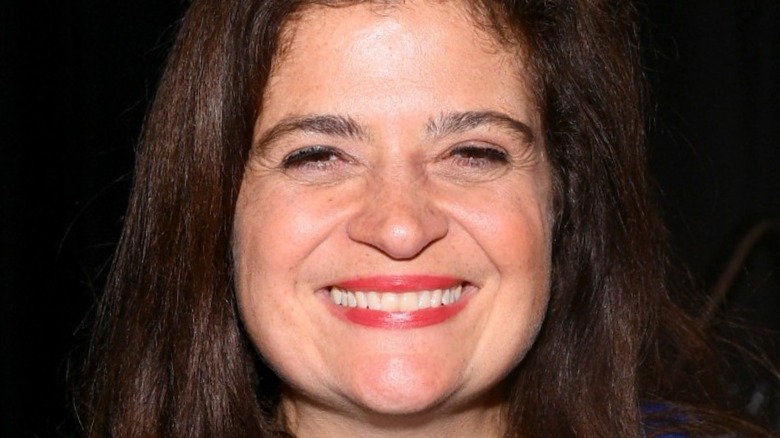 Dave Kotinsky/Getty
As the daughter of the late Maria Guarnaschelli, the respected book editor that helped shape American home cooking, Alex Guarnaschelli's passion for food began at home. Maria edited some of the most influential cookbooks in the U.S. ("The Joy of Cooking") and took her work home with her. Fed by the recipes her mother tested for cookbooks, Alex had an eclectic diet growing up. She has said that the family got tired of eating the same dish over time as it was perfected, but her mother's understanding of the "mechanics of cooking" fueled her to become a chef. 
Alex's culinary journey took her to France, where she ran a three-star Michelin restaurant, according to her website. To understand how remarkable this is, you should know that only 24% of restaurants in the U.S. are led by female-identifying chefs, despite more than half of culinary school graduates being women. Only 20 female chefs have been awarded a prestigious Michelin star (via Shondaland). Even fewer in the upper echelon of three-star restaurants, with only one woman in the U.S. with that distinction: Dominique Crenn (four more women worldwide). 
With such an impressive background, you'd assume this celebrity chef, New York Times bestselling author, and "Iron Chef" would be preparing complicated dishes. Instead, Alex Guarnaschelli's cookbooks are filled with modern comfort foods that incorporate the international ingredients we can now stock in our pantries. Fans of hers know how versatile her cooking style is and appreciate her realistic approach to home cooking, including this easy no-bake pizza.
How to make a pan-fried pizza
On Mother's Day, Alex Guarnaschelli took to Instagram to share a pizza quickly cooked in a cast iron pan on the stove. To make things easy, the dough is store-bought, and the ingredients are raw, perfect for the warmer months when tomatoes and basil are in abundance. Guarnaschelli pan-fries the dough on both sides in olive oil, giving the pizza a crispy texture. Once cooked for four minutes on each side, the pizzas are topped with a layer of ricotta, fresh tomatoes, and basil, then drizzled with a balsamic glaze, which Guarnaschelli made in about 10 minutes while the dough cooked. We're sure she wouldn't mind if you bought that, too. 
The recipe is a jumping-off point for various options inspired by your trips to the farmer's market. We're thinking about a zucchini and goat cheese version drizzled with honey ourselves. Since the pizzas come together quickly, pre-cook any toppings you want to add that must be cooked before consuming, like sausage. Guarnaschelli adds that you can make this recipe even faster by purchasing pre-baked pizza rounds. Fans couldn't get enough, with comments on IG ranging from "Yum this pizza looks delicious" to "I mean what's there not to love?"
If turning on the stove in the summer sounds hot, you can also grill pizza. This process is quick, like pan-frying, so having all your toppings prepped and ready is essential. Both methods allow the dough to reach high temperatures, mimicking a pizza oven, resulting in a crispy crust with charred edges. This is perfect as a meal or cut into small pieces for an appetizer.