10 Ways You Should Be Using Hot Honey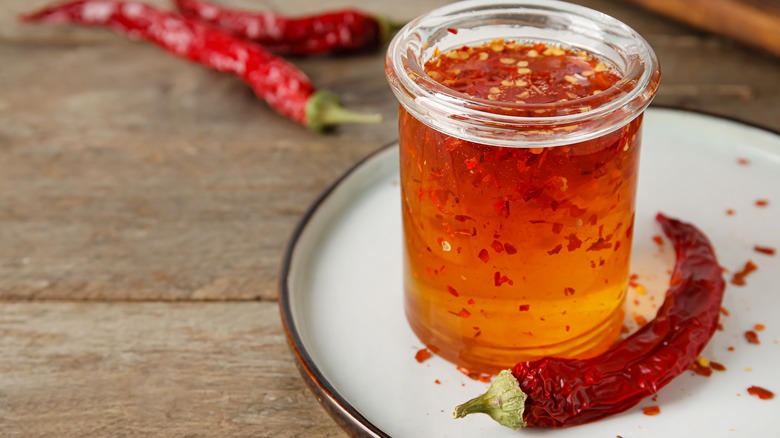 Pixel-Shot/Shutterstock
In recent years, a new kind of fun food topping has started to create some buzz in culinary circles: hot honey. Honey has always existed as an essential pantry staple, but more recently people are catching onto chili-infused honey. This "hot honey" can be made at home or purchased from several different retailers, including one of the most well-known, the widely loved Mike's Hot Honey. The eponymous Mike started infusing honey with chili and using it on pizzas at the restaurant he worked at prior to starting his company (via Mike's Hot Honey). This simple but creative idea sparked a phenomenon, and now people are putting hot honey on just about everything, from sandwiches to desserts. 
If you're not already on the hot honey bandwagon, the options may seem daunting. Where should you start? There are tons of ways to use hot honey at home, but never fear. We've rounded up some of the best uses of this unique ingredient to get the creative culinary juices flowing. Whether you want to buy a jar or make it yourself at home, there's sure to be at least one idea below that will tickle your tastebuds and give hot honey a permanent place in your kitchen.
On a pizza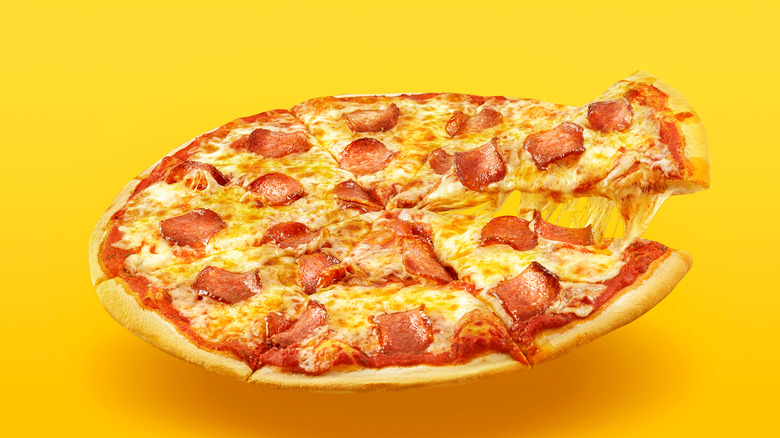 Dzha33/Shutterstock
Arguably the best pairing for hot honey is on a cheesy slice of pizza. Here, the salty, rich cheese balances the sticky sweet and spicy hot honey perfectly, creating a delectably delicious bite. It's wonderfully simple, too, as a quick drizzle of chili-infused honey is all you need to take an average slice of pizza to the next level. 
Following the example of Mike from Mike's Hot Honey, pizzerias across the country have adopted this ingredient as a topping. East Coast pizza chain Ledo Pizza offers hot honey as a standard topping for all its pizzas (the chain suggests slathering it on chicken wings, too). Brooklyn-based pizzeria Roberta's offers hot honey (or the combo of chili and honey) as an optional condiment as well as a standard topping for specialty pies and slices, such as with a sopressata and basil pizza. The combination is so popular that it has sparked several people to recreate the pie at home. If you aren't a NYC resident, you can easily top your favorite delivery slice with a drizzle to get a taste and decide for yourself.
In a cocktail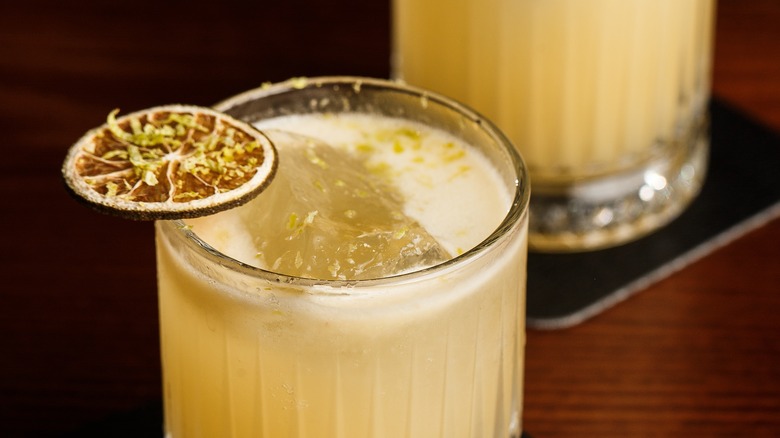 pausestudio/Shutterstock
Hot honey isn't just a topping for your next pizza. As it turns out, it can also be an ingredient. Using hot honey as a mixer in a cocktail can be an easy way to add a kick of fiery sweetness to your next happy hour, impressing all with your mixology know-how. Honey in general is a handy addition to your home bar. Take the example of Honey's in Brooklyn, a spot that's famous for its honey-infused drinks, as well as house-made mead, a brew made from honey. Honey is a potential swap in any cocktail that uses some kind of simple syrup. It dissolves quickly and easily into alcoholic and nonalcoholic libations alike. 
If you're skeptical about adding spice to the equation, know that hot honey pioneer Mike's Hot Honey has crafted dozens of cocktails using the spicy-sweet condiment, from margaritas to hot toddies. For a standard cocktail using about two ounces of alcohol, start with about half a teaspoon of hot honey. If you like how it tastes, try adding another portion!
On a cheese board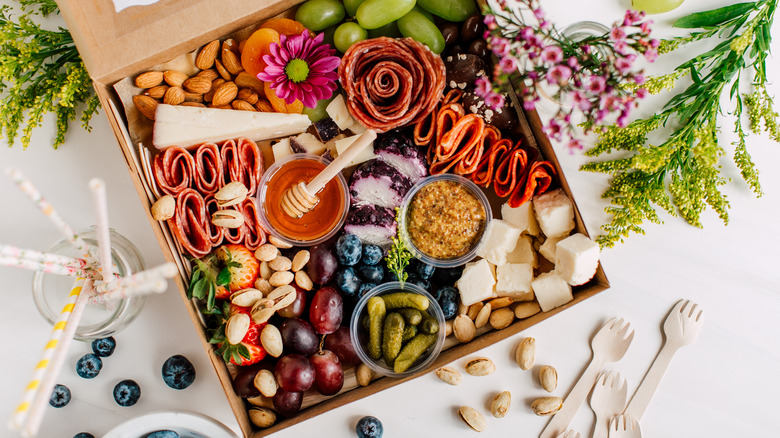 Katheryn Moran/Shutterstock
While you probably don't want to eat hot honey by itself, you can do the next best thing and incorporate it into a cheese board. Paired with other things, you can dip your heart away and slather it on practically everything edible you come across. "The Cheese Board Deck" notes that honey can be part of an excellent charcuterie board. To use it, consider setting out a small pot of honey that can be employed a dip for the array of cheese, meat, and fruit gracing the board.
For a more creative approach, try swapping a more mild clover or wildflower honey with spicy hot honey. Hot honey is great when paired with creamy cheeses like brie. Likewise, it cuts through and complements the taste of salty meats like cured salami and prosciutto. You can even dress the honey up by adding a sprinkle of dried chilis as a garnish. This neat trick pulls double duty as it also gives guests an idea of what to expect before digging in.
On fried chicken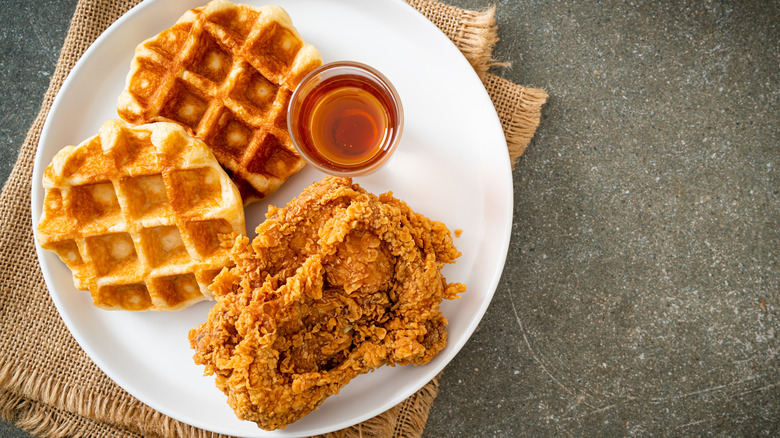 gowithstock/Shutterstock
Fried chicken and waffles is a common dish served across America, beloved largely because the sweetness of the maple syrup plays perfectly with the crunchy, rich taste of fried chicken. But how about swapping out maple syrup for hot honey? At Hall's Honey-Fried Chicken in Dallas, they use honey right in the fry batter. People come from all over Texas to try this unique take on a classic dish. 
You can recreate the flavor combination at home by simply topping fried chicken with a quick drizzle of hot honey. You might also want to experiment with adding it to the chicken marinade or batter. As with most ingredients, start with just a little of the hot stuff. You can always add more later depending on how much heat your taste buds can handle. Waffles on the side are optional, though it would go just as well on a sandwich or on its own.
In a marinade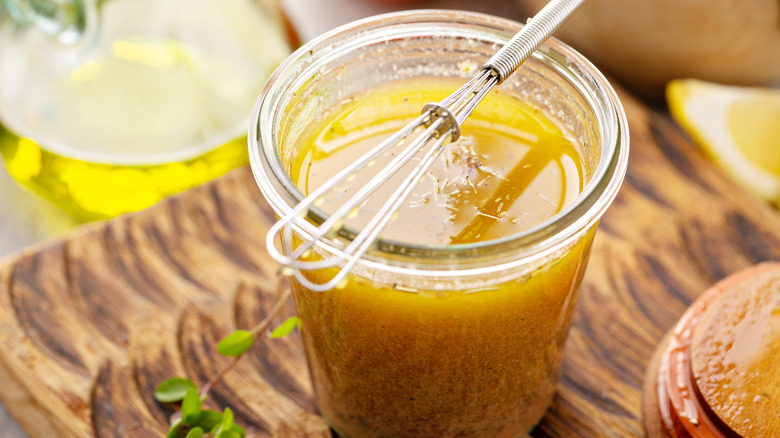 Elena Veselova/Shutterstock
Another great way to use hot honey is in a marinade. Marinades are used to flavor or season meat before cooking. Common cuts of meat for marinating are usually the tougher options, like ribs, flank, and sirloin. In most cases, marinades use acid, fat, and flavorings in concentrated quantities in order to impart as much flavor into the meat as possible. 
The trick is to choose super-flavorful ingredients to start out. Bonus points to adding something with sugar content to a marinade is that your meat is more likely to get that caramelized char on the edges. Hot honey would be the perfect choice for all kinds of marinades because of the sweet and spicy flavor. Gourmet hot sauce brand Zab's started making a hot honey and they recommend using it in a marinade, among other things. We could see it going perfectly with sticky glazed ribs or grilled chicken.
Use it in a salad dressing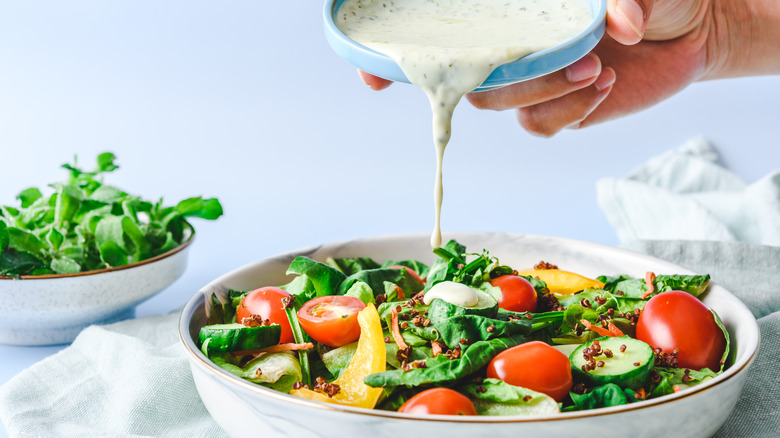 Chris LayKK/Shutterstock
Most people just buy salad dressing at the grocery store without thinking too much about what goes into it. But if you've ever made dressing yourself at home, you know just how easy and delicious the process and the result can be. 
Typically, most salad dressings have the same few base ingredients. Those can include garlic, mustard, some kind of oil, an acid (often vinegar or citrus), and sometimes honey. The honey adds a sweet counterpoint to the sour punch of acid and also helps to keep the dressing stable via emulsification, which allows the oil and water-based ingredients to play nicely together.
If you like your food spicy or you just want to add a little zest to your next salad, try swapping out the plain honey for hot honey. This could work great in balsamic vinaigrette, French dressing, or even classic ranch, adding a new layer to what may have become a standard dressing otehrwise.
On garlic bread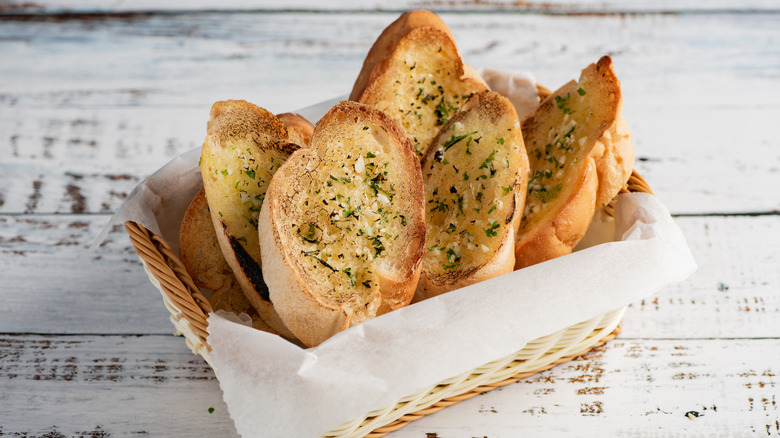 C_KAWI/Shutterstock
Who doesn't love garlic bread? Just the sound of those two words together is enough to conjure up images of hot, fluffy bread slathered with butter and garlic, then toasted to crispy perfection. Die-hard devotees to garlic bread exist in just about every corner of the globe and people are always looking for ways to improve upon this classic recipe. What once was a way to use up old bread has become the main attraction for many diners in many restaurants and home kitchens the world over. 
Pizza Punks, a pizza chain in the United Kingdom, has taken garlic bread to a whole new level. It starts with focaccia that's loaded up with garlic, smoked chili pepper, and cheese. After it's done cooking, the whole thing is drizzled with hot honey. While it started as just an appetizer, people come from all around just to get this loaded-up version of classic garlic bread. Given how simple this is to make in your own home, why not try it yourself?
On beef jerky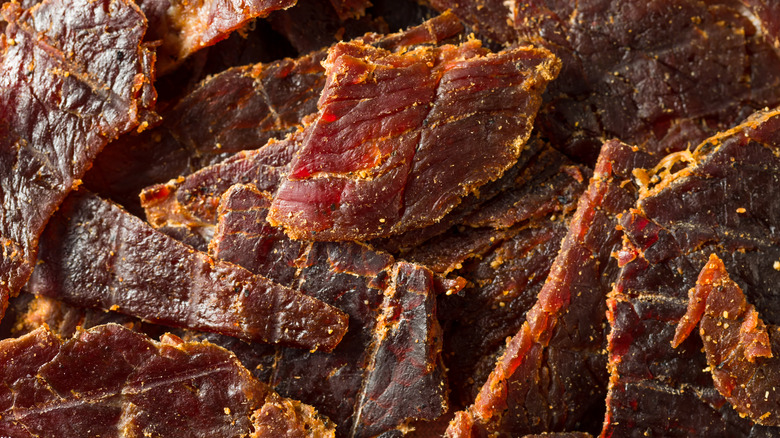 Brent Hofacker/Shutterstock
You've probably eaten beef jerky at some point in your life, whether on a road trip or hiking in the wilderness, but have you ever made it? It starts with cutting raw meat into very thin strips, then marinating the meat mixture that usually includes a sweet element like brown sugar or honey. Why not make that honey a bit spicy while you're at it?
You can incorporate hot honey in two different ways with jerky: in the marinade, which you would apply before drying the meat, or drizzled on top of the jerky after it's done curing. If you decide to glaze or drizzle the hot honey after the meat is already dried, consider letting it sit through another round in the oven to help set the sticky honey into the jerky. This will keep the snack from becoming a sticky mess when you start to eat it on the go.
On a biscuit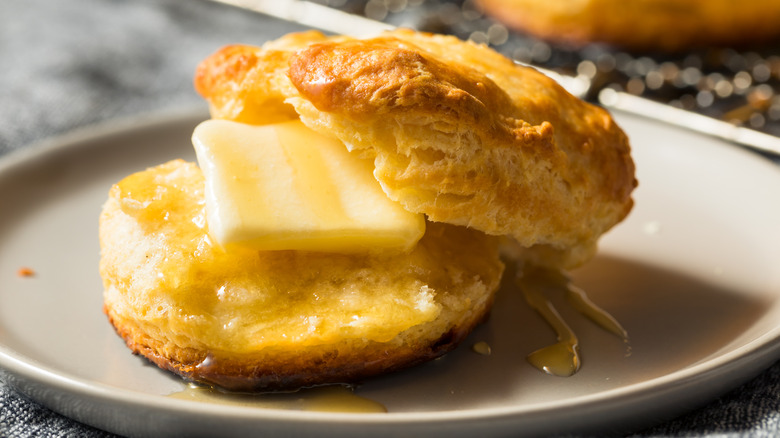 Brent Hofacker/Shutterstock
Hot honey can be just as good on baked goods as it is on meat and cheese. Next time you whip up a batch of homemade buttermilk biscuits in your kitchen, first drizzle them with a bit of honey before serving. Then try switching out the plain honey for some hot honey once you're convinced. The spicy flavor will go perfectly with a seafood dinner or shellfish boil. Don't forget generous portions of soft butter to spread atop the biscuits, too. 
For something with a bit more heft, you can always combine fried chicken suggestion with a biscuit. Wendy's is doing just that with its hot honey chicken biscuit, after all. It's made of a portion of crunchy fried chicken drizzled with spicy hot honey and sandwiched between two pieces of fluffy buttermilk biscuit. This sandwich hits all the right notes and makes a perfect lunch, dinner, or afternoon snack.
On granola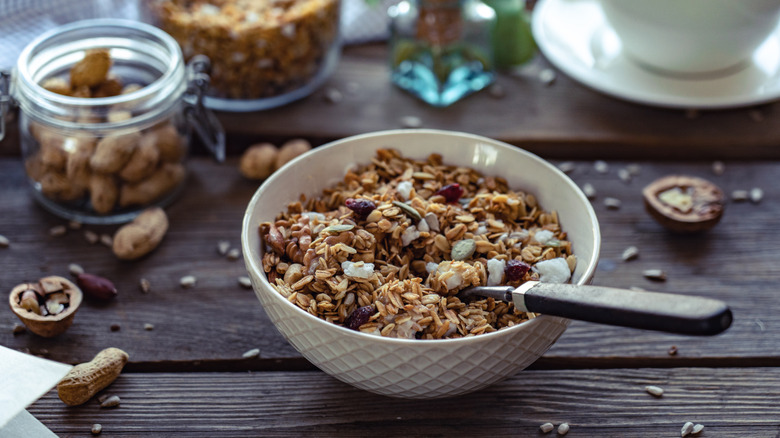 insta_photos/Shutterstock
Not convinced that granola can be both tasty andspicy? Missouri-based granola makers Banner Road Baking Company have a flavor of granola that gets rave reviews and which might just change your skeptical mind. One of its most popular products, the Frosty Deconstructed Granola comes dusted with spicy New Mexico chili flakes, accompanied by cherry and chocolate. 
Consider also that one of the main ingredients in most granola recipes is honey, which acts as a binder that helps you get all those satisfyingly crunchy clusters. If you want to incorporate some spice into your next batch, try swapping out the honey for hot honey. You can swap the whole amount or just a portion, depending on how spicy you like things. Since granola is primarily a breakfast food, start out with just a bit until you get a feel for the flavor of the final product. You can always add a little drizzle on after it's baked for an extra boost, too.