This Garlic Bread Hack Changes Everything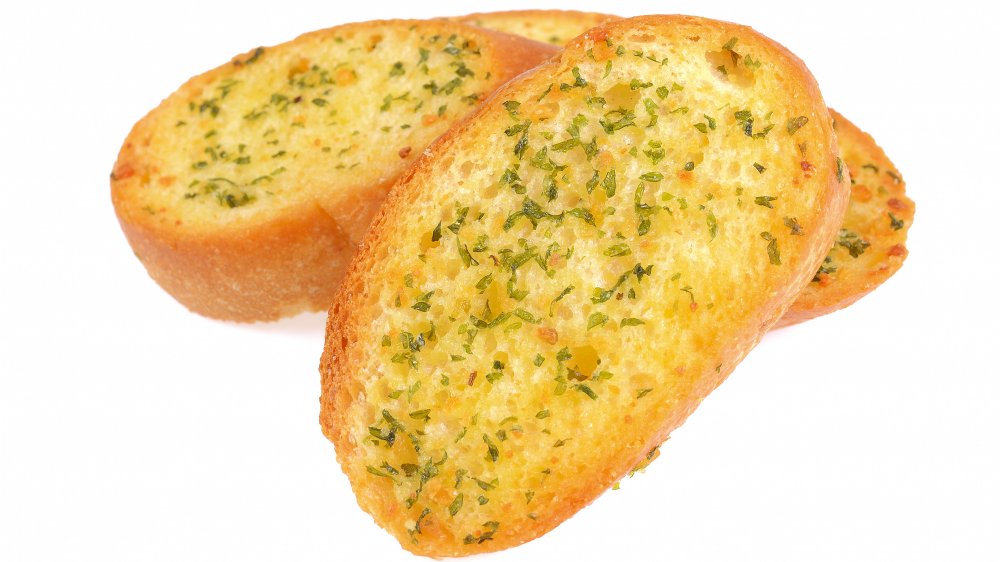 Shutterstock
You may be familiar with garlic bread, but you've never met it like this. Garlic bread, of course, is the crusty, butter-soaked, garlicky carb we love to drag through our spaghetti sauce, or to enjoy alongside a juicy filet. It's a universal side dish that can please almost anyone. A typical recipe for garlic bread, like this one from Delish, involves a crusty loaf of french bread sliced in half, a stick of soft butter, a lot of minced garlic, herbs, and a little parmesan cheese. Mix the butter, garlic, and herbs together, slather it on each half of the bread, top with parmesan, and bake it in a hot oven until it's melty and golden — you basically feel like you're going to pass out from the heavenly aroma. 
Sounds perfect, right? Well, it was, until, according to NDTV Food, a home cook took to Twitter with his hack for using chicken Kiev to make possibly the best garlic bread ever. 
You can make garlic bread and your main course all at once
In his tweet, user @nefyn92 shows a picture of two prepared chicken Kievs nestled atop two toasty slices of bread, on a baking sheet fresh out of the oven. His caption explains, "Life hack — put bread under Kievs to capture garlic butter leakage and make garlic bread." 
Chicken Kiev is made by stuffing chicken breasts with garlic-herb butter, breading and frying the breasts, then transferring them to an oven to finish cooking (via BBC Good Food). Using this hack, you would perch your stuffed, breaded chicken on top of two thick slices of bread before transferring them to the oven. As they bake, any escaping garlic butter melts into the bread and, voilá,  garlic bread! So, basically, you don't have to go to any of the trouble of making garlic bread — but you do have to make chicken Kiev. Considering you need to have a main dish to go along with your garlic bread anyway, this hack isn't really asking too much. Chicken Kiev, in this case, is a tasty means to a delicious end.
The internet is rejoicing over this garlic bread hack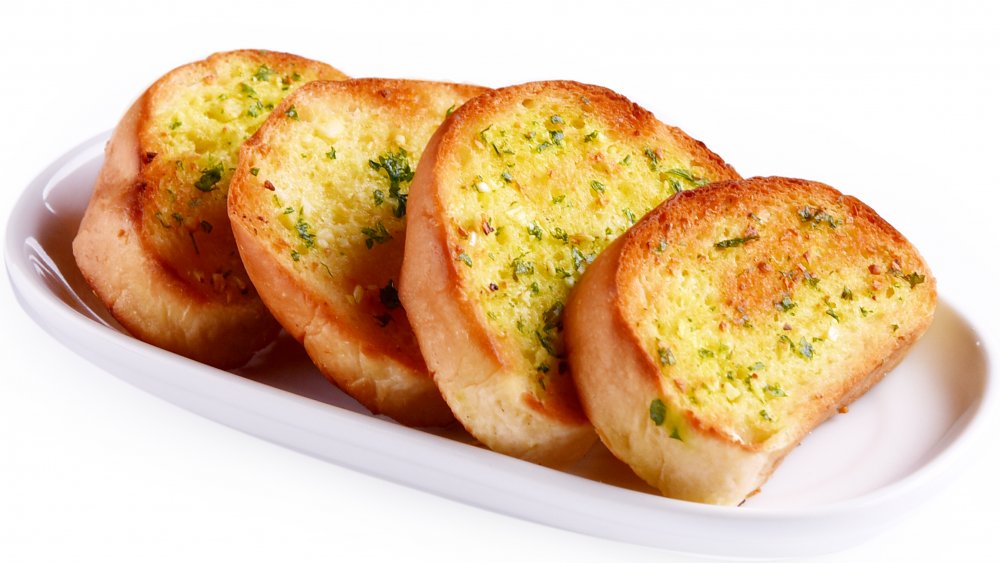 Shutterstock
The concept of roasting meat on top of bread isn't necessarily new. Culinary queen bee Barefoot Contessa has had us drooling over her Roast Chicken with Bread since 2014. Her technique employs roasting a whole chicken covered in herbs and garlic on top of thick slices of bread. Similar to this hack, the bread toasts as it absorbs all of the garlicky, buttery juices. 
But, it's always helpful for the internet to remind us of these concepts via viral content. Commenters on the tweet expressed their appreciation with remarks like, "I can't get over how genius this is," and another user says, "This changes everything." Of course, someone quickly upped the ante by modifying the recipe to include slices of cheese on top of the bread and posting a corresponding picture. 
Meanwhile, Saveur magazine suspects chicken Kiev emerged from haute-cuisine dining trends in the 20th century. Surely, this hack can earn garlic bread a la chicken Kiev its place in history, too. Well done, Twitterverse.