Bobby Flay's Favorite Late-Night Snack Will Surprise You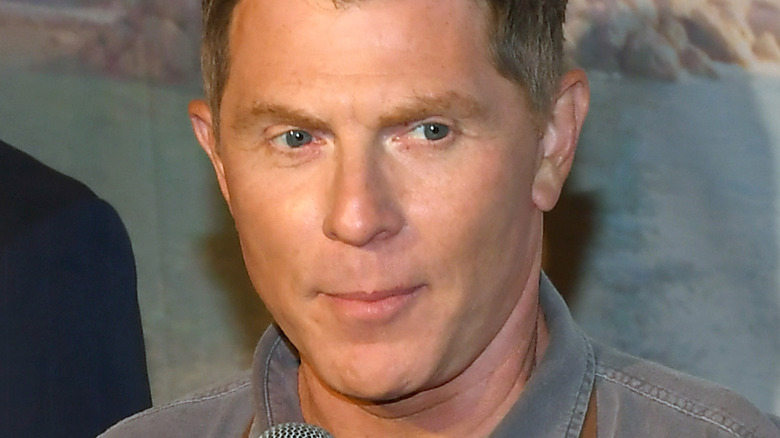 Bryan Steffy/Getty Images
Celebrity chef, restaurant owner, and food TV fixture Bobby Flay might be spending more time at his Los Angeles home these days, but he's a New Yorker through and through. After all, Flay may have finally sold his New York apartment, but his career was built there. You can still hear traces of his home city in his accent, and he seems to still have a New York City state of mind.
Flay grew up in "the city that never sleeps" (as Frank Sinatra famously calls it in "New York, New York"), got his start in restaurants there at the age of 17, and attended culinary school at The French Culinary Institute in New York (via Food Network). He worked for several prominent restaurant owners and eventually opened innovative restaurants of his own in the Big Apple, including southwestern flavors at Mesa Grill, Spanish cuisine at Bolo, and Mediterranean influences at Gato.
Flay and his daughter, Sophie, share their favorite must-visit NYC eateries on "The Flay List," and their go-to spots range from classic brasseries to barbecue joints to gelato and soft-serve ice cream stands to pizza parlors noted for quintessential New York-style slices.
Speaking of quintessential: Flay shared on Instagram one of his favorite late-night snacks. And it's a "city that never sleeps" classic.
Late-night with Bobby Flay: Bacon, egg, and cheese
"I'm making a classic bacon, egg, and cheese sandwich with ingredients from my Misfits Market box ... one of my favorite snacks for any time of day, but especially late night," Bobby Flay says in the Instagram post. A more detailed version of the video is available on Misfits Market's Instagram page.
In the Misfits video, Flay tells viewers that he grew up eating bacon, egg, and cheese sandwiches and that it's a staple New York City combination, especially after a night on the town. "It's actually really good the morning after," he adds. "Kind of like that hangover meal."
Flay's version starts with a brioche bun from his Misfits box. Bacon, egg, and cheese is pretty self-explanatory: Flay fries the bacon first, then the eggs, and notes that he's using good old American cheese. In a surprise twist, he spreads a couple spoonfuls of harissa, a condiment he describes as a spicy North African ketchup, on each side of the roll before building his sandwich. "It's not about elegance," Flay says of his late-night snack. "It's about flavor."
It's not wow-factor food, but who cares? "Yum I'm coming over," fellow celeb chef Cat Cora (@catcora) commented on Flay's Instagram post. "A classic doesn't have harissa on it," another user couldn't resist pointing out. Another user, meanwhile, is ready for breakfast: "Oh yeah!! The classics always hit just right. A nice cup of coffee with that and the day is set."