Joel McHale's Secret Cocktail Ingredient Is A Game-Changer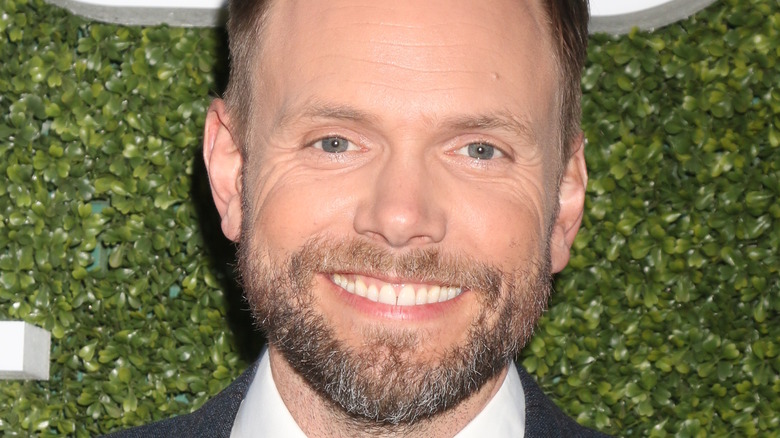 Kathy Hutchins/Shutterstock
Joel McHale is well-recognized for his work on "Community," as well as for hosting "The Soup" and "The Joel McHale Show with Joel McHale" (per IMDb). But more recently, McHale has also been embracing his newfound foodie side, hosting Fox's "Crime Scene Kitchen." There was also McHale's 2021 appearance on "Fast Foodies," where he competed on TruTV to recreate a childhood favorite-style Chicago hot dog.
While some celebrity food appearances may seem arbitrary, McHale's foodie roots are not. At a digital event hosted by Q Mixers, attended by several Mashed News writers, McHale shared that his food journey took off when he "started making money in basic cable" because he could finally afford to go to restaurants. The foodie bug was catching, though, and McHale says that today, he "really loves to cook at home." 
More than a simple hobby, the actor believes "food as art has really come alive."
The secret is in the sauce for Joel McHale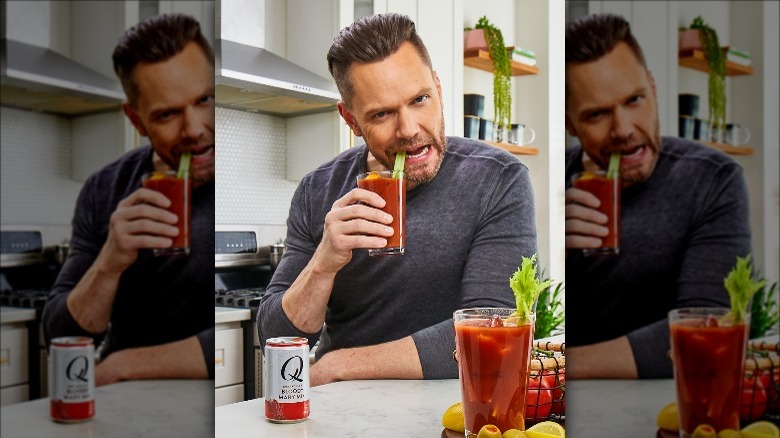 Q Mixers
Embracing his inner foodie, Joel McHale has added yet another credit to his long lineup: CHO, or Chief Happy Hour Officer, for Q Mixers. Joking with his Zoom audience at the Q Mixers event, McHale discussed his signature cocktails as beginning with a quality cocktail mix, joking that a bad cocktail mix is an "abomination of God." As this is the same foodie who says his perfect food pairing would be "tacos with a side of fireworks or firecrackers," it's best to take this all in jest.
In seriousness, however, McHale could not stop raving about his secret ingredient for both his "Saucy Mary" and his "Honey, I Need a Margarita:" barbecue sauce. The margarita features a sweet & spicy honey barbecue with lime, margarita mix, and some good tequila. Rim the glass with Tajin, he suggests. For the Saucy Mary, try "your favorite vodka" with a fantastic Bloody Mary mix, barbecue sauce, and lemon juice; garnish with peppered jerky.
McHale explains that the sauce essentially doesn't taste like barbecue but instead adds a subtle smokiness to both drinks. This ingredient may be more common than you realize, too. As Alcohol Professor notes, people often add ingredients such as sriracha, mustard, steak sauce, or barbecue sauce to a Bloody Mary. Thrillist recommends that "particularly smoky" sauces may better pair with a Mezcal, however.
A saucy pairing with Esther Choi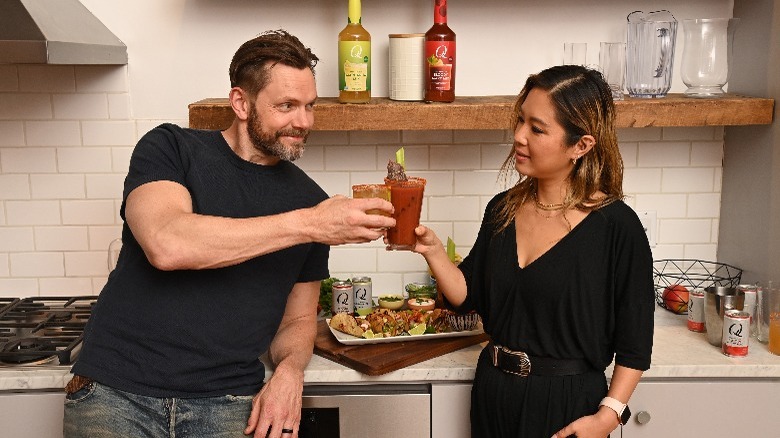 Q Mixers
Esther Choi, owner of Mŏkbar in New York City, had "an absolute blast crafting cocktails and tacos with everyone" at the Q Mixers event with Joel McHale. The chef brought her pairing taste to the party with KBBQ wild mushroom tacos and a kimchi salsa. 
The taco recipes included wild mushrooms, soy sauce, sake, sesame, garlic, ginger, scallions, and sesame seeds toasted and served with a saucy, savory reduction. Matching the smokiness of McHale's cocktails, Choi also incorporated the signature Bloody Mary mix into her kimchi salsa, to which she adds fresh lime juice, cilantro, and jalapeño.
When pairing drinks and food, Davin Affrunti, described as a "mixology master and bar director for Prospect Restaurant in San Francisco," reminds home cooks to consider the sauce (such as BBQ) involved in the cooking as part of your pairing plan. Speaking to Santa Fe New Mexican in 2013, he stated, "In considering what to pair with each sauce, I definitely think about what might be the most prominent flavors when completed." The mixologist suggested pairing rum, whiskey, or other dark spirits with BBQ sauce, adding that sauces such as strawberry balsamic also pair well with tequila.