Why People Are Begging Shake Shack To Make A Huge Change To Its Burgers
The struggle is real if you're a Shake Shack fan but are feeling pangs of guilt because you enjoy their mouthwatering burger patties served in the loving embrace of Martin's pillowy soft potato buns. The famed Pennsylvania-based bread maker and lead Shake Shack supplier has been at the center of controversy since it was revealed that the Martin family are supporters of Doug Mastriano, a far-right Republican who is running for governor of the state, per Insider. Mastriano was exposed as a supporter of the January 6, 2021 riots at the U.S. Capitol and has indicated he would support a total abortion ban for the state. Mastriano even reportedly used campaign funds to take Trump supporters to Washington, D.C. on the day of the riots, per NBC News.
Since news of Martin's support of Mastriano was made public, a number of smashburger restaurant owners around the country have said they would make a switch from Martin's bread to something else. Restaurant owner Wes Roe told the San Francisco Chronicle, "They make a great product — that's the part that sucks," adding that it was like realizing that someone you loved had questionable political beliefs. "On one hand it's family, but on the other hand, I can't be OK with this."
Shake Shack has not indicated it will change suppliers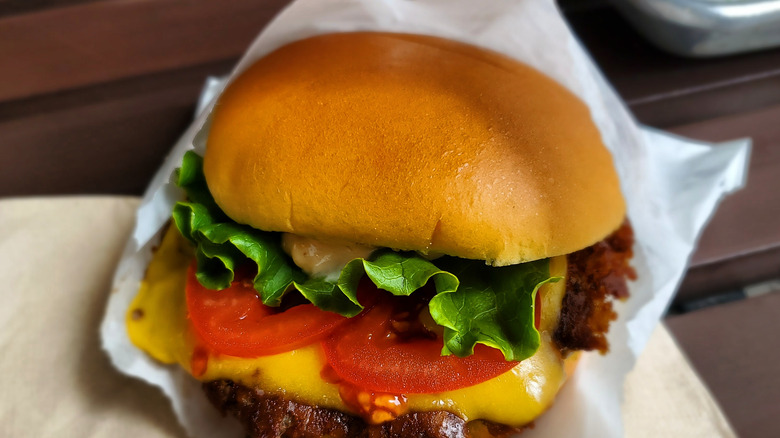 Nick.NNR/Shutterstock
Another restauranteur said that while he tries to keep politics separate from to the restaurant and burgers, the gravity of this particular situation prompted him to switch suppliers, especially since, as a third restaurant owner put it, no way of knowing how much what percent of what he paid might have been used to fund Mastriano's campaign, per The San Francisco Chronicle.
Now fans are hoping Shake Shack will follow suit, per Insider, especially since the chain uses the company's potato rolls at all of its locations. But it doesn't look as though the specialty burger giant is ready to make the switch — at least not for now. In a statement to CNN, the company said, "Shake Shack has always championed equality, inclusion and belonging at our company — and we know these values are important to our guests and team members. Shake Shack does not make political donations, nor does the company endorse the political donations of private individuals."
It added, "In regards to the actions of individuals associated with the Martin's company and their personal political donations — those are the choices of those individuals and do not express the values of Shake Shack. We continue to be in active conversations with Martin's to express our concern."
Martin's said the company doesn't support a particular candidate or party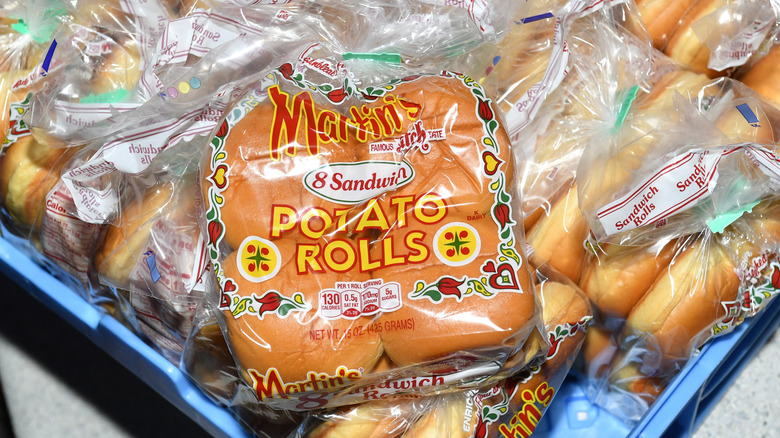 Noam Galai/Getty Images
While some restaurants feel uneasy about using Martin's bread, the company has also said it was aware of the controversy surrounding its owners and stated, "Like the rest of the country, Martin's employees, business partners, and customers hold to a diverse range of personal opinions, beliefs, and values. Although the stockholders who own the company are members of the same family, they also hold a wide range of views. For these reasons, the company, as a matter of policy, does not support any particular candidate or party."
But there have been those who have urged the public to leave Martin's out of divisive political discourse. Josh Shapiro, who is currently the state's attorney general and who, as the Democratic candidate for governor, is running against Mastriano, doesn't see a reason to support a boycott of Martin's potato rolls. He told The Washington Post, "Personally, I think Martin's makes a da** good potato roll and I'm not for boycotting a Pennsylvania business that supports hundreds of Pennsylvania jobs."
The aspiring governor also said, "The Martin family runs a private company and has the right to support and employ whomever they want, and I believe that every company should make whatever decisions they feel are best for them and their customers."