Duff Goldman's Secret Trick For Getting Gooey, Soft Blondies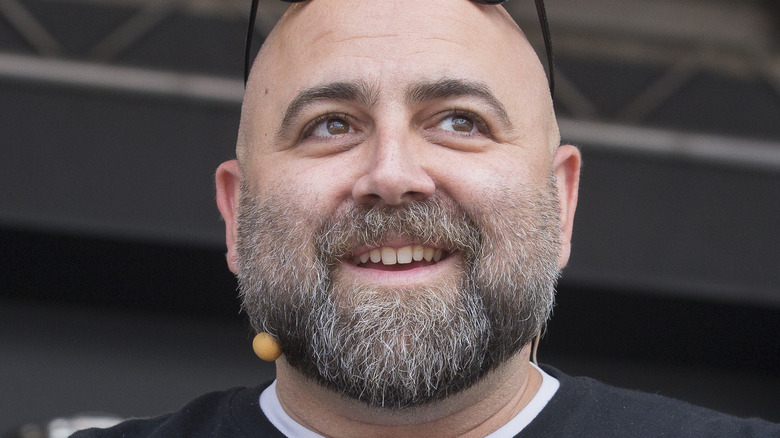 Sterling Munksgard/Shutterstock
Brownies get a lot of hype for being a go-to decadent treat packed with rich chocolate flavor. Some prefer a more cakey version of the baked good, while others favor an incredibly gooey variation; some immediately reach for the fudgiest of middle pieces while others like the contrast between the crisp edge and the soft brownie interior. However, if you're not in the mood for chocolate or you simply want to mix up the baked goods you're indulging in, be sure not to overlook blondies – which are identical to brownies in the decadent texture. In fact, as Sugar Spun Run explains, they're sometimes even referred to as "blonde brownies." They simply offer a different flavor profile, since they typically don't include chocolate.
And, for any novice bakers curious about the tasty creation but worried it's beyond their skill level, here's the real difference between blondies and brownies, and it's not as drastic as you may think. Blondies have a relatively neutral base, think a chocolate chip cookie without the chocolate chips, with hints of brown sugar and vanilla, so you can add in virtually any mix-ins to customize them to your exact taste.
However, if you're team fudgy brownie, and you swear by adding real chunks of chocolate in addition to cocoa powder into your trusted brownie recipe, you might be wondering how you'll manage to achieve that desired gooey texture in your blondie without using chocolate. Luckily, baker and television personality Duff Goldman has the answer.
Duff Goldman says bring on the raisins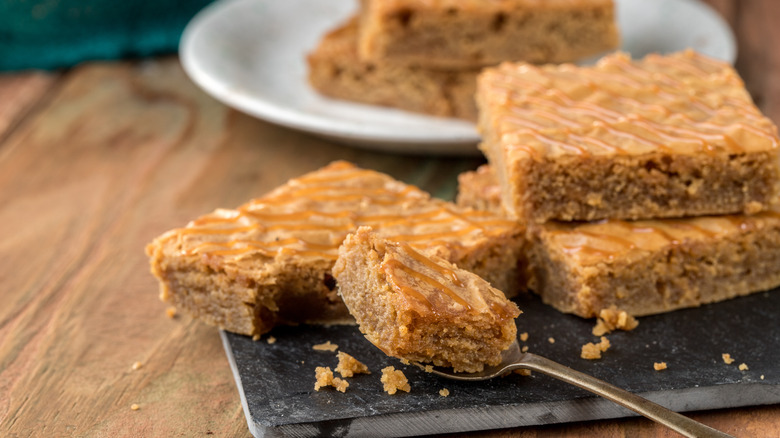 Misread/Shutterstock
While blondies are a little more forgiving than brownies, in order to get a perfect result you do need to make sure you're following the recipe and including the correct proportions of all the ingredients, no matter what secret ingredient you add, if you've accidentally increased the amount of flour, you'll likely end up with a cakey or even crumbly texture (per Baking Kneads).
Goldman shared his secret ingredient on Twitter in response to a fan who was looking for a way to create gooey blondies without the addition of chocolate, peanut butter, or butterscotch. Luckily, Goldman knew exactly what to suggest — raisins. He tweets, "Maybe reconstitute some raisins," going on to explain, "Soak the raisins in how water so the plump up, then bake the blondies. They should get soft and deliciously mushy." 
Although the expert baker suggests soaking raisins in water, you could presumably use a more flavorful liquid if desired, perhaps you might use a tip from one fan who tweeted "If you want "adult" blondies, you could always soak the raisins in Port or cognac." If you want to try your hand at this dessert, here's a simple blondie recipe to start with.