Russia's Tasty Has Different Names But The Same McDonald's Flavors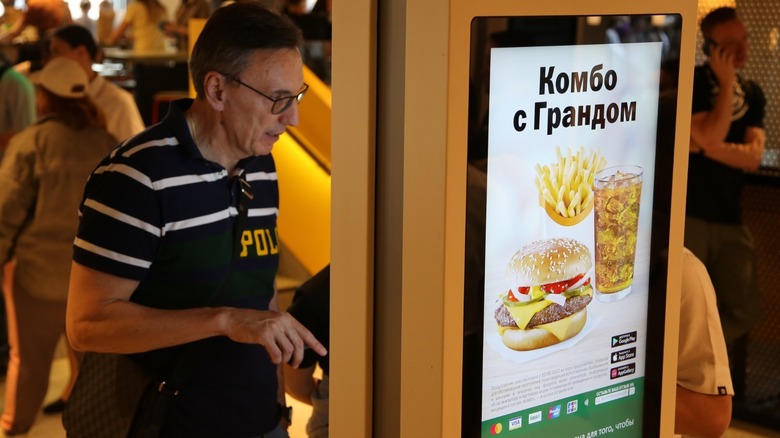 Contributor/Getty
While most Americans have never known a world where the golden arches, the Big Mac, and Ronald McDonald didn't exist, Russia's relationship with this cultural icon has been much shorter. The first Soviet McDonald's opened its doors in Moscow in 1990 as the Iron Curtain prepared to fall (via CNBC). And when it came to America's beloved burger joint, the Russians fell in love at first sight. 
When this flagship store initially welcomed customers, some waited in line for as long as 90 minutes. In a country that had become accustomed to poor service and less-than-pristine conditions, patrons were impressed by this place where people smiled and food was plentiful, recalls CNN Business. While a meal at this new eatery did not come cheap — equating to a half day's income for many — people continued to queue in crowds.
Fast-forward to 2022 and McDonald's no longer has a presence in Russia. A McDonald's statement in May read, "The humanitarian crisis caused by the war in Ukraine, and the precipitating unpredictable operating environment, have led McDonald's to conclude that continued ownership of the business in Russia is no longer tenable." After selling its holdings to a franchisee who operated 25 Siberian McDonald's, a new version of this eatery is open. But is it really a viable replacement for the golden arches? 
This McDonald's revamp does not offer the Big Mac
Yes, as Russia bids farewell to the giant yellow M, one can only wonder if the country's taste buds are in for a treat — or immense displeasure. If the new company's moniker is anything to go by, they should be left in good hands. With the name "Vkusno & tochka," which translates to "Tasty and That's It," per Reuters, the McDonald's replacement succinctly promises to deliver on flavor. But how is this possible if the restaurant no longer offers the Big Mac? That's right, the Big Mac is no longer attainable within Russia's borders. Why? The New York Times explains that the "secret sauce is proprietary." Other popular McDonald's menu items like the McFlurry and the McNuggets have disappeared as well. 
Despite the absence of these Mickey D's staples, LadBible notes that many aspects of Tasty's menu are basically "a rip off of standard McDonald's fare," adding that it is, after all, the same ingredients, kitchens, and employees creating the food. With the "Grandee" seeking to replace the Big Mac, a chicken sandwich called "The Chicken Premier," and the "Fish Burger" in lieu of the Filet-o-Fish, these menu items seem to be appeasing most of Russia's fast food fans with one diner telling The Daily Mail, "There really is no change to the burger." 
This restaurant can no longer sell Coca Cola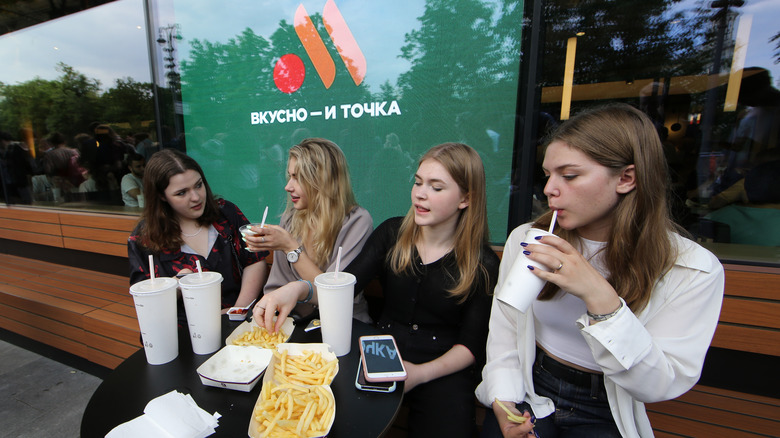 Contributor/Getty Images
Business Insider mentions that another noteworthy change to the original McDonald's Russia menu comes under the beverage heading. Since Coca-Cola no longer operates in the country, Tasty's is on the hunt for another soft drink supplier. This means the familiar flavors of Coke's brands are yet another thing missing from this new fast food experience.
The initial Tasty openings happened on Russia Day, "a holiday celebrating national pride," reports CBC, and are expected to be followed up with the eventual launch of 850 other locations. The hope is to keep the same interior decor while erasing evidence of the chain's former name. And "erase the former name," they have. Reuters reports that someone used marker to black out old McDonald's logos on condiment packages, while other food packaging was ordinary white or paper-bag brown.
Perhaps Tasty's slogan sums it up best: "The name changes, love stays." Too bad the Big Mac, the McNugget, the McFlurry, and Coke couldn't stay as well.