Airbnb Just Uncorked The Ultimate Wine Lovers' Getaway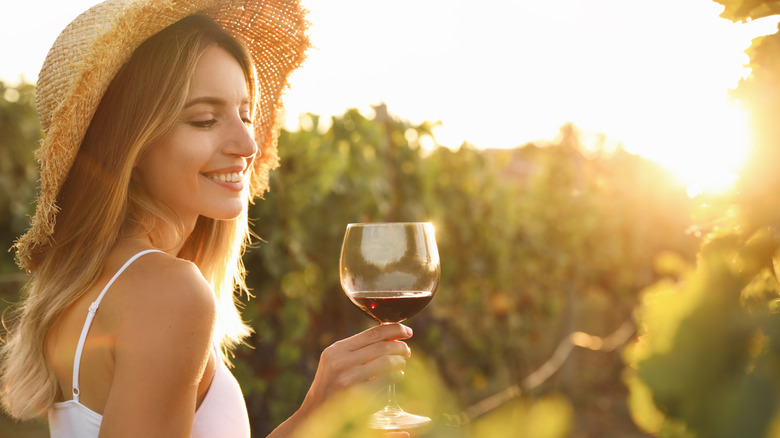 New Africa/Shutterstock
Are you a wine aficionado and frequent winery visitor? If so, keep reading, because with one of Airbnb's latest upgrades, you could find yourself closer to the grapes than ever before. In May, Food & Wine reported that the company had unveiled a new way to search for lodging destinations on the website and app using a system called "Airbnb Categories." These 50 categories include unconventional dwellings like castles, windmills, and houseboats, all designed to give Airbnbers the chance to "discover places they wouldn't have known to search for."
One of the categories bound for popularity is the vineyards category. There are currently over 100,000 Airbnb lodgings from around the world set on actual vineyards. Per The Drinks Business, vineyard vacations are in demand — in 2021, Airbnb stays on vineyards in the UK raked in £35 million in revenue, a number attributed partially to the return of the public's willingness to travel during the COVID-19 pandemic.
Get comfortable among the vines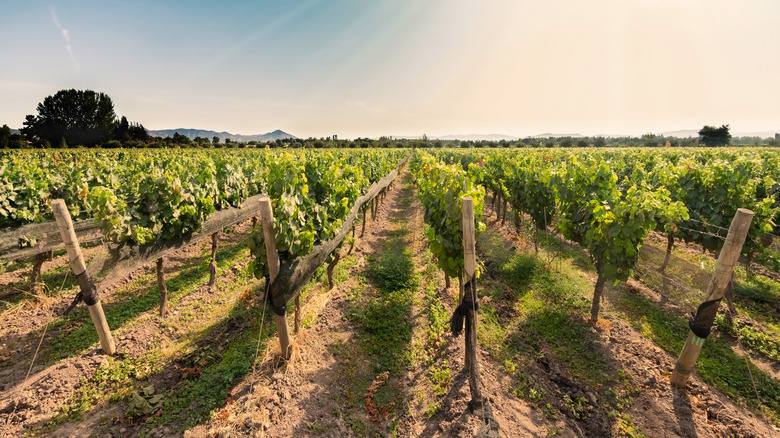 Jose Luis Stephens/Shutterstock
Nick Brewer, who owns Avalon Lodge on Oastbrook Vineyard in the UK, is all for the vacation company's new vineyard category. He tells The Drinks Business that working with Airbnb has allowed him to reach more potential guests because they can "book their vineyard stay and wine experience on the same app with a platform they are already comfortable with."
So, since we know you're already packing your bags, let's take a look at some of the fantastic vineyard destinations you can jet off to. Head to the Finger Lakes in upstate New York to a vineyard cottage at Three Brothers Wineries where you'll have lake and vineyard views. If you prefer red wine and Californian Pinot Noirs are more your style, you can travel to Sonoma, where you can rent an estate on seven acres with its own private pool and vineyard. If you're headed abroad, maybe an apartment in Bordeaux is more your style. Wherever you stay, you can't beat being steps away from gorgeous rows of vines and grapes — and a glass of wine in reach at any time. Cheers!