Reddit Is Thrilled About These Potential New Taco Bell Items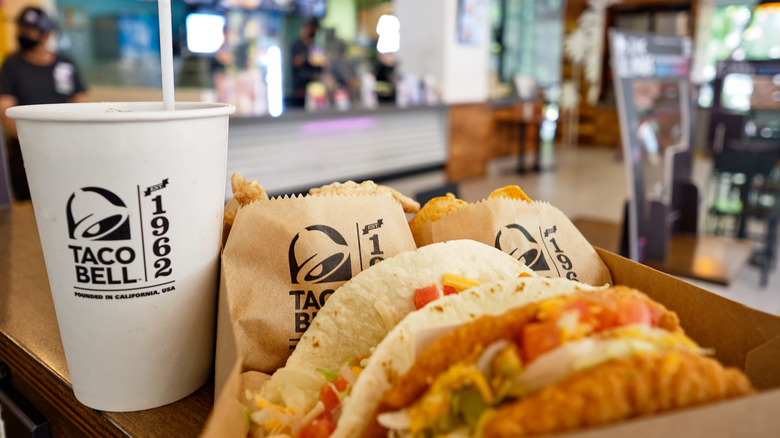 KULLAPONG PARCHERAT/Shutterstock
Taco Bell giveth and it taketh away. It's hard to know how long our favorite menu items from the Mexican-inspired fast food chain will stick around for, and what items might be added next. Its sprawling menu continues to fluctuate, giving fans whiplash when popular Taco Bell menu items like Nacho Fries, Loaded Grillers, and Queso Chicken Wings suddenly disappear.
The recent resurrection of the Mexican Pizza after it was removed from the menu in 2020 had fans rushing to get their hands on one or try it for the first time. But alas, it wasn't meant to be. Just a few weeks later, Taco Bell purportedly announced, "Because of the incredible love for Mexican Pizza, we have begun selling out across the country. ... The Mexican Pizza will return later this year; you'll hear more from us as that date approaches" (via Reddit). Fortunately, Reddit worked its magic and leaked a few new items rumored to be appearing on the menu.
Which Taco Bell items might make a comeback?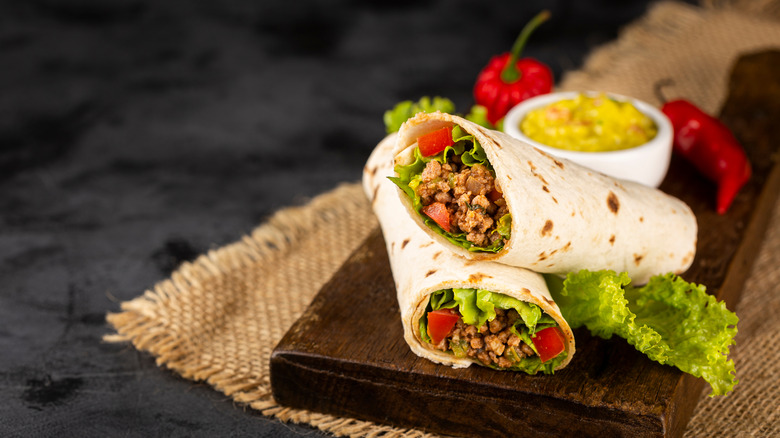 WS-Studio/Shutterstock
In a screenshot that was posted to Reddit, several "Food Offers" are listed that could possibly end up on the Taco Bell menu, including a breakfast quesadilla, $2 Classic or Spicy Cheesy Double Beef Burrito, the Cantina Crispy Chicken Taco, the Mango Whip Freeze, and a $5 breakfast box with a quesadilla. It isn't known when or if these items will officially make it to the ever-changing menu. However, Taco Bell is already selling the Toasted Cheddar Chalupa, giving fans hope that the rest of the list might follow suit someday soon. So if you're still grieving the loss of the beloved Mexican Pizza, at least now you have something cheesy to fill that void with.
One Reddit user responded to the thread expressing their hope that this experience would last a bit longer than its short-lived predecessors, stating, "Like the sound of it. Since the pizza is gone and the toasted chalupa is already here, maybe they should pull this experience up and just make it last longer." While some expressed how glad they were that certain items are potentially making a comeback, others weren't so happy about the change and wish other items were chosen instead. Comments in the thread were a mix of enthusiasm and calls to action. "The quesadilla sounds so yummy! Excited," a user exclaimed, while another commented, "Bring back the pineapple whipped freeze though."