Comforting Turkey Pot Pie Recipe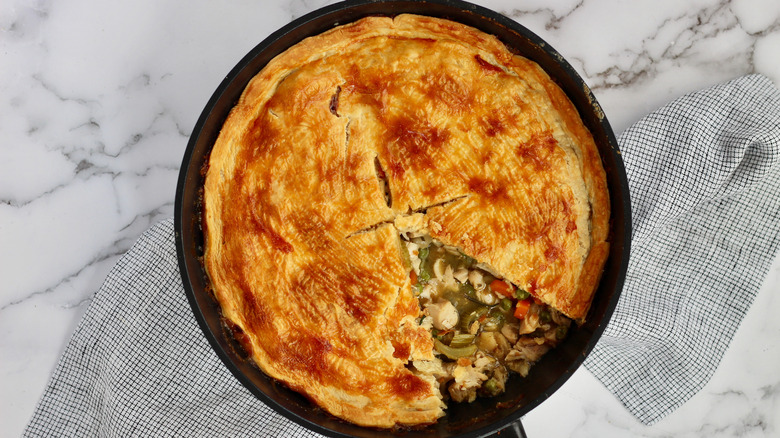 Mackenzie Burgess/Mashed
Pot pie is one of those comfort food dishes that never gets old. We love this recipe because it calls for simple ingredients and only dirties up one pan. Traditional pot pie calls for chicken, but here we are using another poultry favorite, AKA turkey. This turkey pot pie recipe also mixes it up by incorporating fresh herbs like sage and rosemary into the mix. These comforting herbs provide major flavor without any extra calories or sodium, and they happen to pair really wonderfully with turkey and vegetables, which are at the core of this pie's filling.
This quick and easy recipe together in under an hour and tastes delicious — way better than any pot pie you'll find in the frozen section! Plus, this recipe is perfect to make for holidays, dinner parties, or a crowd-pleasing weeknight meal. Registered dietitian nutritionist Mackenzie Burgess of Cheerful Choices has crafted this comforting recipe, and you'll sure be glad you followed it — so let's dive right in.
Gather your ingredients for comforting turkey pot pie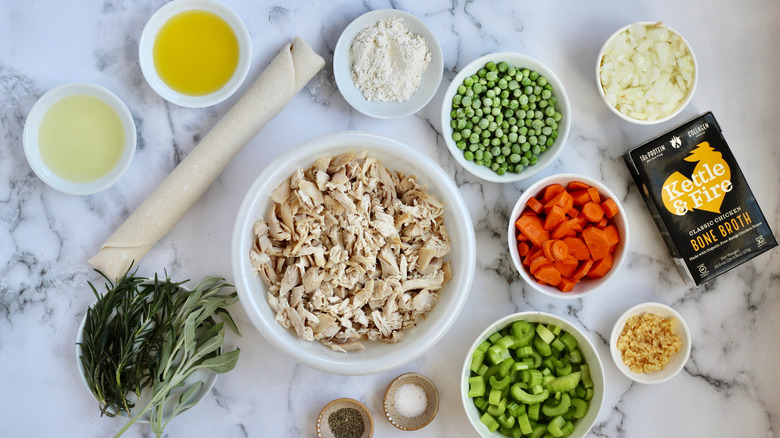 Mackenzie Burgess/Mashed
To make this recipe, you'll need olive oil, a small diced onion, sliced carrots, a cup's worth of chopped celery, minced garlic, chicken bone broth, flour, fresh sage, fresh rosemary, salt, black pepper, cooked turkey, frozen peas, a premade frozen pie crust (thawed), and one egg white.
Sauté the vegetables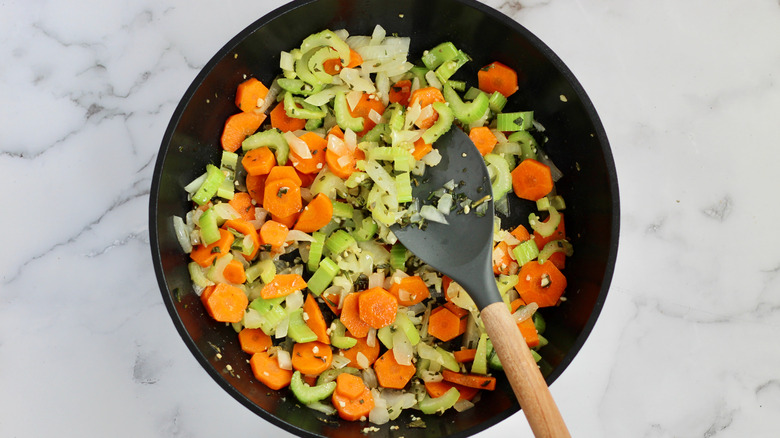 Mackenzie Burgess/Mashed
To start, preheat your oven to 400 F. Then, it's time to sauté the onions, carrots, celery, garlic, sage, and rosemary in an oven-safe skillet over medium heat. This helps to soften the veggies and ensure they get nice and tender.
Why add sage and rosemary?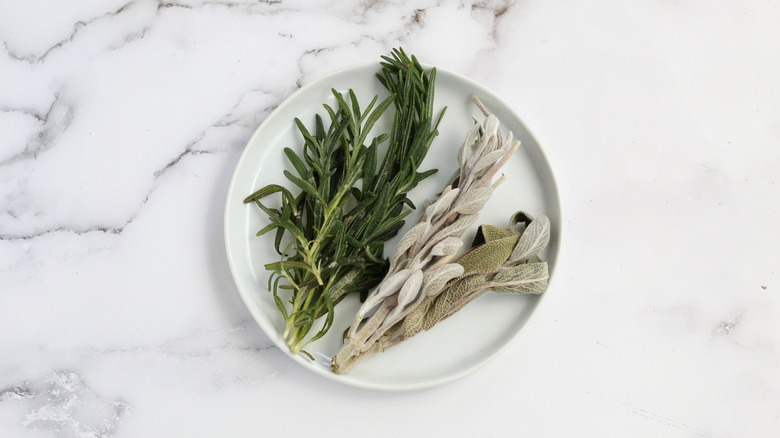 Mackenzie Burgess/Mashed
Although only a small amount is added, sage and rosemary are our secret weapon for this recipe. These herbs have a savory, aromatic flavor that really makes this pot pie stand out from the rest. Burgess says, "I've even had friends and family try this pot pie and say, 'Wow, this is the best pot pie I've ever had! What did you put in it?' and they're always shocked to hear about the fresh sage and rosemary snuck in." Even a tiny amount of fresh herbs go a long way.
Make your chicken broth mixture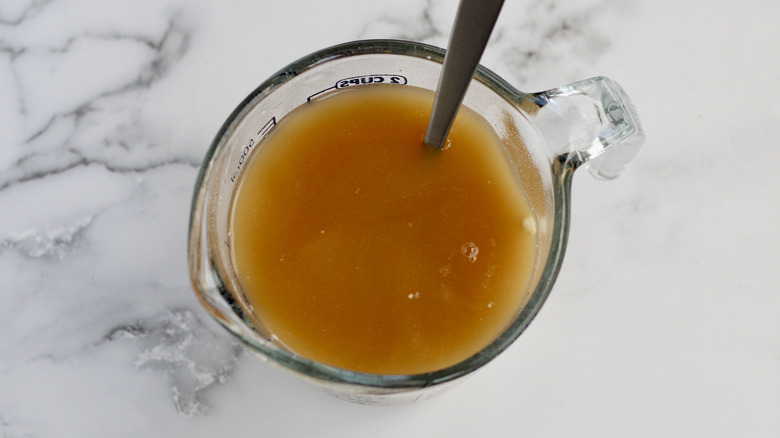 Mackenzie Burgess/Mashed
The trick to thickening the pot pie's filling is mixing a little bit of flour into the broth. Burgess notes, "While you could substitute for regular broth, I prefer chicken bone broth as it provides a deeper level of flavor. Plus, bone broth is packed with collagen, which is good for our skin and joints." You'll add this broth mixture over the veggies and let cook for 5 to 7 minutes, during which time the mixture should begin to thicken.
Stir everything together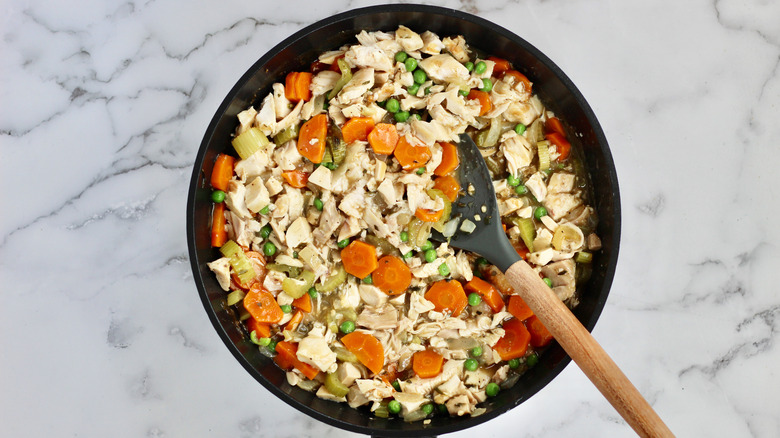 Mackenzie Burgess/Mashed
Once the mixture is slightly thickened, it's time to fold in the cooked turkey and frozen peas. Ensure the turkey pieces are evenly coated, then top the whole thing off with the pie crust. Whisk the egg white then brush it over the top of the crust, and finally cut four slits across the top, which will help steam escape as the pie bakes.
Bake the pot pie until golden brown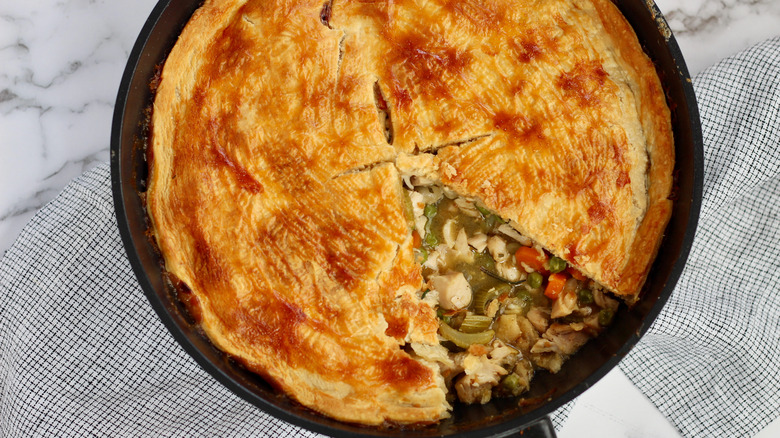 Mackenzie Burgess/Mashed
Add the pot pie pan to the oven and bake until the pie crust is golden brown and everything is heated through, about 25 to 30 minutes. Depending on your crust, after about 15 minutes you may need to cover the edges with a ring of foil to prevent the edges from burning.
Once you take the turkey pot pie out of the oven, feel free to serve right away or let it cool slightly. We recommend serving this turkey pot pie with sides like roasted broccoli or a light salad. It's also great paired with classic holiday sides like mashed potatoes, stuffing, or green beans.
This comforting turkey pot pie is best fresh out of the oven for the crispiest crust. However, if you have leftovers, you can store them in the fridge for up to three days and reheat.
Comforting Turkey Pot Pie Recipe
This comforting turkey pot pie is warm, rich, and surprisingly each to make.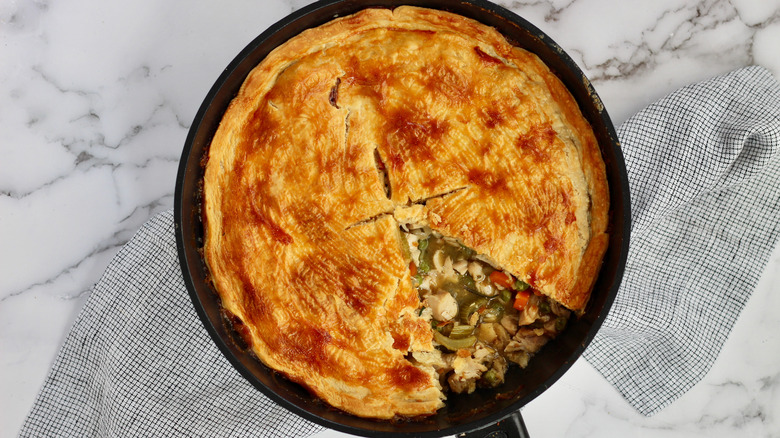 Ingredients
2 tablespoons olive oil
1 small onion, diced
1 cup carrots, sliced (about 2 large carrots)
1 cup celery
3 cloves garlic, minced
1 tablespoon fresh sage, chopped
1 tablespoon fresh rosemary, chopped
2 cups chicken bone broth
2 tablespoons flour
½ teaspoon salt
½ teaspoon freshly ground black pepper
1 pound cooked turkey, shredded or chopped into small pieces
½ cup frozen peas
1 frozen pie crust, thawed
1 egg white
Directions
Preheat the oven to 400 F.
In a 10-inch cast-iron skillet or oven-safe skillet, heat olive oil over medium heat. Add the onion, carrots, celery, garlic, sage, and rosemary. Sauté until slightly softened, about 3 to 4 minutes.
Meanwhile, whisk together the chicken bone broth and flour until the flour has dissolved.
Pour the broth/flour mixture, salt, and black pepper over vegetables. Bring to a simmer, then lower to medium heat and let cook for 5 to 7 minutes, until slightly thickened, stirring occasionally.
Fold in the cooked turkey and frozen peas, then top the skillet with the pie crust. Brush the pie crust with egg white wash, then cut 4 small slits in the center of the crust to allow steam to escape.
Transfer the skillet to the oven and bake for 25 to 30 minutes, until pie crust is golden brown on top.
Nutrition
| | |
| --- | --- |
| Calories per Serving | 376 |
| Total Fat | 17.5 g |
| Saturated Fat | 5.3 g |
| Trans Fat | 0.0 g |
| Cholesterol | 76.4 mg |
| | |
| --- | --- |
| Total Carbohydrates | 28.7 g |
| Dietary Fiber | 3.1 g |
| Total Sugars | 2.6 g |
| Sodium | 489.7 mg |
| Protein | 25.2 g |