Simple Garlic Mashed Potatoes Recipe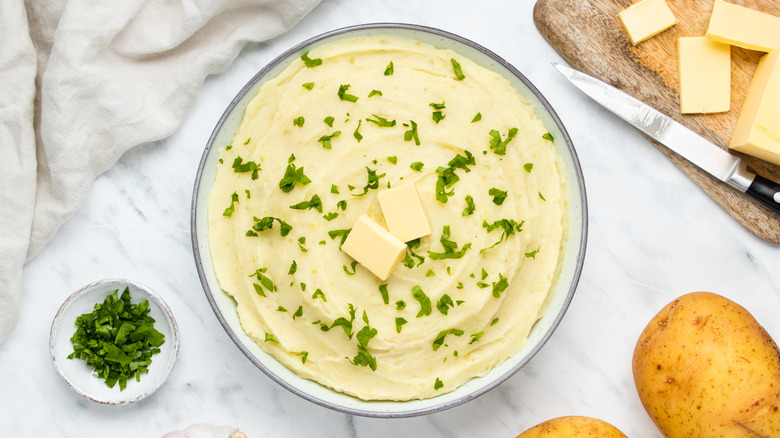 Catherine Brookes/Mashed
Mashed potatoes are an obvious side dish to serve up with a wide assortment of meals, whether you're cooking up something meat or vegetable focused. If you've been intimidated about perfecting the creamy texture and have opted for instant versions in the past, it's time to discover this easy method. Recipe developer, food blogger, and photographer Catherine Brookes from Blue Sky Eating has created a simple garlic mashed potato recipe you'll want to add to your weekly rotation.
"All the ingredients are fairly standard here," Brookes notes, which makes it extra easy to whip these up any day of the week. All the same, there's no lack of flavor thanks to a hint of garlic and a rich taste from the whole milk. You won't even need any fancy equipment — a standard potato masher will do just fine. If you're seeking the ideal comforting side dish that's quick and basic to make, you really can't beat this creamy, garlicky recipe.
Gather up the ingredients for these simple garlic mashed potatoes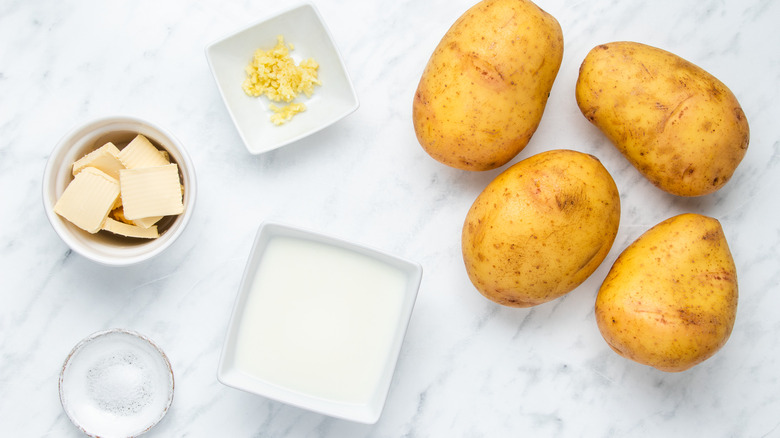 Catherine Brookes/Mashed
The ingredients for mashed potatoes are super straightforward. For six servings, you'll need four large white baking potatoes. Brookes notes, "I do find that the more fluffy/floury varieties work best." Next, measure out ⅔ cups of whole milk, which adds a delicious, creamy richness to this classic side dish compared with skim milk. Next, you'll need ¼ cup of butter, three cloves of garlic (minced), and salt to taste. If you want to spruce up your mashed potatoes, top the dish with chopped fresh parsley and an extra pat of butter. 
Chop up the potatoes and add them to a pan with water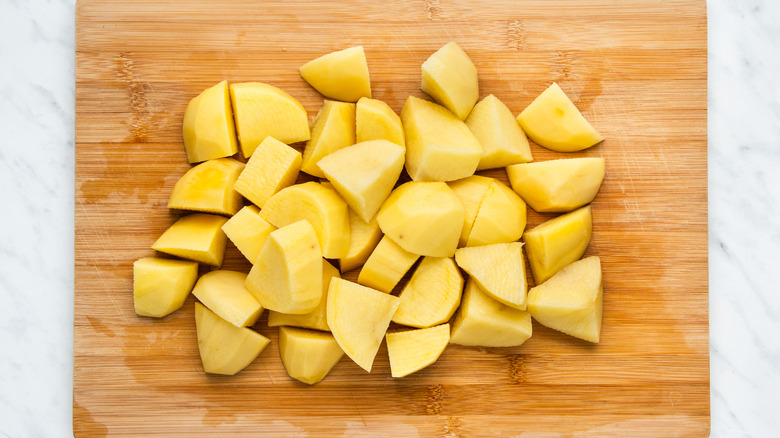 Catherine Brookes/Mashed
Start by peeling all of the potatoes and chopping them up into cubes that are about 2 inches thick. Next, fill a large saucepan with water around ⅔ of the way up and bring it to a boil on the stovetop. Once the water begins to bubble, carefully add in the potato chunks and cook them on medium heat for 20 to 25 minutes. 
Prepare the milk, butter, and garlic mixture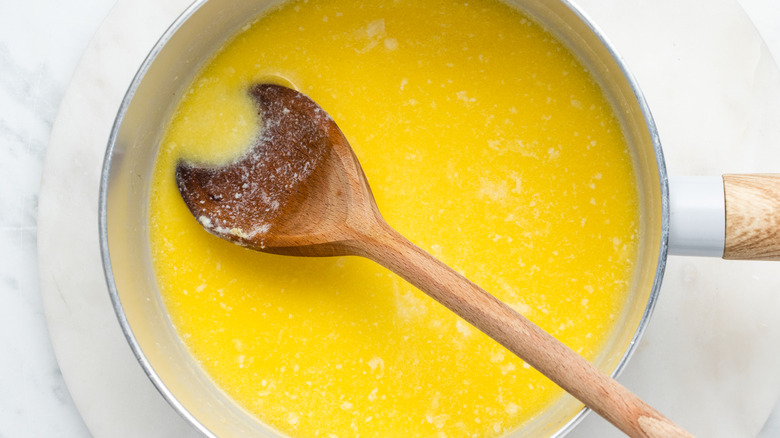 Catherine Brookes/Mashed
As you wait for the potatoes to cook, set another saucepan on the stovetop on medium heat and add in the whole milk, butter, and minced garlic. Heat the mixture for about 10 minutes, continuously stirring for the duration.
Drain the potatoes, then smash them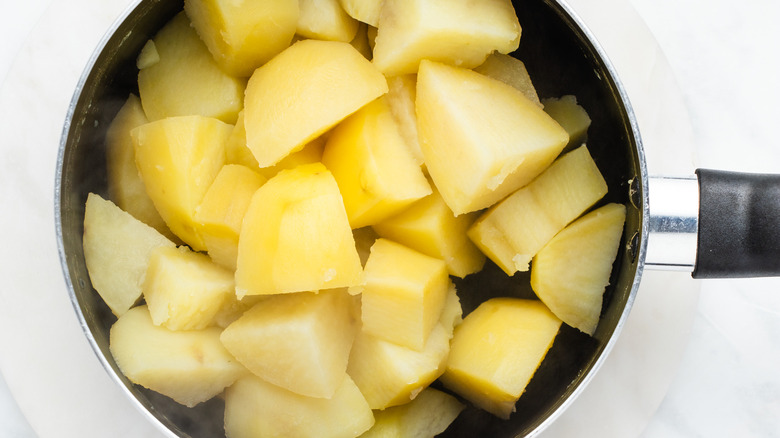 Catherine Brookes/Mashed
Check the potatoes after they've been cooking for 20 minutes. You'll know they are ready when the texture is fork-tender. At this point, drain off the water and leave the potatoes in the pan or transfer them into a bowl. Then, mash the spuds up roughly to make a chunky mixture. Brookes says, "a simple masher does the trick," but she adds that "you can also use a potato ricer for perfectly smooth [potatoes]."
Combine the milk mixture with the potatoes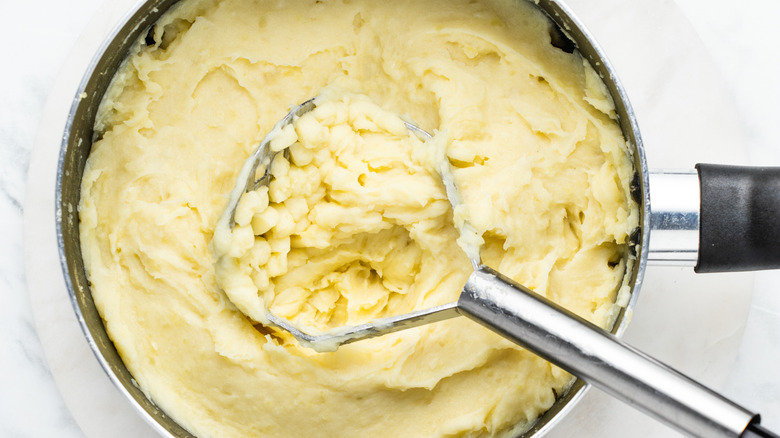 Catherine Brookes/Mashed
Now, pour the milk mixture in with the potatoes and mash everything together to combine. Add salt to taste during this step as well. Here Brookes warns to be "careful not to overmash as this can make the potatoes gluey." Once you've reached the desired smoothness, transfer the potatoes to a serving bowl.
Serve the mashed potatoes with butter and parsley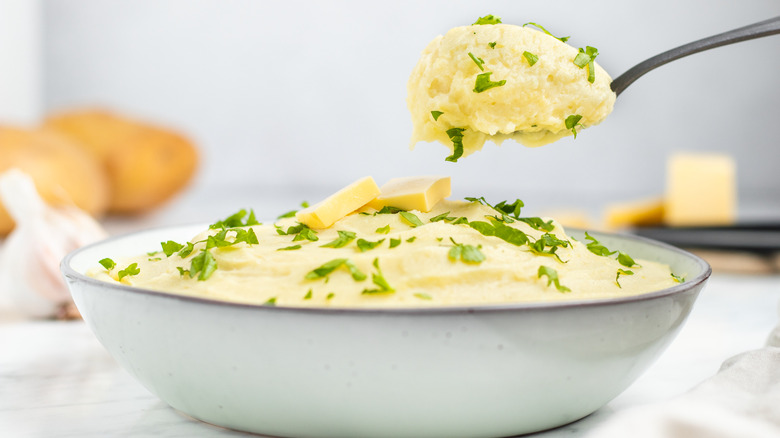 Catherine Brookes/Mashed
To add an herbal element, feel free to sprinkle some chopped fresh parsley over top of the mashed potatoes. A generous pat of butter is also an easy way to enhance the creaminess. Brookes likes to serve mashed potatoes with sausages, steak, pies, roasted vegetables, and salad, but there's no limit to the many ways you can enjoy this classic side dish.
You can store leftovers sealed in a container for up to four days. Just reheat them in the microwave when you're ready for your mashed potato fix.
Simple Garlic Mashed Potatoes Recipe
There's no better side dish than classic mashed potatoes, and this recipe adds in some flavorful garlic to the mix.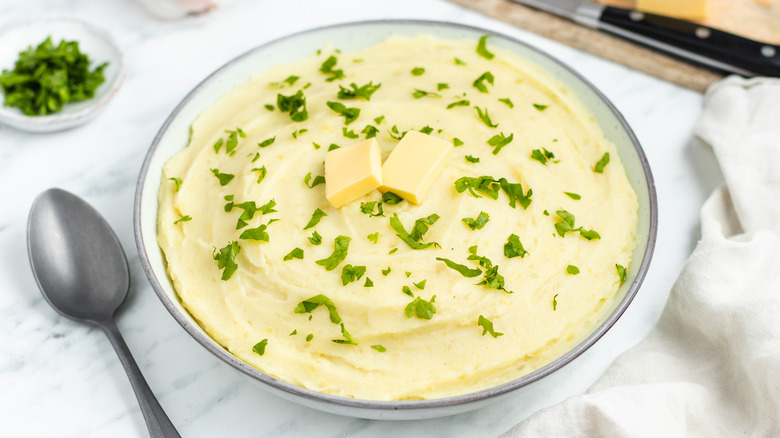 Ingredients
4 large white baking potatoes
⅔ cup whole milk
¼ cup butter
3 cloves garlic, minced
salt, to taste
Optional Ingredients
fresh parsley, chopped
butter, for topping
Directions
Peel and chop the potatoes into approximately 2-inch chunks.
Fill a large saucepan about ⅔ of the way full with water and bring it to a boil on the stovetop.
Add the potatoes to the pan and cook them on medium heat for 20 to 25 minutes, or until they are fork-tender.
While the potatoes are boiling, add the milk, butter, and garlic to another saucepan and heat the mixture on a medium setting for about 10 minutes, stirring frequently.
Drain the potatoes and return them to the pan or to a mixing bowl. Mash them roughly until they start to break down.
Pour in the milk mixture and mash everything together until it is completely smooth. Add salt to taste, if desired.
Transfer the mashed potatoes to your serving dish of choice. Top them with extra butter and chopped fresh parsley if desired.
Nutrition
| | |
| --- | --- |
| Calories per Serving | 281 |
| Total Fat | 8.8 g |
| Saturated Fat | 5.4 g |
| Trans Fat | 0.3 g |
| Cholesterol | 23.0 mg |
| | |
| --- | --- |
| Total Carbohydrates | 46.3 g |
| Dietary Fiber | 3.2 g |
| Total Sugars | 2.9 g |
| Sodium | 660.6 mg |
| Protein | 6.3 g |