Why Kylie Minogue's Rosé Brand Is Worth Trying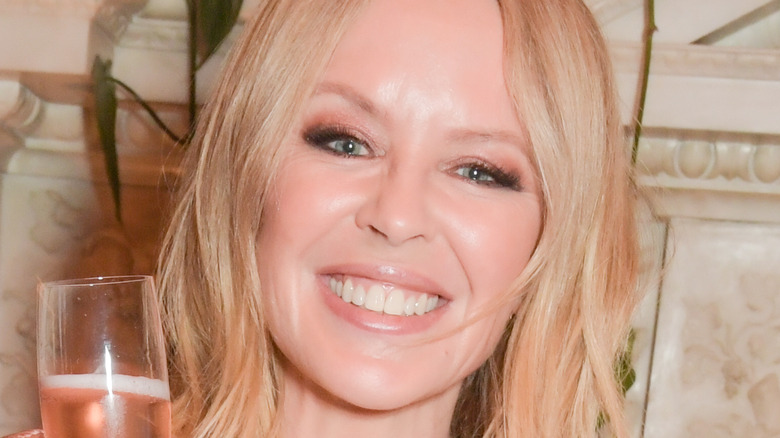 Cindy Ord/Getty Images
International superstar Kylie Minogue has been dominating the music industry for over five decades, racking up hits like "Can't get you outta my head" and "Locomotion." With over 80 million records sold, Minogue has earned the title of best-selling Australian-born solo artist. Aside from music, she has branched out into acting with notable roles in films like "Street Fighter" and "Moulin Rouge," and was awarded for her work in raising awareness about breast cancer following her diagnosis back in 2005 (via NFSA).
With such immense success, it only seemed natural for the Australian artist to branch out into further business ventures, and she did. The "Spinning Around" singer has entered the wine market, and the results have been remarkable, especially in Britain (per The Times). With so many celebrities jumping into the wine market, let's take a deep dive into how Kylie was able to successfully capture the market and establish herself as a force to be reckoned with in the industry.
A prosecco rosé to be reckoned with
Discussing her concerns about going into the wine market, Kylie Minogue candidly admits she knows that there is healthy skepticism when it comes to celebrity wines (via The Times). Often feared to be little more than a cash grab, the singer wanted to ensure the product was of high quality, so she partnered with an estate run by seventh-generation producers in Italy to make the wine. According to The Daily Mail, the Italian government permitted the production and export of prosecco rosé in May and November, respectively. The result was a beverage filled with refreshing notes of strawberry, blossom, and raspberries.
Thankfully, everything aligned well, and the investment paid off as Kylie's blush-colored beverage made up 15.8% of the market share, per The Daily Mail, which also reports that the pink prosecco has become "Britain's top-selling celebrity branded fizz," selling a third more than the competition.
As reported by Decanter, Kylie celebrated the U.S. launch of Kylie Minogue Wines with a star-studded event at the legendary Carlyle Hotel and treated guests to a performance of some of her biggest hits. All eyes will be on the superstar to see if she can replicate the wine's success in the states.