The Brand With The Best Frozen Fish Sticks, According To Nearly 36% Of People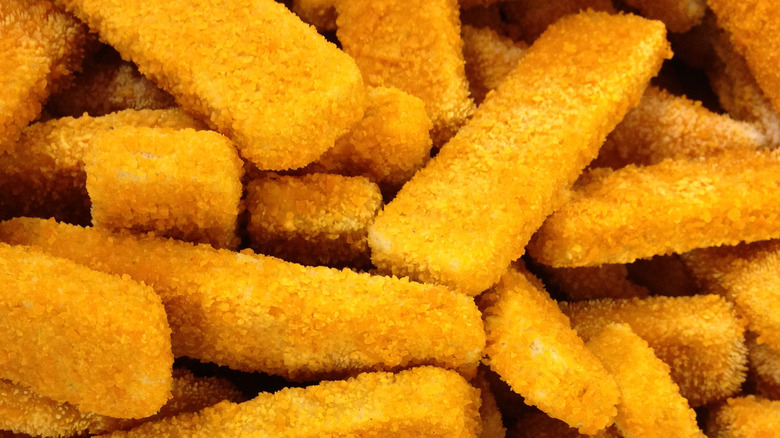 ShadeDesign/Shutterstock
We may receive a commission on purchases made from links.
Walk down the frozen aisle at any grocery store and you'll find a plethora of options in the seafood section. There are frozen tilapia fillets, peeled jumbo shrimp, salmon burgers, and even gourmet crab cakes. Of course, one of the most popular frozen under-the-sea treats — with both kids and adults alike — is fish sticks. First released by General Foods in 1953, the breaded rectangles were originally invented as a way to prevent fish from spoiling (via Smithsonian Mag). Also known as fish fingers, they're typically made with a firm white fish, usually Alaskan pollock, according to Mercury News. 
While you can make your own fish sticks at home for a healthier alternative that's lower in fat and sodium, the frozen ones you get in a box are a lot more convenient for a quick lunch or after-school (or after-work) snack. However, the number of brands lining the freezer shelf can be overwhelming. To find out which are worth buying, Mashed polled 551 people across the United States on the best-frozen fish stick brand. Here's which one more than a third of survey respondents dubbed number one.
Gorton's fish sticks are a customer-favorite
According to Mashed's poll results, Gorton's is the best frozen fish stick brand out there, with some 35.93% of people picking it as their top choice. You might recognize the bright yellow packaging (or the iconic fisherman mascot) of Gorton's, a seafood company that's been around since 1849. Gorton's fish sticks are made with wild-caught Alaskan pollock without any fillers, artificial flavors, or hydrogenated oils. Breaded in Panko crumbs, they can be prepared in the oven, microwave, or air fryer. "Great taste ... not too fishy," one shopper reviewed on Amazon, describing the fish sticks as having a "crunchy outside, soft inside."
As for how other brands compared to Gorton's? Trader Joe's took second place, earning 27.22% of the votes. Van de Kamp's received 13.25% of the votes, followed by 365 Whole Foods with 6.9% and Trident Seafoods with 6.53%. While Paul's garnered just 5.99% of respondents' approval, it wasn't last — that went to Starfish, which only 4.17% of people chose as their favorite.